TyTy Washington just outside Top 5 of new NBA Mock Draft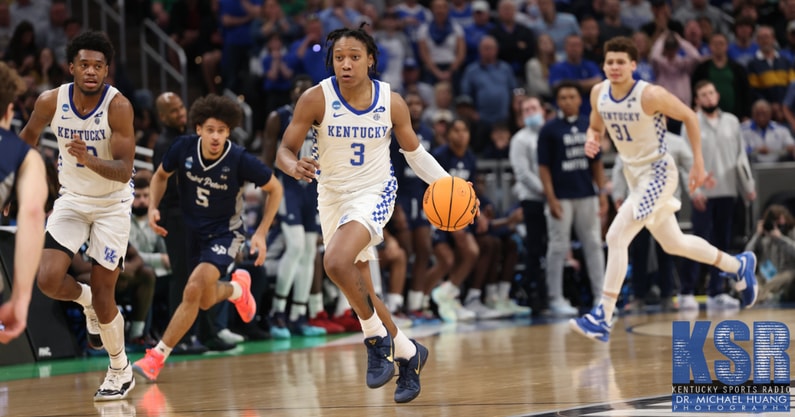 TyTy Washington is projected to be a late lottery pick in most NBA Mock Drafts, but one national writer has him just outside the top five of his projections. Kyle Boone of CBS Sports released his new mock draft yesterday and TyTy is No. 6, going to the Portland Trail Blazers. The lottery order won't be set until May 17, but Boone believes Washington could be top-five material regardless. Maybe he likes what he's seeing from Tyrese Maxey in the NBA Playoffs and is drawing a comparison?
There's a number of factors here working against Washington's NBA prospects that include playing more off the ball at Kentucky and a nagging injury that hurt his production down the stretch run of the season. However, in the grand scheme, he has a strong case as a top-five talent in this class, hence the high placement here in my projections. Has a ton of untapped potential operating as a lead guard which we only saw in spurts at UK, and his time spent playing off the ball as a scorer should only help his prospects of becoming a solid combo guard in the league.
In the month since Kentucky's season ended, we learned that TyTy was never fully 100% following the ankle injury he initially suffered in late January. He's the only Cat in the one-round mock. Boone notes that he will not include Shaedon Sharpe until he officially declares for the draft. Welcome to the wait-and-see club, Kyle.
Other familiar names in the mock: Duke's Paolo Banchero at No. 2 (Orlando), Auburn's Jabari Smith at No. 3 (Detroit), Kansas' Ochai Agbaji at No. 9 (San Antonio), and Auburn's Walker Kessler at No. 29 (Memphis).