UA Elite 24 game features Kentucky commit, top targets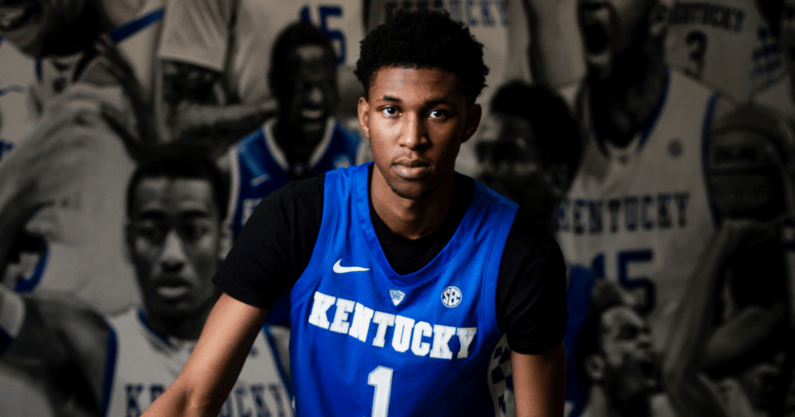 The Under Armour Next Elite 24 is set to return for the first time since 2016, a showcase of high school basketball's best talent in the rising junior and senior classes.
Among them? You guessed it, multiple Kentucky recruiting targets, including one pledge.
2023 five-star wing and UK commit Justin Edwards is among the event headliners, joined by 2024 five-star guards Ian Jackson, Tre Johnson, Tahaad Pettiford and Boogie Fland, all players with scholarship offers from the Wildcats.
Kentucky has also been in contact with the likes of 2024 prospects Elliott Cadeau, Vyctorius Miller, Trentyn Flowers and Derik Queen, who are all set to participate.
Check out the complete team rosters below:
Team Futr
Tahaad Pettiford
Stephon Castle
Simeon Wilcher
Bryson Tucker
Xavier Booker
Rayvon Griffith
Derik Queen
Vyctorius Miller
Justin Edwards
Baye Fall
Sean Stewart
Elmarko Jackson
Team Havoc
Ian Jackson
Bryson Tiller
Kwame Evans Jr.
Boogie Fland
Isaiah Collier
Dennis Evans III
Matas Buzelis
Trentyn Flowers
Jamie Kaiser Jr.
Tre Johnson
JP Estrella
Elliot Cadeau
The prestigious event is set to return for its 12th year on August 12 at Northerly Island in Chicago, live at 7 p.m. ET on ESPNU. The inaugural Elite 24 Girls Game will take place before at 5 p.m. ET.