UK Fans in Angkor Wat Want Tuesday Night News and Views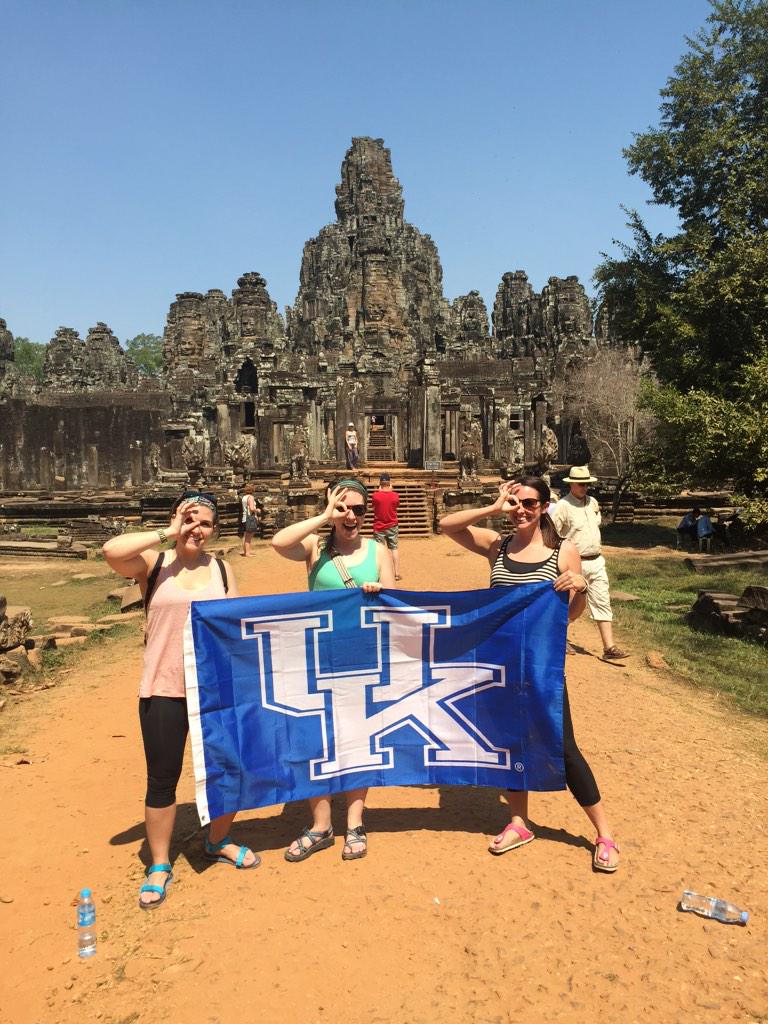 Shoutout to these three fans for carrying a UK flag in their pack all the way to Angkor Wat in Cambodia. Your efforts did not go unnoticed, guys. Keep repping the blue and white across the globe and send us pictures via
our Facebook page
. As we hurdle towards the dry, vapid offseason, we'll need them. Thanks to two security videos, we're not quite in the news desert yet...
The Richmond police released videos of the UK/EKU football bar fight
Two videos made the rounds today of the Richmond bar fight involving Drew Barker, Tymere Dubose, Dorian Baker and EKU football players. Last week, a Madison County grand jury decided not to indict the three UK players for their roles in the incidents, but details remain sketchy. The videos don't tell the whole story, but both show EKU players Colton Scurry and Patrick Graffree as the instigators. Let's go over the one from Jerzees in Richmond first: https://youtu.be/rhrwawlnbX4 As you can see, Scurry appears to be having a heated discussion with a woman when someone bumps into him and people attempt to separate the two. Scurry then dives in and punches, according to the police report, Dorian Baker. According to the police report, Baker and Scurry trade punches while Drew Barker attempts to hold Baker up because he recently had knee surgery. Dubose then gets involved and Barker strikes Scurry twice from above, which you can see in the video. It is worth noting that Scurry once boasted on Twitter that he threw beer bottles at Nerlens Noel's car, so there is a history of animosity towards UK players. The second video shows an event that occurred
after
the meeting at Jerzees in which former UK/current EKU player Patrick Graffree storms into the Telford Hall dormitory at EKU and sucker punches Drew Barker at the registration desk: https://youtu.be/MwHmCfmMmb8 I have a LOT of questions:
I know who Tymere Dubose and Dorian Baker are, but who are the rest of the people standing around in the dorm lobby?
How was Graffree not charged for that punch?
Why did no one step in and help Barker up?
How pathetic is it that only after Barker and company decide to leave, the rest of the crowd hurries them out to look big and bad?
Why is this guy wearing a Trojan hat and how do we get in touch with him?
We may never know what the altercations were really about (my guess is a girl), but both videos show EKU players as the aggressors. I know one thing for certain: the Cats and the Colonels face off on October 3 and it will be a spirited affair. Meanwhile...
UK's chances with Stephen Zimmerman aren't looking too great
Zimmerman canceled all his scheduled in-home visits and is asking coaches to respect his privacy as he nears his decision. This comes on the heels of Jerry Meyer's report that Zimmerman will commit to UNLV in the near future, so it appears the hometown school has taken over the momentum in his recruitment. Kentucky, Arizona, Kansas, and UCLA are all still in play, and things can definitely change, especially since Zimmerman will be around UK signees Skal Labissiere, Charles Matthews, and Isaiah Briscoe at this weekend's Jordan Brand Classic, but for now, expect the Cats to continue to explore other options, including Charlotte graduate transfer Mike Thorne, who will visit Kentucky on April 25-26.
Josephine finally got to talk to Devin Booker
This morning, Devin Booker picked up right where Karl Towns left off with an excellent interview on the radio show. Much to the delight of the ladies across the Bluegrass, Devin fought the rain and Nicholasville Road traffic to chat with the guys about his time at UK, his future, and of course, those ladies. Devin told a funny yet creepy story about how a fan licked his car at an autograph signing last night, proving that young girls (or seriously deranged people) will do just about anything for 😍😍😍
BOYS
!!!! 😍😍😍 My favorite part of the interview came when one of our favorite callers Josephine finally got to talk to her beloved Devin. The exchange is adorable, and this line may go down as one of the best we've heard this year: "He is so pretty it's pathetic." Josephine, I may have to steal that one sometime. In case you missed it, here's Devin's segment:
Here's an updated schedule of autograph signings
Devin Booker
Thursday: Wildcat Wearhouse, Somerset, 6 - 7:30 p.m.
Friday: Pikeville, Noon-3 pm; Wildcat Wearhouse, Hazard, 6 - 7:30 p.m. (with Karl Towns)
Saturday: Sheppard's Fan Shop, London, 6 - 7:30 p.m.
Sunday:  Elizabethtown Mall, 2 - 3:30 p.m.
Karl Towns
Wednesday: Sheppard's Fan Shop, London, 5:30 — 7:00 p.m.
Friday: Wildcat Wearhouse, Hazard, 6:00 p.m. — 7:30 p.m. (with Devin Booker)
Saturday: Deskin Motors, Pikeville, 11:00 a.m. — 1:00 p.m.
Sunday: Wildcats 'N More, Dry Ridge, 4:00—5:30 p.m.
Dakari Johnson and Trey Lyles
Friday: Elizabethtown Mall, 6 - 7:30pm
Saturday: Hillbilly Days Appalachian Wireless Booth, 10 a.m. - Noon
Saturday: Wildcats 'N More, Dry Ridge, 6 - 7:30 p.m.
Sunday: Barleycorns, Florence, Noon - 1:30 p.m.
Tuesday: Wildcats Sports Apparel, Nicholasville, 6 - 7:30 p.m.
Willie Cauley-Stein will begin his signings next week. If you go to any of Devin Booker's signings, get there early, because this is what the line looked like thirty minutes before the signing began tonight at Fayette Mall: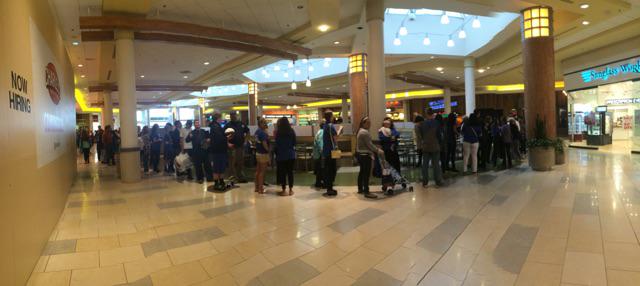 Bud Dupree will attend the NFL Draft
The former UK defensive end/linebacker is one of 26 NFL prospects invited to the draft on Thursday, April 30th in Chicago. Dupree has accepted the invitation, and will take Mark Stoops. Here's a rundown of where Bud stands in the latest mock drafts:
Sports Illustrated: 24th to Arizona
USA Today: 16th to Houston
CBS Sports: 8th to Atlanta
Fox Sports: 13th to New Orleans
The Justified series finale is on right now but I can't watch it until tomorrow
My husband has to work tonight, so we'll be watching the last episode of "Justified" tomorrow night instead of tonight. So you guys better not spoil it. If you do, you'll face a lifelong KSR comments section ban. Why?
KSR will be live at Pazzo's in the morning with DAKARI JOHNSON!
Come on down to the delicious pizza pub at 385 South Limestone in Lexington to hear Matt and Ryan discuss the latest recruiting news, the draft, and chat with Dakari Johnson. Dakari's hilarious, so this is yet another show you don't want to miss. See you then.