Uros Plavscic Parting with Tennessee for the Pros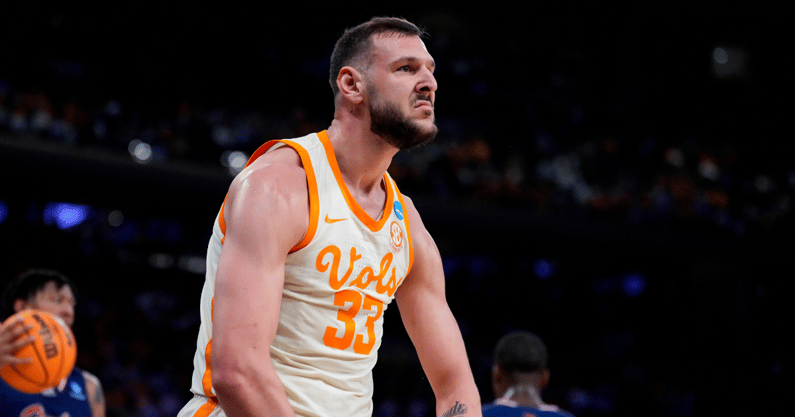 Tennessee is losing its enforcer in the paint. Uros Plavsic spent about as much time playing football on the hardwood as he did basketball. After four years of head-busting in Knoxville, the 7-footer from Serbia announced he will pursue professional opportunities.
"Vol Nation, I will forever remain grateful for the love and support I received from you throughout the years. It's been a lot of ups and downs but I can promise you that I gave my all for Tennessee," he shared on social media.
"As this chapter of my life closes, I am ready to begin the next. Playing professional basketball has always been one of the biggest dreams for me. I have decided to go after that goal and follow my dreams."
Uros Plavsic actually did not begin his career on Rocky Top. After playing prep basketball in Chattanooga, he went to Arizona State and redshirted for a season before donning the orange and white for Rick Barnes' program.
It took some time before the world got to know Uros Plavsic. He started in four games during his first two years before emerging into a prominent role for the Vols. That role did not require much skill, mostly just pushing and shoving.
That's not rivalry hyperbole. Uros Plavsic went out the only way he knew how, swinging.
As a frequent starter during his final two seasons, he never averaged more than five points or five rebounds per game. However, he did seem to show up whenever the Vols played the Cats. In the first matchup this spring at Thompson-Boling Arena, he made 9-of-11 shots to score 19 points in a losing effort for the fifth-ranked Vols.
The best villains are always the ones who actually also good at basketball. Uros Plavsic did not play as well as some of his predecessors, but Rick Barnes' bully in the paint developed a reputation that will not soon be forgotten around the Big Blue Nation.