WATCH: JJ Weaver goes One-on-One with KSR
When Kentucky needed a big play in the fourth quarter against Florida, J.J. Weaver delivered. It's what the Wildcats' EDGE always does against the Gators.
In 2021 Weaver made the play that decided the game, picking off a pass to clinch the win for the Cats at Kroger Field. In 2023 he chipped away and chipped away until he finally got home with a sack on the final Florida drive to clinch a win over the Gators.
Before Weaver balled out, he was on the set for a commercial shoot with Morgan & Morgan. The Name, Image and Likeness campaign will put his face on billboards across the Commonwealth. He's using his NIL rights to do much more than cash a check.
"The stuff I didn't have as a kid, I want to give back to the community in my hometown so I did a bike drive, I did a football camp and a back-to-school drive, just to show my love and support for my community," Weaver said.
The events in Louisville, Lexington and Radcliff were smashing successes. Now he's trying to keep that off-field success rolling into Saturdays. Weaver shared with KSR how he prepares for each and every game at Kroger Field, what his favorite pass rush moves are and much more. Give it a watch, Big Blue Nation.
More Kentucky News and Views on the KSR YouTube Channel
Kentucky Sports Radio has expanded its coverage of the Wildcats in the most ridiculous manner possible on our YouTube Channel. Here you will be able to find interviews with coaches and players, as well as commentary from the KSR crew. From Rapid Reactions following big events to our lengthy lineup of live shows, subscribe to the KSR YouTube Channel to stay up to date on everything happening around the Big Blue Nation.
Monday: Mark Stoops Press Conference & Rapid Reaction
Monday, 8 PM: KSR Football Podcast
Tuesday evening: Interviews with Liam Coen and the offense
Tuesday, 8 PM: Sources Say
Wednesday, 1 PM: Stoops' comments from the SEC Teleconference
Wednesday evening: Interviews with Brad White and the defense
Wednesday, 8 PM: 11 Personnel
Thursday evening: Final comments from Stoops after practice
Thursday, 8 PM: Point Kentucky, KSR's new Volleyball Show
Friday, Noon: Pigskin Preview
Friday night: Kroger KSR Game of the Week recap, highlights
Saturday: Postgame Press Conferences, Interviews, Rapid Reaction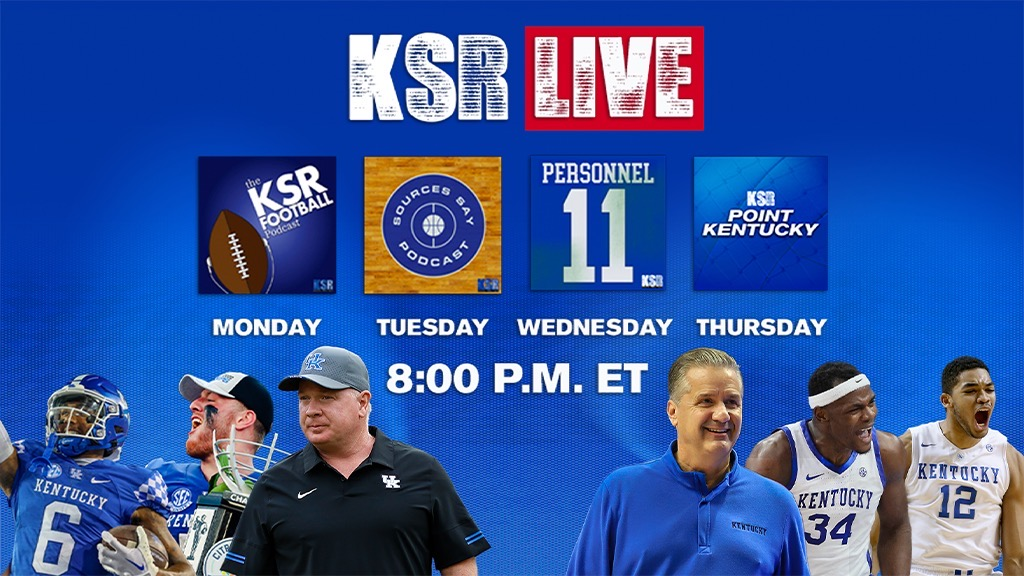 Discuss This Article
Comments have moved.
Join the conversation and talk about this article and all things Kentucky Sports in the new KSR Message Board.
KSBoard