WATCH: Kentucky Offense Prepares for Challenging Missouri Defense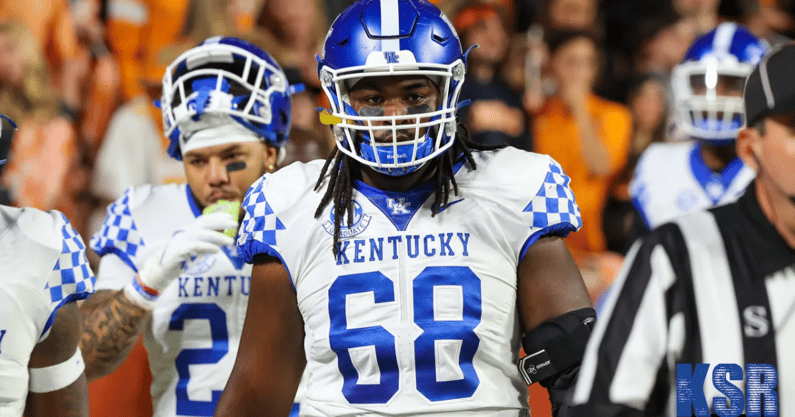 The Kentucky offense fell flat against the Tennessee Volunteers. There's no time for the Cats to lick their wounds. The Wildcats scored only six points against a unit ranked No. 35 in efficiency by SP+. Missouri's defensive success rate ranks 11th nationally. The Tigers are absolutely getting after opponents.
"They're good. It doesn't get any easier. I mean, this is the SEC," said Kentucky offensive coordiantor Rich Scangarello. "They got pass-rushers, they got cover guys. Georgia went three quarters without a touchdown, and they got some of the best players in the country. I watched South Carolina get overwhelmed, basically shut out for a half. They got a scrappy touchdown, but they didn't do anything on offense.
"This defense will get to you if you let them. They're playing some really good, confident football. They're up for the challenge and we're going to be up for the challenge too. It will be a dogfight and we have to be at our best, take care of the football and win some one-on-ones because they'll be in man coverage and they're really good at it."
Missouri will Challenge the Kentucky Offensive Line
Missouri plays a physical, in your face form of defense, creating havoc in the backfield. The Tigers' 57 tackles for loss is the most in the SEC, ranked No. 17 nationally. It's a favorable matchup for Mizzou. Only two teams in the SEC have allowed more tackles for loss than Kentucky (54 total). Senior offensive lineman Kenneth Horsey believes communication is key to slowing down the Tigers.
"They're good, a very solid team. They're going to be playing with multiple fronts, but they're a team that likes to have five big guys in the game. We have to be ready for that, especially with our identification, stuff like that. But they're an intense defense," he said.
"We understand that they got after a couple teams. Even though the score, the game might not have gone their way at the very end, they're in all of these games and play very hard and they play with a chip on their shoulder. We have to be ready to not just match that intensity, but exceed it."
Subscribe to the KSR YouTube Channel for press conferences, interviews, original shows, fan features, and exclusive content.