Watch the Tape: Kansas Jayhawks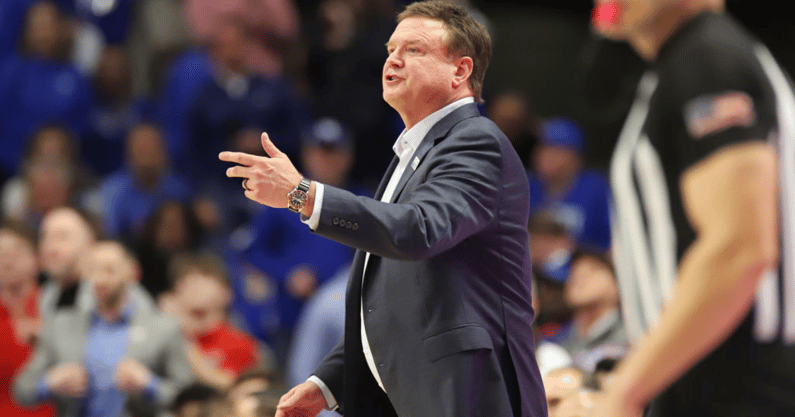 Saturday was an all-time atmosphere in Lexington and Rupp Arena. There was a buzz in the air that only comes around for the biggest matchups. The No. 9 ranked, defending national champion, Kansas Jayhawks got that treatment for their trip to the Bluegrass. Unfortunately, the Kentucky Wildcats had their four-game winning streak snapped with a 77-68 loss to the Jayhawks. There will be plenty of time to break things down from a nuanced lens, but at the end of the day Saturday night was a story of shot-making. Jalen Wilson and Gradey Dick made huge shots down the stretch for Kansas while Kentucky was 2-13 from beyond the arc for the game. Hard to win a basketball game against a great opponent with a shooting performance like that.
It is no secret that Kansas exploited the 'Cats by setting a bunch of ballscreens. That has been a common theme in losses for Kentucky this season and showed its ugly head once again on Saturday. The Jayhawks had a lot of success hitting the roll man as the Wildcats' ballscreen coverage was very passive and allowed a lot of space for the offense. It was generally an all-systems failure in that one schematic area. However, the game still came down to defensive rebounding and shooting more than anything else. After four games of dominating the glass, Kentucky came back down to Earth with a more average 75.8% defensive rebounding mark. A 16-23 free throw shooting night wasn't ideal either for trying to win a close game.
Breaking down the wins is more fun, but we are still back in the KSR Film Room after losses too. Kentucky broke their four-game winning streak, but there were still reasons for optimism coming out of Saturday's loss. This team has learned how to fight and that will carry them through the February grind of the SEC schedule. A bounce-back week with two wins is a must this coming week. It will require adjustments in ballscreen coverage and improved shot-making from Antonio Reeves and CJ Fredrick. However, the sky is not falling in Big Blue Nation. Let's dive on into the film breakdown and take a look at what went wrong against the Kansas Jayhawks.
Kansas Exploited Kentucky's Ballscreen Defense
After losses to Alabama and South Carolina, both opposing head coaches mentioned wanting to attack the Wildcats using ballscreens. Oscar Tshiebwe was the primary target as he is simply not very good in ballscreen coverage. There were improvements made, specifically with effort and activity level, during the recent four-game winning streak. However, there was some regression to the mean on Saturday night against a very offensively talented Kansas Jayhawks squad. Whether it be trying to hard hedge, trap, or simply switch all of the ballscreens some sort of change is going to be necessary. The soft drop coverage that is primarily utilized by the 'Cats is not working. Let's take a look at how the Jayhawks attacked Kentucky's defense.
---
When in doubt, just switch the ballscreens. That should always be the basis of your ballscreen defense regardless of what sort of coverage you want to utilize. Keeping a guy on a guy and staying between them and the basket is always a good solution. However, that becomes even more true when you have a forward-on-forward ballscreen like the Jayhawks set in this clip. There is really no reason for Oscar Tshiebwe and Jacob Toppin not to switch all screens that they are involved in together. Without the switch, Tshiebwe still has to commit more to stopping the ball. Until Toppin can fully recover and get back in front of #10 Wilson it is Tshiebwe's responsibility to stay between the ball and the basket. Not enough urgency here.
---
Coach John Calipari has clearly decided on very conservative drop coverage as their base ballscreen defense. By having the guard chase over the top and the big man give ground toward the rim in theory you are forcing the offense into a low-efficiency two-point jump shot. However, the Wildcats are giving up so much space and compound that with poor footwork and activity that they really don't take anything away from the offense. The Kansas Jayhawks have too good of players to simply sit in soft drop coverage. In this clip there is so much space for #3 Harris and #24 Adams. Additionally, Sahvir Wheeler should have been even earlier coming into try and take a charge off of the non-shooter in the corner.
---
Down the stretch of the first half the Kansas Jayhawks threw lob after lob with success at the rim. If you are going to over the top of the ballscreens then you have to be able to give enough ground that you stay lower than the roll man. Kentucky also has to be better at recovering to the ball after getting screened. There is way too much pressure put on the big men to have to play both the ball and roll as the guard recovers. Putting some more pressure on the at the point could at least make it more difficult to hit the roll man so consistently. When Lance Ware is in the game the Wildcats should potentially consider hard hedging the ballscreens.
---
This was great defense by CJ Fredrick chasing #4 Dick off of the handoff. However, Oscar Tshiebwe is caught standing and not helping with anything at the SEC logo. He should have immediately recovered to #24 Adams once seeing that Fredrick didn't need help. Instead, he stays too long and then doesn't recover to Adams with enough urgency to go cut off the right hand drive. The Jayhawks roll men all had so much space to play in on Saturday night.
Flashes of Continued Offensive Execution
Scoring 68 points in 69 possessions isn't near the efficiency we had seen over the previous few games from the Wildcats. However, that was more of a function of extremely poor three-point shooting and not so much the actual offensive execution. Kentucky is still finding success with some improved rotation construction. That has led to much better overall offensive structure as well. The 'Cats had periods of play on Saturday night where they were really hard to guard. In the end, though they just didn't make enough shots to win the game.
---
After an early turnover against the double team, Oscar Tshiebwe actually settled in pretty well against the pressure the Kansas Jayhawks threw at him. Jacob Toppin scored on a cut to the basket on a previous possession and this time it was Chris Livingston's turn. Tshiebwe has found a lot of success recently when he can face up in the post. Livingston was also very active early in the game and found success on the offensive end. Both Toppin and Livingston both should be very effective cutters with their size and athleticism.
---
When you play the best opponents the margin for error is generally really, really small. Kentucky was on the wrong side of that equation against the Kansas Jayhawks. Possessions like this were a big reason why. You obviously can't expect CJ Fredrick to make all of his shots. However, you simply can't get many looks better than this. When you miss opportunities like this, and have your two best shooters combine to shoot 0-8 from three, you aren't going to win very many games. Still, this is excellent execution off of the zoom action.
---
The story of the game was Kansas' success scoring off of the ballscreen. However, Kentucky had plenty of success scoring against the Jayhawks in ballscreen situations as well. The 'Cats can be really hard to guard when CJ Fredrick and Antonio Reeves are in the game together because it puts the defense into some really tough decisions. Kansas stays right with Fredrick as he replaces which leaves Tshiebwe open on the roll. The help comes too late from the far corner and it leads to an easy two points for Kentucky.
---
There were a few different stretches of Saturday's game where Kentucky was really humming offensively. The final score doesn't necessarily reflect that, but it definitely wasn't all bad for the 'Cats. Here they are again scoring off of middle ballscreen action. This is a really good play by Oscar Tshiebwe to get the catch on the roll, play off of two feet, and deliver a pass to Antonio Reeves who hits Cason Wallace with the one-more pass for a three.
---
Jayhawks Out-Executed Wildcats Down the Stretch
A three-pointer by Cason Wallace with just under 12 minutes to play cut the Kansas Jayhawks lead to just one point. With the score at 51-50, the Wildcats were in a real position to battle and come away with a big home win in front of a raucous Rupp Arena crowd. However, too many missed opportunities were met with well-executed offense by Kansas. Sometimes it truly is as simple as making shots versus missing shots. Jalen Wilson and Gradey Dick buried late three-pointers for the Jayhawks. Meanwhile, Kentucky struggled to ever get over the hump due to 2-13 shooting from beyond the arc. It is frustrating, but it happens.
---
The margin for error for beating really good teams is very, very small. Sometimes you just have to hope the ball bounces your way enough to win. In recent wins over Tennessee and Texas A&M, the Wildcats seemingly got EVERY defensive rebound. They were still very good on the defensive glass on Saturday, but not elite enough to beat a Top 10 team. This is an example of a rebound that you simply have to come up with to beat a team like Kansas. Instead of having a chance to tie or take the lead, the Jayhawks got two Gradey Dick free throws to extend the lead back to four points after the second chance.
---
There are three different small decisions on this possession that ultimately led to the three-pointer for #4 Dick on the right wing. First off, in hindsight, Kentucky's guards probably pressured #3 Harris out beyond the perimeter too much. It made the 'Cats "play from behind" on too many ballscreens. Secondly, Oscar Tshiebwe has to recover to the slip quicker. Wheeler never greats screened and doesn't need any help. Tshiebwe has to react a little sooner to go cut off #24 Adams' right-hand drive. Finally, Cason Wallace simply can't help off of #4 Dick at all. He is a no-help type of shooter. We would rather give up the contested right-hand layup to Adams than a three-pointer for Dick. The overall chain reaction extended the Jayhawks' lead to five points.
---
This was a very frustrating one. Oscar Tshiebwe gets switched onto #10 Wilson at the beginning of the possession which is fine. However, he then just stands in the paint completely ignoring a very good three-point shooter. As a big man, when you are switched on to a shooting threat, you want to exaggerate taking away the three. Make him drive it and give up a dunk before you give up a three. This is too easy of a shot for an All-American.
---
Kevin McCullar delivered the final nail into the Wildcats' coffin on Saturday night. Kentucky guarded the Kansas Jayhawks extremely well for 28 seconds. However, a lack of urgency on the closeout by Antonio Reeves allowed McCullar to hit the dagger. Typically there would be no problem with allowing a sub-30% three-pointer shooter to take this shot. This is exactly why you "tighten up" at the end of the shot clock though. McCullar has no option but to catch-and-shoot with two seconds on the clock. Therefore you should be up into him like it is Ray Allen to take him away. Still, credit to him for making the big shot and essentially ending Kentucky's chances of coming away victorious.