What advanced stats are telling us about Kentucky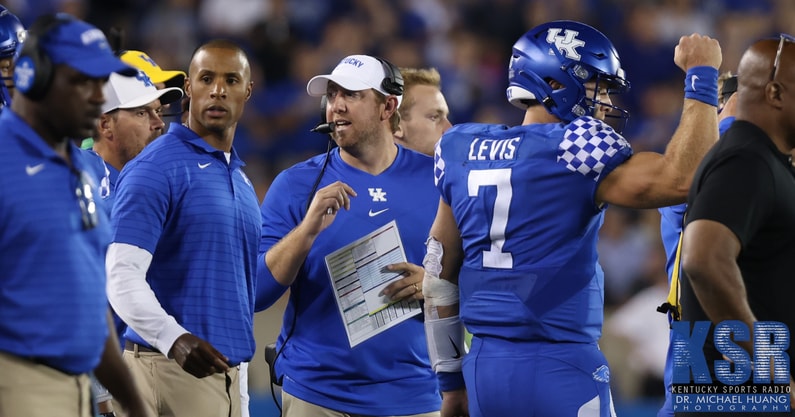 After a thrilling SEC victory over Missouri, Kentucky sits at 2-0 and has many people throughout the Big Blue Nation excited about what could be accomplished this season. The data has backed this up.
Through eight quarters of football, Kentucky ranks 12th nationally in yards per play offense (7.91) and fourth in SEC scoring offense (40.0). Meanwhile, Kentucky's defense ranks second in the SEC in yards per rush allowed (1.81). However, these numbers do not tell the entire story.
Through this small collection of data, here is what we know so far about the Kentucky football team.
Kentucky has ground efficiency
After two games, Kentucky has recorded a run play rate of 57.14 percent as the Wildcats are still leaning towards rushing the ball more often than passing. That works if you're efficient enough to stay ahead of the chains.
That has been no issue so far for the Wildcats.
Kentucky currently owns a 52.63 percent mark for rushing success rate to go along with an explosive rush rate of 17.11 percent. Not surprisingly, Chris Rodriguez Jr. is leading the way with nine rushes of 10-plus yards through two games.
The redshirt junior tailback out of Metro Atlanta ranks second nationally with 332 rushing yards, but he is getting some help. Will Levis' legs were essential in extending drives against Missouri as the quarterback has a first down/touchdown rate of 60 percent on 10 attempts.
For Kentucky's run-heavy approach to succeed, the Wildcats must consistently get efficiency from their ground game. So far that is happening as Kentucky owns a stuff rate — rush plays stopped for no gain or loss — of just 6.58 percent.
Kentucky is moving forward and creating manageable down and distances to go with an occasional chunk play on the ground. Creating consistent efficiency on offense is the best way to score points weekly.
Explosive passing
An efficient run game helps set everything up, but without chunk plays it can be hard for an offense to consistently put touchdowns on the board. Creating explosives in the passing game has long been an issue for the Kentucky offense.
That doesn't appear to be a problem any longer.
Through two games, Will Levis is stretching defenses vertically and completing splash plays. The redshirt junior quarterback has a passing success rate of 56.82 percent to go along with an explosive pass rate of 31.82 percent. His 12.41 yards per attempt ranks No. 2 nationally while Kentucky's 11 pass plays of 20-plus yards trail only Ole Miss in the SEC.
Both Josh Ali and Wan'Dale Robinson are averaging over 20 yards per reception and the Wildcats can hurt defenses over the top if they get too aggressive against the run.
This is a dangerous combination to have, and one that could make stopping Kentucky very difficult this season.
Big play prevention
Some will call it "bend but don't break", others will call it the defensive philosophy for Kentucky football. Under third-year defensive coordinator Brad White, the Wildcats have become one of the best big plays defense in college football.
That has remained true through the first two games of the 2021 season.
After 139 snaps, Kentucky has allowed just 10 explosive plays — rushes of 10-plus yards, passes of 15-plus yards. Neither ULM nor Missouri were able to record a gain of 30-plus yards. The Wildcats are the only defense in college football to only give up one play of 20-plus yards this season.
Against Mizzou, this strategy was pushed as the Tigers used a heavy short-to-intermediate passing attack to log a success rate of 51.32 percent, but consistently relying on short gains to add up together in drives of 70-plus yards can be hard to maintain throughout the year.
Kentucky's strategy will not be changing, but the Wildcats could benefit from producing some more havoc — tackles for loss, sacks, forced fumbles, interceptions, pass breakups — to get offenses behind the chains.