What If Shaedon Sharpe Comes Back Next Season, What If He Doesn't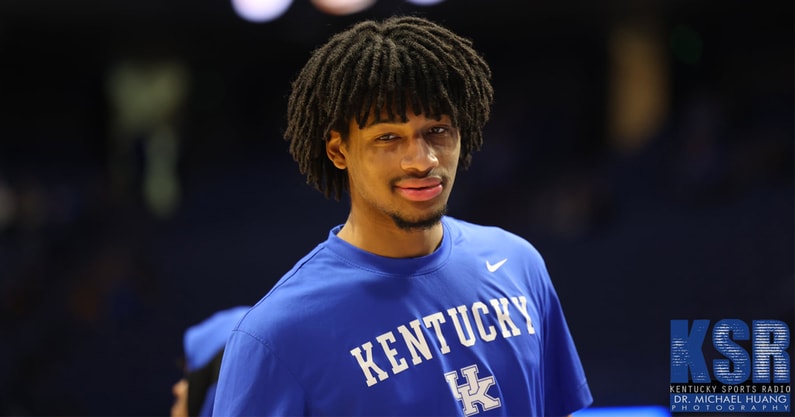 Shaedon Sharpe won't see the floor this season after all.
On Monday, John Calipari announced the news that was becoming more and more obvious by the day, telling his Twitter followers: "After talking with Shaedon and his parents, we want to end all of the speculation by again saying that he will not play for us this season."
Before Calipari made things official with the tweet, Sharpe's timeline was already looking like he would remain on the bench the rest of the way. With only three weeks remaining in the regular season, we've seen nothing substantial to suggest Sharpe was going to get any run in 2021-22.
For me, it became obvious the Monday before Kentucky hosted Mississippi State, two weeks ago today. Calipari said on his radio show that Sharpe "stepped on the gas a little bit" in recent practices and the team wanted Sharpe to get some game minutes. However, on the same day Calipari spoke of Sharpe's progress, Jacob Toppin said he and his teammates had not yet seen Sharpe play any 5-on-5 basketball, nearly a month after Sharpe's arrival in Lexington.
If Sharpe hadn't played any 5-on-5 with his teammates by January 24, how could anyone expect him to play 5-on-5 in a real game? Maybe you throw him in with a minute to go in a blowout, but Calipari already passed up opportunities to get him in for harmless fun despite WE-WANT-SHAEDON chants both home and away. Can you imagine 30 seconds of Sharpe at the end of that ass-kicking at Kansas?!
At least now we know to let go of the hope (but not the rope) because it ain't happening this time around. At least now Big Blue Nation can move forward without the unnecessary distraction. At least now the sideshow is over and all of the talks around this team are about the guys currently playing and their national championship expectations.
But before we move on, let's play one quick game of 'What If?' before we forget all about Sharpe until April. This is a pretty big development and a situation that could get messy this summer if the NBA continues to hold him in such high regard.
WHAT IF…
… SHAEDON SHARPE PLAYS FOR KENTUCKY NEXT SEASON
If Sharpe follows through with the plan and is enrolled in classes at Kentucky this summer, Kentucky will have the top freshman in the country, but without the usual freshman acclimation period. He'll be ready to go right away for Michigan State in the Champions Classic in November. It's Hamidou Diallo all over again but with a much better team around him and, hopefully, without the May deadline drama.
With Sharpe, the 2022-23 Kentucky Wildcats will have a three-level scorer and potential No. 1 overall pick, plus the incoming class of Skyy Clark, Chris Livingston, and Cason Wallace, Sharpe's original classmates. It will be as we originally expected before Sharpe made the surprise early enrollment. Throw in whoever returns from this current team, which could be several players, and Kentucky will be an early favorite to win it all. Write it down. It will be awesome. Let's hope it happens for Kentucky Basketball's sake and for the sake of the conversations we'll have if Sharpe doesn't play for Kentucky.
What if…
… SHAEDON SHARPE ENTERS THE 2022 NBA DRAFT
If Sharpe leaves Kentucky after the current spring semester to chase his NBA dreams, no sane person will begrudge him for making the jump to the league when he is projected to be a top-10 pick. It's a dream come true and guaranteed money dangling in front of his nose if he does nothing else but arrive at the Barclays Center in a suit on the night of Thursday, June 23. He'll be millionaire rich without playing a second of college basketball. Who could blame him for taking that route? Hell, I'd take that route.
That being said, Kentucky Basketball fans will have good reason to complain about the way everything was handled if Sharpe never wears the Kentucky uniform. From the beginning, fans were told Sharpe will suit up in 2022-23 as the face of John Calipari's next team. Kentucky Basketball created that excitement; the Sharpe family, too. Big Blue Nation's expectations and excitement around Sharpe were elevated with comments that never needed to be made in the first place.
This is a fan base that sat through a nine-win season a year ago and hasn't seen an NCAA Tournament game since Auburn (Auburn!) kept Kentucky out of a Final Four in 2019. BBN is hungry. No, BBN is starving. Of course fans are going to get excited about a projected superstar sitting on the end of the bench in a team uniform.
So when not once, but twice last month, Calipari told the fan base to arrive early "to see Shaedon warm up," Calipari had to know what that statement would do to Kentucky fans. If there was a chance Sharpe isn't playing at all, why say it? Why say it twice? Why troll your own people?
Why send out the "Let's get started" tweet if he's not getting started, or if there's a chance he may never start? Why build something for your own people to enjoy and then knock it down before they see it?
Very recently, Sharpe's former coach and mentor told KSR, "He's not there to sit on the bench and wave at fans. He's coming back next year. If he doesn't play this year, he's coming back next year."
Even today, Calipari wrote in his tweet, "He is committed to bettering himself and our team in practice this year and being better prepared to lead us next season."
Next season.
Next year.
We hear it over and over from the only people who are having these internal conversations with Sharpe. Calipari and Sharpe's camp have been definitive about Sharpe's spot on the team next fall. At every turn, Big Blue Nation has been assured Sharpe isn't using the scholarship, the facilities, the staff, and the logo to better himself for the 2022 NBA Draft, but to get ready for next season and next year at Kentucky.
Today, Jai Lucas said, "it was always the plan," to keep Sharpe out this season to get ready for next year, even though two weeks ago Calipari said he would play Sharpe if Sharpe is ready to play. If it was always the plan to not play this year, why was the door left open to play him every week? See the confusion? See why fans speculated before every game until today's news?
Fans want to believe this 'next year' plan we keep hearing about, but then there is that top-10 projection in the upcoming draft. It's an opportunity Sharpe will have to consider in a few months.
What if he takes it? What if Sharpe is in the NBA next season and his spot on next year's team could've gone to someone else? Again, nobody will begrudge Sharpe for following his dream, but the fan base will want some honesty, if that's possible, from Calipari for teasing his own people with promises of next year or, worse, the hints at this year.
Best case scenario, Sharpe is introduced at Big Blue Madness 2022 to a loud roar and I am currently wasting a Monday afternoon making up a scenario and a controversy that will never exist. Don't mock me; you wasted time reading it. If he's back, the plan was the plan from the beginning and he somehow had the strength to tell the NBA no.
Worst case scenario, the fans who got there early to see Sharpe warm up are the only fans who saw him at Kentucky, and Big Blue Nation is going to have a hard time believing anything. Further, Sharpe will unfairly be put in a bad spot by leaving Kentucky behind for doing what's best for him, as he and anyone should do.
Until it's time to have that talk in two months when Sharpe tests the NBA water, put all your energy behind Sahvir Wheeler, TyTy Washington, Kellan Grady, Keion Brooks, Oscar Tshiebwe, Davion Mintz, Jacob Toppin, Lance Ware, Bryce Hopkins, Dontaie Allen, Daimion Collins, and everyone else currently playing for Kentucky and this season's championship. Let's enjoy this team because it can be special. Just ask Kansas how special Kentucky can be this year.
Sharpe, we'll see him for next season's championship run, right? Plenty of time to talk about him next season when he's on that team and not in the NBA, as planned, right?