What Kentucky needs to do to beat LSU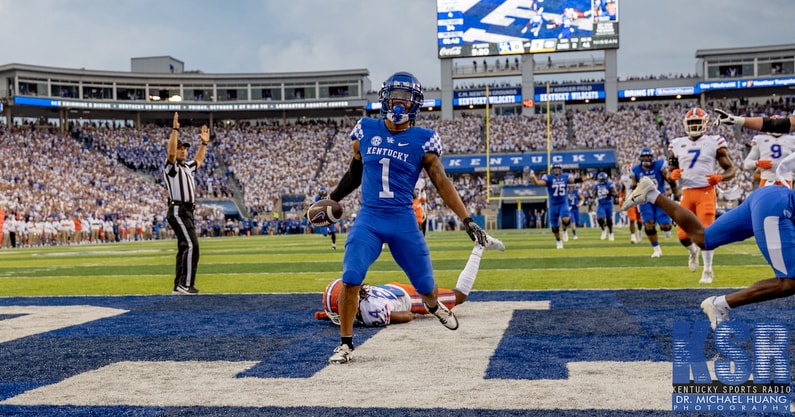 Kentucky is 5-0 and 3-0 in the SEC. Its success is derived from an extremely well-coached and highly disciplined defense led by a hotshot coordinator and a collection of veteran performers. LSU enters the game fresh off a disappointing 24-19 home loss to Auburn. There are grumblings of unhappiness in Baton Rouge. Coaching blunders and injuries are adding to the angst.
The Tigers will be without All-American cornerback Derek Stingley Jr. and safety Major Burns. Kentucky is riding a wave of enthusiasm after beating the once unbeatable Florida Gators at Kroger Field. The Wildcats are also suffering from the midseason injury bug. Nose tackle Marquan McCall and receiver Josh Ali have been ruled out for Saturday night's matchup.
The Wildcats' offense has struggled in recent weeks against SEC defenses. Kentucky managed 332 total yards at South Carolina and 224 in its 20-13 win over Florida. An overriding factor of concern lies within the passing game. Quarterback Will Levis threw for an average of 94.5 yards against the Gamecocks and Gators. The absence of Josh Ali compounds the fact that Kentucky's search for offensive balance has come up short in recent weeks.
LSU was ranked in the top 20 in multiple preseason polls but has been a disappointment in 2021. An opening week 38-27 loss to UCLA boosted uneasiness surrounding head coach Ed Orgeron's seat temperature. The Bruins simply out-toughed the Tigers. A loss in Lexington would create more chaos with a daunting conference slate on the horizon. There are multiple storylines within this weekend's game. Let's take a look at what Kentucky must do in order to move to 6-0.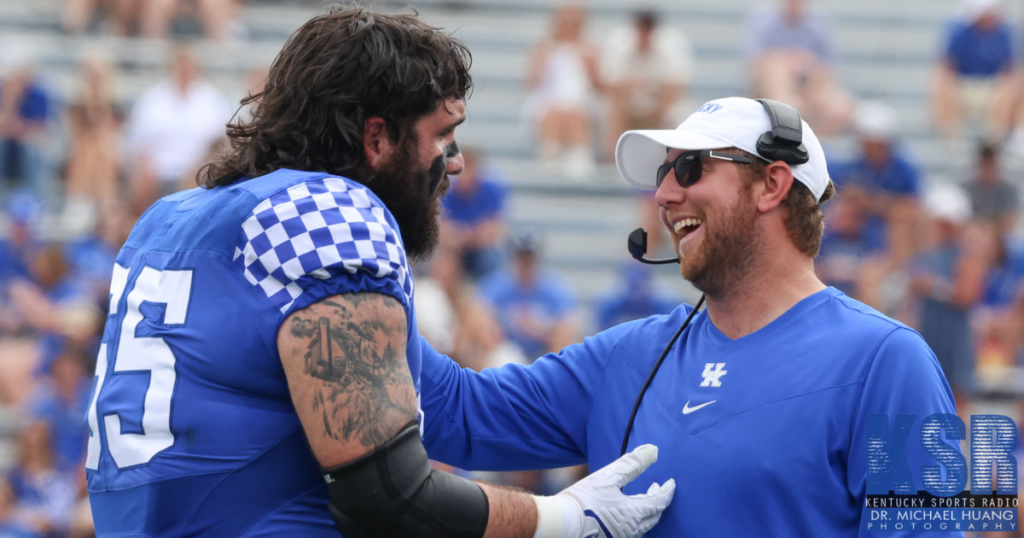 OFFENSE
LSU's defensive talent does not match its results. The highly skilled Tigers have been outscored 57-31 in the fourth quarter and are ranked 13th in the SEC after allowing a 46% conversion ratio on third down. In addition, LSU ranks last in the SEC after allowing 248 pass yards with a secondary that's full of NFL prospects. The SEC's 11th ranked total defense caused its enormous fan base to doubt coordinator Daronte Jones' ability to maximize a cupboard full of talent. As expected, All-American cornerback Derek Stingley Jr. will not play on Saturday night. But, the Tigers are not lacking elite athletes at the position. Eli Ricks is also an All-American and a dynamic defensive back. Safety Major Burns is also out.
Kentucky offensive coordinator Liam Coen brought a promise of a balanced attack to Lexington. Early results were abundant. Recently, not so much. Kentucky averaged 542 total yards per game in its first two contests. However, the Cats have been on a steady decline. It averaged just 278 yards and less than two offensive touchdowns per contest against recent SEC foes South Carolina and Florida. Here's what the Cats' offense has to do in order to beat LSU.
Average 8+ yards per pass attempt
Will Levis' yards per pass attempt has trended downward since opening the season with a 14 yards per attempt performance against ULM. Kentucky's 4.9 yards per attempt vs. South Carolina and Florida is concerning. While LSU is an ultra-talented collection of individual players, it's not been efficient as a collective. This especially applies to its pass defense. The Tigers are allowing 6.7 yards per attempt and 248 yards per game.  
Wan'Dale Robinson leads the SEC with 467 receiving yards. He's proven to be the most dynamic option in an offense that has enjoyed most of its success running between the tackles. So, where will the non-Robinson catches come from? Kentucky has two pass catchers with double-digit receptions: Wan'Dale Robinson's 29 and Josh Ali with 17. Beyond those two, there is a four-way tie between Isaiah Epps, Justin Rigg, Brenden Bates, and Chris Rodriguez Jr. who each have recorded five catches for the season. Finding ways to distribute the football to pass catchers other than Robinson has been a problem that is only worsened by Ali's injury status.
Score three offensive touchdowns
Kentucky averaged 1.5 offensive touchdowns per game vs. South Carolina and Florida. A special teams touchdown was a boost vs. the Gators. But, adding another third-phase touchdown for the second consecutive week is an unrealistic expectation. The same can be said about the Wildcat defense. Holding LSU to one offensive touchdown is a hard ask. Manufacturing offensive points has been a chore. But, it has to happen on Saturday night.
Kentucky will need to establish the run. The Tigers are allowing 119 yards per game. LSU's defensive front seven is deep and talented. It is led by linebacker Damone Clark's 55 stops which is tops in the SEC. The Tigers will deploy a 4-2-5 scheme. Its defensive line is athletic and explosive. Defensive ends Ali Gaye and BJ Ojulari combine for 6.5 QB sacks and 7 tackles for loss. The Wildcats are averaging 28.8 points per game. Additional points from the kicking game will also be required.  
Roll with what got you here
Preseason infatuation with the outside zone running game was widespread. Dissertations were written on the subject. That specific scheme hasn't developed and Kentucky is yet again a between the tackles, run-heavy offense. Chris Rodriguez Jr. is the SEC's top rusher after gaining 124.2 yards per game. Kentucky is averaging less than 200 rush yards for the season. In fact, the Cats run for 191 per contest. A 200+ yards game is mandatory.
Time of possession is not important as it once was. Saturday is different. The Cats will need to win that stat line. LSU's defense ranks 13th in the SEC with a 46% conversion ratio on third down. Kentucky often got behind the chains last week. Improving first-down efficiency will benefit third-down opportunities. Keeping Kayshon Boutte on the sideline is a priority.
Let's be honest here: LSU's backs are against the wall. To be more specific, Ed Orgeron could be coaching for his job on Saturday night. With a bunch of future pros on the roster, NFL futures may come into play more so than being on a 3-2 team with a horrifying back-end schedule. The highly skilled Tiger defense may fold if Kentucky can establish and maintain a physical, downhill run game early in the contest. The Tigers are being outscored 57-31 in the 4th quarter. Rodriguez Jr. earned 99 tough yards vs. the Gators. A 135-yard performance would go a long way to secure the victory.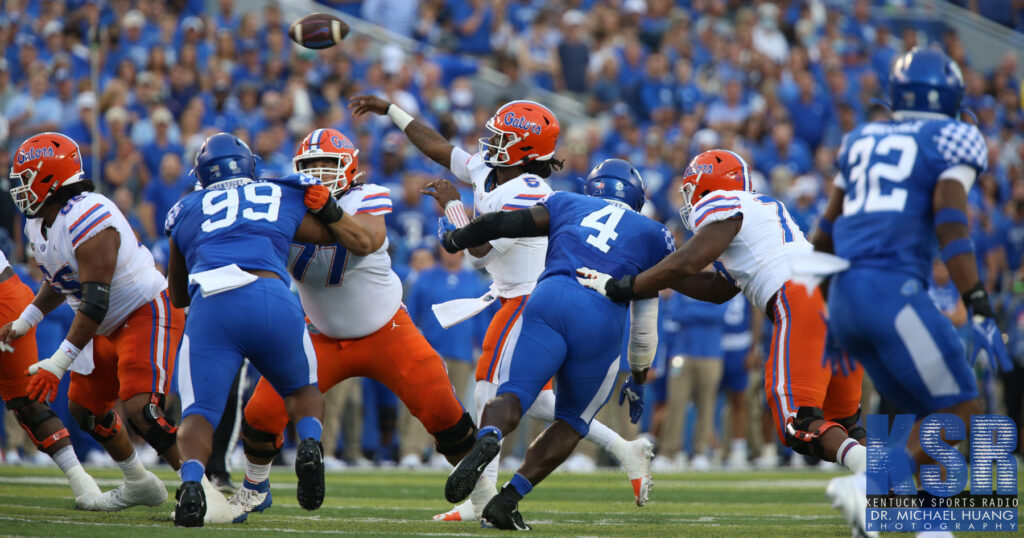 DEFENSE
Kentucky's defensive effort vs. Florida was a thing of beauty. Dan Mullen's vaunted run game was averaging 322 yards per game prior to meeting the Wildcats. Brad White's unit was incredibly disciplined and fed off an energetic crowd to limit the Gators to 171 yards on the ground. The Cats kept Florida out of the end zone for 53 consecutive minutes. LSU presents a different threat.
The Tigers' rushing offense ranks 13th in the SEC after averaging 70 yards per game. That's just 14 more yards than Mississippi State. Quarterback Max Johnson is throwing for 293 yards per contest and is joined by one of the most explosive receivers in the nation. Receiver Kayshon Boutte has racked up 30 catches for 435 yards and a whopping nine touchdowns in 2021. He presents a unique challenge that Kentucky has not faced in its first five games.
The Tigers' offense is more consistent with Air Raid principles than LSU fans would like to acknowledge. Its run game totals or struggles are similar to a Mike Leach squad. LSU is reliant upon the explosive pass play. The Tigers have recorded 12 passing plays of 30+ yards and 9 for more than 40 on the season. True freshman tight end Jack Bech has impressed in his first season in Baton Rouge. Bech has caught 19 passes for 252 yards and 1 touchdown. Johnson will spread around the football. Five Tigers have recorded ten or more catches.
LSU's offensive line has been highly scrutinized; so has coordinator Jake Peetz. His offense is averaging a mere 2.6 yards rushing yards per attempt and totaled 353 on the ground in five games. For context, Chris Rodriguez Jr. has 621 on the season. Communication in Peetz's "Check with me" system has led to untimely timeouts and momentum interruptions. Kroger Field should be rocking (literally) again. Pre-snap disruptions have caused problems for Johnson and Peetz. Let's take a look at what the Cats' defense has to do in order to beat the Tigers.
Stop the run
Strange right? LSU's run game has been all but absent in 2021. This is the exact reason I feel that the Tigers will focus on improving that factor of the SEC's 12th ranked total offense. Nose tackle Marquan McCall is out. Youthful defensive linemen played a great deal of meaningful snaps last week. Linebackers DeAndre Square and Jacquez Jones are trending upward in order to be considered one of the league's top duos. Preventing LSU from "getting right" in the run game is a priority. Holding the Tigers to less than 100 yards is a reasonable objective. Forcing Peetz to be one-dimensional shouldn't be a difficult task.
Don't let Boutte beat ya
Easier said than done. Kayshon Boutte is the best offensive player that Kentucky will see in 2021. LSU has produced spectacular receivers that are starring in the NFL. Boutte is next up in that category. The sophomore's scoreboard-changing skill set will be on full display. Kentucky defenders can be in the right place at the right time and still give up a score to the explosive playmaker. He's averaging 15 yards per catch. Limiting Boutte to one touchdown reception would go miles if the Cats are to improve to 6-0. Brad White's defense has bent but rarely breaks. Kentucky has given up just one reception of 30 or more yards. It will get tested vs. LSU. The Tigers have registered 12 receptions of 30+ yards and 9 that exceeded 40. This trend will need to continue.
Win 3rd down
Kentucky held Florida to 4/13 on third down. LSU is 11th in the SEC with a 37.5% conversion ratio. Kicker Cade York is as much of a scoreboard changer as Kayshon Boutte. The Tigers will get points if it crosses the 40-yard line. Winning 3rd down would prevent drives from being extended which would lessen York's opportunities. He's been LSU's most consistent player and is the best kicker in the nation for a reason. Holding the Tigers to 35% on the money down would be extremely beneficial.
SPECIAL TEAMS
Kentucky played its best special teams game of the season against Florida. Punts bounced the Cats' way. A blocked field goal resulted in a Trevin Wallace touchdown. Another solid performance will be required against the Tigers.
Match the 3s
LSU kicker Cade York is money. Matt Ruffolo is extremely accurate as well. But, the Cats have allowed a blocked PAT and field goal in 2021. The Tigers are going to score solely based on York's distance and accuracy. Kentucky has to match the Tigers in this aspect of the game. Kentucky cannot afford blocked kicks while converting makeable kicking attempts are a must.
What Does All This Mean?
LSU's unpredictability scares me. The Tigers' two-deep is littered with future NFL draft picks. If the Tigers travel to Lexington and actually put it all together, the Wildcats could be in for a tough night. Kentucky has proven the capability to find a way to win four consecutive close games. The Wildcats have not played a complete or complimentary game yet. So, if Kentucky puts it all together, the Tigers could be in for a tough night. You see, this game could go in so many different ways based on game-time mentality.
Will Kentucky have a letdown after its historic win over Florida? Can the Wildcats find a passing game? Do the Tigers still buy in? Lots of pregame drama in this one. LSU has been outscored 57-31 in the 4th quarter. A hot start and a strong finish in the run game that leads to Red Zone touchdowns could prove to be Kentucky's winning formula on Saturday night.
I'm almost worried about Kentucky's offense. The reason I'm not overly concerned yet is that Mark Stoops has said that he trusts the process and Coen's unit will find its way. Stoops has definitely earned my trust and I take what he says as the truth.
For varying reasons, both programs are in desperate need of a victory. An LSU win would give Coach O a temporary reprieve from the proverbial hot seat. A Kentucky triumph would set up a matchup at Georgia with SEC East title ramifications. With so much on the line, this one could come down to coaching. To be specific, preparation. From what I've seen, Kentucky has a decided advantage in the coaching matchup.
LSU is extremely talented; but, it's lacked discipline and execution in critical moments. Kentucky is a 5-0 team that's won four consecutive nail biters. It's done so with a disciplined, veteran defense that executes at a high level. Saturday night will feature matchups that aren't necessarily tangible in nature. Talent vs. execution. Skill vs. "want to" and so forth. Should be a good one Saturday night.