What we know heading into Kentucky vs. Florida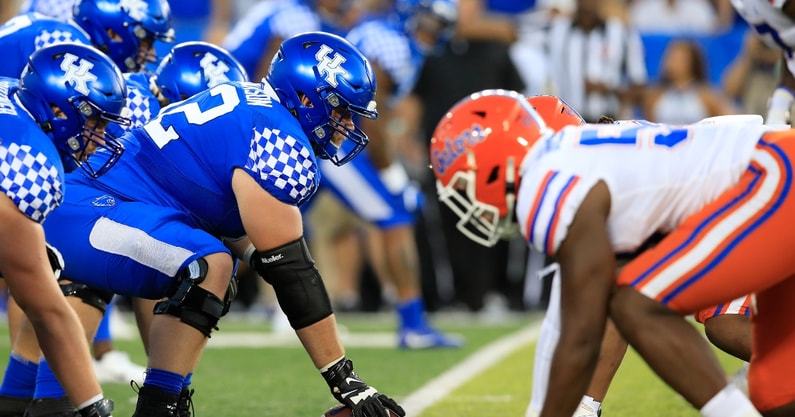 The wait is over. Kentucky will play in an SEC game with stakes on Saturday night.
The Cats have made the trip to Gainesville with a No. 20 ranking and will face No. 12 Florida with ESPN on the call. We have spent all week previewing this contest as both squads are looking to emerge as Georgia's top competition in the SEC East. However, we only have one data point to build from.
We've seen a lot of hyperbole. Let's dive into what we actually know heading into a big game.
Florida is a run-first offense
All anyone wants to talk about in college football media is Anthony Richardson. The redshirt sophomore is a toolsy NFL prospect that is getting comps to Cam Newton and Vince Young this week. In last week's win over Utah, Richardson made many plays for the Gators, but it all got started with the ground game.
Florida got 178 yards on 27 attempts from its three tailbacks against Utah with eight rushes of 10-plus yards. Richardson also chipped in with 106 yards on 11 attempts as the Gators rushed for 283 yards on 7.3 yards per attempt.
At Louisiana, Napier's offense leaned run-heavy last year with a high run play percentage (53.6%). That will remain true at Florida. The Gators want to run the ball to open up passing lanes and create explosive play opportunities in the play-action game.
To stop Florida, defenses must stop the run.
Kentucky's offensive line has issues
Kentucky's offensive line was bad last week. There is no getting around that.
The Big Blue Wall allowed a high pressure rate, saw its star quarterback take a hand full of hits, and struggled to create room on the ground. It was a very tough outing for a unit that has a lot of new faces and some old faces in new positions.
After just four quarters, Kentucky is already tinkering with personnel kicking redshirt senior Kenneth Horsey out to tackle. Redshirt freshman Jager Burton will get the second start of his career at left guard, and this unit needs veteran Eli Cox to make some improvements in his second game at center.
Florida has some real defensive front issues and very little depth, but the offensive line has to take advantage of it. This is a very important week for offensive line coach Zach Yenser. Kentucky must play better in the trenches this week.
Both head coaches excel in close games
Billy Napier won a lot of football games at Louisiana. Mark Stoops is 13-3 in his last 16 games at Kentucky with an impressive 11-5 against the spread (ATS) mark. Most of those victories did not occur in blowout fashion.
Stoops is 20-9 in one-score games since 2016 as Kentucky has excelled in making clutch plays late in games and finding ways to win. Napier is an absurd 17-3 in one-possession games during his career and has won a remarkable 12 in a row.
Last season, the Ragin' Cajuns won seven one-possession games on their way to a 13-1 finish. Napier is known for his supreme organizational skills and those are on display as a coach when his teams are in tight ballgames. Stoops has also managed recent close games well going 5-1 in one-score games last season with an impressive victory against Iowa in the Citrus Bowl.
Against Utah, Napier again found a way to win a close game. The fourth quarter could be wild at Ben Hill Griffin Stadium.