Why the Southern Miss game is the most important game of Mark Stoops' career
On Saturday, year four of the Mark Stoops Era will officially be underway. Over three years in Lexington, Stoops has a 12-24 record, including back-to-back 5-7 seasons defined by late season collapses. Although a $12 million buyout probably ensures he'll get a fifth season, most fans view this as the "Make or Break" year for Stoops and the program. Coaches always say that the next game is the most important, but of the twelve games on Kentucky's schedule this season, no game is more important than Saturday's opener vs. Southern Miss; in fact,
it's the most important game Mark Stoops has ever coached
. Here's why.
Kentucky could actually lose
We've been over this a lot, but unlike other non-conference cupcakes, Southern Miss is actually good; according to CBS and USA Today's rankings, they're better than Kentucky. USA Today's Paul Myerburg released his preseason rankings for all 128 teams in the FBS this morning and has Southern Miss at #45 and Kentucky at #74. Other SEC teams ranked lower than the Golden Eagles: Texas A&M (#46), Mississippi State (#55), Vanderbilt (#79), South Carolina (#84), and Missouri (#87). Why such a high ranking? Quarterback Nick Mullens, considered by many to be the best pro-style quarterback in college football. Add in star running back Ito Smith and a center that rivals Jon Toth in Cameron Tom and you better hope Kentucky's secondary plays well enough to compensate for a vulnerable front seven. Shannon Dawson now serves as offensive coordinator after a rough year in Lexington, but even he can't mess up a talented trio like Mullens, Smith, and Tom, right? Speaking of...
The Shannon Dawson factor
Both Stoops and Dawson shrugged off the emotional implications of Dawson's return to Lexington in their press conferences yesterday, each claiming it's "just another game." Well, I don't buy it. There's no doubt in my mind that Shannon Dawson is coming to Commonwealth Stadium with something to prove and it just so happens he has the tools to do it. Dawson even stoked the fire a little bit a few weeks ago by taking a shot at his former quarterbacks Patrick Towles and Drew Barker when speaking about his current quarterback, Nick Mullens. "You know, I've been around a lot of quarterbacks," Dawson said. "Typically, if I have a good one, I'm a pretty good coach. Typically, if I don't, I'm not a very good coach." Yep, sounds like Dawson. On Stoops' side, could you imagine anything more embarrassing than not only losing to Southern Miss in your season opener at home, but losing to the offensive coordinator you just fired? Coach speak all you want, but this is personal.
A win doesn't get you much respect, but a loss is humiliating
Here's the thing about college football: unless you're someone who really studies it or your team is playing them, you probably have no clue that Southern Miss is a legit program. So, when 99% of fans scroll through the scores on Sunday morning, one of two things will happen: if Kentucky wins, no one will think anything of it; if Kentucky loses, everyone will have an excuse to make another joke about basketball season. Whereas Freddie Maggard has hammered it into our heads that Southern Miss is a program with a future NFL quarterback that should not to be taken lightly, to most of the nation, they're a directional school from the Conference USA that even Kentucky should be able to handle. (If that sounds familiar, it's because you probably still have "They supposed to be SEC" stuck in your head from the Western Kentucky loss three years ago.) For a program striving for relevancy, a loss to Southern Miss is one PR hit we'd like to avoid, especially with recruits.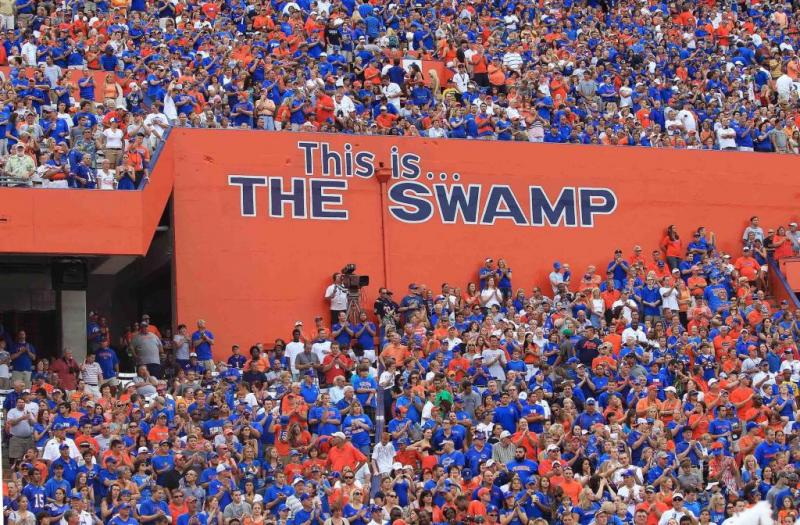 Momentum heading into Florida is critical
The first game of the season is always big for momentum, but that's especially true with a trip to Gainesville on the horizon. There are already enough emotional demons surrounding the Florida series; the last thing Kentucky needs is the distraction of a loss to Southern Miss. Win the first game and confidence blooms; win big and you can talk yourself into upsetting the Gators; lose, and well, getting clobbered in the Swamp might seem inevitable.
If Kentucky loses, they lose the casual fan
Fans are already apprehensive about this season; losing the season opener would just give the most casual of them reason to turn their backs until basketball starts. Like it or not, the history of Kentucky football is defined by heartbreak, which has bred a tendency to expect the worst in its fans. We can tell ourselves that Southern Miss is a great team and steel ourselves for their offense all we want, but admit it, if the Golden Eagles jump ahead by 14 points in the first half, there will be an uncomfortable rumbling in Commonwealth Stadium (and not just from the new offerings at the concession stands). Win and the casual fans stay on board until at least October.
Without a win, Kentucky's path to a bowl becomes very difficult
This is, by far, the most important reason Saturday's game is the most important of the Stoops era. After two straight years of close calls, for this program to turn the corner, Kentucky must go bowling. Without a win over Southern Miss, the path to a bowl becomes much more difficult. The Cats would have to avoid slip ups in the games they'll likely be favored in (New Mexico State, South Carolina, Austin Peay) and then win the three games that will likely be toss-ups (Vanderbilt at home, Missouri on the road, Mississippi State at home). That's not a lot of room for error. Beat Southern Miss and you not only get momentum, you give yourself the tiniest of crash cushions should things start to head south later on. For the players and fans, Saturday's game is the start of another season; for Mark Stoops, it could be the turning point of his career. So, let's win.