Will Levis, Chris Rodriguez Jr. named top-50 players by ESPN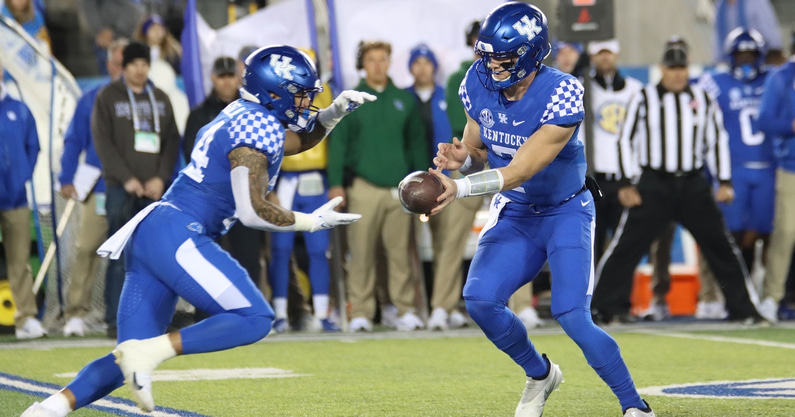 The college football season is so close that we can almost taste it. With week zero quickly approaching, a ton of preseason content is being produced. A significant part of that is with preseason rankings.
We saw Kentucky make an appearance in the AP preseason Top 25 poll for the first time since 1978 on Monday, but team rankings aren't the only things being slotted right now. On Wednesday, ESPN put together a list of the top 100 players in college football for the 2022 season. Kentucky offensive coordinator Rich Scangarello has inherited a pair of top-50 players in the backfield.
Expectations are high for the Kentucky offense because of the star power the Wildcats have in a pair of redshirt seniors at quarterback and tailback.
33.) Will Levis
Former Penn State transfer Will Levis checks in as QB9 and the top signal caller in the SEC East. The redshirt senior is listed as No. 33 overall as the offseason of hype continues for the second-year starter in Lexington.
"After being used primarily as a runner at Penn State, Levis enters his second season at Kentucky projected to be one of the top quarterbacks taken in the 2023 NFL draft," writes ESPN's staff. "He's still a major threat to run the ball with his 6-3, 232-pound frame, but showed last season with his 2,827 passing yards and 24 touchdowns that he's equally effective at beating teams with his strong right arm."
In his first years as a starter, Levis averaged 8.0 yards per attempt on 27.2 throws per game with a 49.6 passing success rate. The quarterback was efficient when interceptions were avoided. On the ground, Levis rushed for 514 non-sack yards with a robust 65.9 success rate. The dual-threat quarterback got it done in multiple ways as he accounted for 33 total touchdowns in his first year as a starter.
That production is serving as a baseline for this offseason's hype. The quarterback possesses big-time tools and put out some good tape in performances against top-10 defenses Georgia and Iowa. There is much room for growth, and Levis has a chance to elevate Kentucky football with a strong campaign this fall.
41.) Chris Rodriguez Jr.
In 2021, Chris Rodriguez Jr. became the fourth player in the Mark Stoops era to reach the 1,000 rushing yard threshold. The former low three-star recruit tallied 1,379 yards and earned first-team All-SEC honors. The veteran is now returning to Lexington for year five. Rodriguez enters the season as an All-American candidate.
"He has been one of the SEC's most productive running backs each of the past two seasons and needs 1,134 yards to break Benny Snell's school record of 3,873 career rushing yards," ESPN writes about Kentucky's tailback. "The 5-11, 224-pound Rodriguez has 26 career rushing touchdowns."
At No. 41 overall, Rodriguez is listed as RB8, and his efficiency is the top reason why. The downhill runner finished last season with a 55.1 percent success rate on 225 attempts after posting a 65.5 percent success rate on 119 attempts in 2020. The tailback consistently keeps his offense ahead of the chains and has only had 24 attempts over two years stopped for no gain or lost yardage.
The combination of Levis and Rodriguez should give Kentucky one of the most efficient offenses in college football.