Will Levis can defeat defenses in multiple ways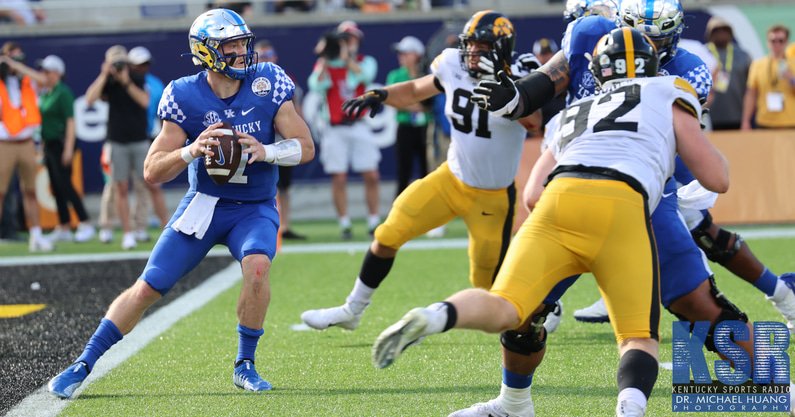 Kentucky football has high expectations entering the 2022 season. The return of QB1 Will Levis is a major reason why.
The Penn State transfer finished the 2021 season with 33 total touchdowns as the former three-star recruit passed for 2,826 yards and rushed 376 yards. The draft buzz surrounding Levis has to do with his potential to turn into a bonafide rockstar as a pocket passer thanks to a bunch of traits, but Levis had success slicing up college defenses in multiple ways last season.
In the throw game, Will Levis posted a 49.6 percent passing success rate on 27.2 throws per game as the quarterback averaged 7.7 yards per attempt. On the ground, Levis recorded 514 yards on 85 non-sack attempts as the 232-pound quarterback logged a 65.9 percent rushing success rate on 6 yards per rush with an absurd first down/touchdown rate of 60 percent.
Pro Football Focus has graded the play-by-play data, and no one returning to college football slices up defense in the run and pass games better than the redshirt senior.
As new offensive coordinator Rich Scangarello takes over the offense, some things are going to chance. The Wildcats will be utilizing more two-back run game to hopefully make the wide zone concept a popular staple of the offense. There will also be some other wrinkles that Scangarello will bring from the San Francisco 49ers. However, the system will thrive only if Levis succeeds. The new play-caller knows that.
"It's going to look similar and we're going to have a good foundation to build on, and then we're just going to see how far we can take this thing and evolve it," Scangarello told The Athletic's Kyle Tucker for their deep dive preview of Kentucky football. "That is strongly being determined by Will (Levis). The first day, we met and watched tape and I said, 'You gotta tell me what you like and what you believe in.' This thing will ultimately be built around Will."
For Kentucky to be at their best, Levis needs to be able to carve up defenses with his arm talent, but Kentucky must also take advantage of his ability to be an efficient rusher to complement the rest of the offense. Quarterback run should still be alive and well at Kroger Field this fall.