Will Levis Stock Watch: Post-Free Agency Volatility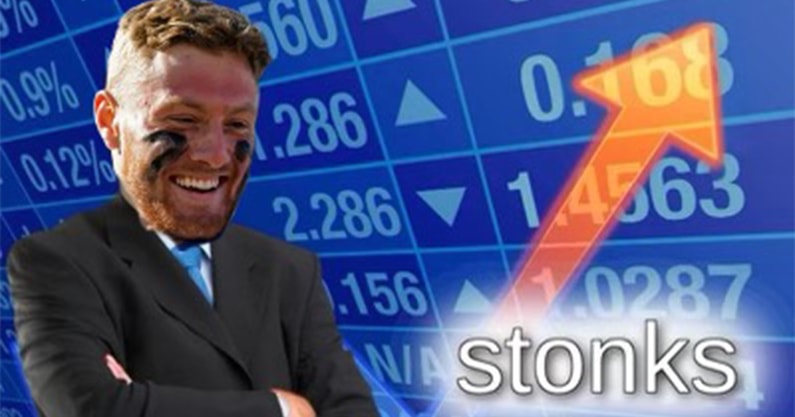 As NFL Draft season reaches a fever pitch, KSR is keeping you ahead of the curve by providing a one stop shop for everything people are are saying about former Kentucky quarterback Will Levis. From Mel Kiper and Daniel Jeremiah, to Colin Cowherd and Rich Eisen, if they're talking about Will Levis, it will be featured in the Will Levis Stock Watch.
Will Levis will get one more opportunity to change the minds of NFL scouts in-person Friday morning at UK Pro Day. Previous Editions: Pre-Combine
Mel Kiper: Will Levis is Still a Top 5 Pick
Mel Kiper has been tooting Will Levis' horn louder and longer than anyone in NFL Draft circles. While folks drooled over Anthony Richardson's Combine performance, Kiper is still dying on the Levis hill. Where some believe the Indianapolis Colts will ultimately roll with Richardson, this ESPN analyst thinks it'll be the destination for Levis at No. 3 overall, with one caveat.
Is it possible Ballard likes either Levis or Anthony Richardson as his top passer in this class? Yes, absolutely. In that case, this could be a win-win deal for both teams. The bottom line is the Colts have a solid roster, but they're not going to win without better quarterback play. Barring a dramatic trade for Lamar Jackson — which would cost two first-round picks — they should move up to ensure they get Levis.

Levis, a 6-foot-4 QB with a huge arm who played in a pro-style offense at Kentucky, had an inconsistent 2022 season. He didn't play with elite talent, though, and he forced too many throws at times. Indianapolis has the playmakers to help him out as a rookie. New coach Shane Steichen helped Jalen Hurts take a massive leap for the Eagles, and he should be excited to coach up another high-ceiling player.

ESPN+
While rolling out Kiper's new mock draft, Todd McShay made the argument against Levis being selected that high. McShay still has the Kentucky quarterback going seventh to the Raiders, but would not be surprised if he slid further.
The Athletic Adds a New Potential Suitor
The Athletic did an intriguing exercise, asking each of their NFL reporters to play the role of GM. The Minnesota Vikings only have Kirk Cousins signed through the 2023 season. A trade up to get a quarterback familiar with the Vikings' system a year early might make sense for Minnesota.
Levis, a strong-armed passer, played for Liam Coen in 2021 at Kentucky. Coen spent three years on the Rams staff with O'Connell from 2018 to 2020, then replaced him as L.A.'s offensive coordinator in 2022. Leaping to No. 7 would take some heavy lifting, but the time comes for every team to shoot its shot

Alec Lewis, The Athletic
There's another team with a similar set of circumstances. Coen also worked with the Seattle Seahawks offensive coordinator Shane Waldron in Los Angeles. They just signed Geno Smith to an extension, but how much do they trust him long term? Levis could be the answer to that question.
The Ringer: Will Levis Slides to Tennessee
The Titans are under a rebuild with new general manager Ran Carthon. Three teams need quarterbacks right away. Will Levis may not be one of those selected in the early picks. If he slides to No. 11, our friends in Nashville might be happy to start life after Ryan Tannehill sooner than expected.
The Titans can get out of Ryan Tannehill's contract after the 2023 season, and that's looking like it may be an inevitability for a retooling franchise that released a handful of highly paid veterans this offseason. Levis might sit in 2023, but from 2024 on, he and his relatively small cap hits would give Tennessee the opportunity to rebuild the roster in earnest.

Danny Kelly, The Ringer
CBS Sports' Pete Prisco
The veteran NFL reporter at CBS isn't buying that teams are too tepid to take a high-risk, high-reward quarterback early in the process. The position is too valuable to potentially lose a franchise-changing star. That's why Prisco believes the Colts will not lose an opportunity to keep will Levis in blue and white at No. 4 overall.
They might have to trade up one to get him, but for now they stay put and he falls into their laps. The word is they really like Will Levis and see his skills translating to the NFL game. Levis is liked a lot more by NFL people than the draft Twitter cult.

Pete Prisco, CBS Sports
Will Levis behind Hendon Hooker?
Even though an ACL tear has sidelined Hendon Hooker for the pre-Draft process, the NFL Network's Bucky Brooks believes he's a better pro prospect than Will Levis. The Tennessee quarterback now ranks third, two spots ahead of the Wildcat. I don't get it. Please, somebody offer a better explanation than this:
 "He's one of the more polished quarterbacks that you'll find when it comes to throwing with anticipation, timing and touch from the pocket. The athletic Tennessee product throws pinpoint darts to his intended targets at every range, deftly manages an offense and plays the game like a seasoned pro…

… Levis is a wild card, as a talented passer and playmaker with A+ physical tools who didn't always put his best work on tape in 2022. The Kentucky product has flashed intriguing potential as a QB1 — especially during the 2021 campaign — but his spotty play makes him something of a boom-or-bust prospect.

Bucky Brooks, NFL Network