Will Levis tabbed Walter Camp National Offensive Player of the Week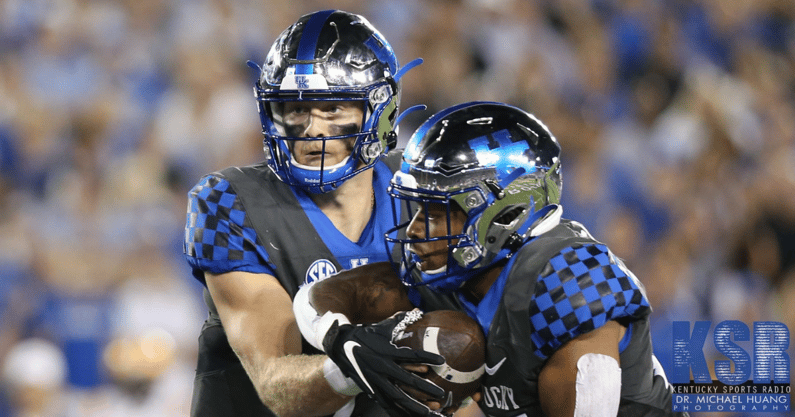 Have yourself a day, Will Levis.
The Kentucky starting quarterback played the best game of his young Wildcat career on Saturday against LSU. Levis slung the ball around for 145 yards on 14-17 passing, totaling three touchdowns through the air. But not only that, the Penn State transfer ran the ball for 75 more yards and an additional two scores. Of Kentucky's six touchdowns in the 42-21 win over LSU, Levis accounted for five of them. It was also his first game as a Wildcat where he did not turn the ball over.
As a result of his season-high quarterback rating of 90.0, Levis has earned a big-time national honor. He was named the Walter Camp National Offensive Player of the Week on Sunday afternoon.
Levis was also tabbed as a College Football Performance Awards honorable mention for his efforts in leading Kentucky to its first 6-0 start since 1950.
Levis admittedly struggled the previous week in the win over Florida, finishing with just 87 yards on 7-17 passing. Kentucky's plan going up against LSU was always to run the ball down the Tigers' throats–which UK did with great success–but it doesn't come as easily without Levis making big plays in and outside of the pocket.
"Just slowing down my footwork," Levis said on Saturday about what he did differently against LSU. "Especially last week when we were watching the film comparing practice to the game. When I got to the game and the bolts were flying a little bit, I just kind of really got antsy with my feet, and I just got to trust that the timing in practice as long as we are going full speed is going to be the same as timing in the game. Just slowing my footwork down and just trusting the progression, and I think I did a pretty good job of that tonight."
Levis is just the third Kentucky Wildcat to earn Walter Camp honors since 2004, but he's also the second from this season. His fellow teammate and linebacker Jacquez Jones received the award after the win over Florida last weekend while Josh Allen did the same back in 2018.
Congrats to Will!