Williams-Brice Stadium presents difficult first road test for Kentucky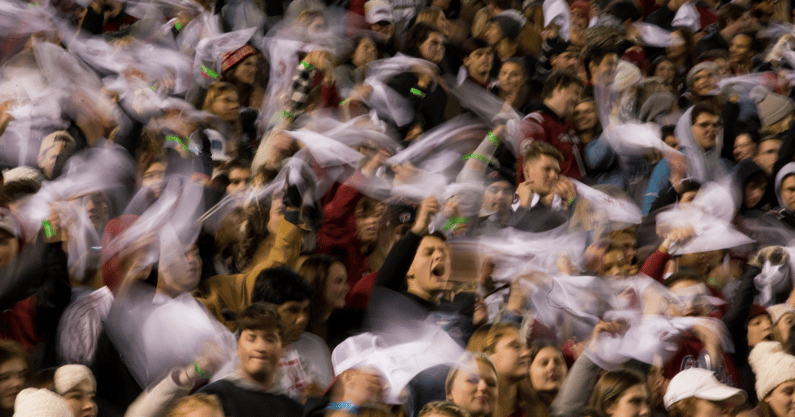 Kentucky's first true road test in two years will be at one of the loudest stadiums in all of college football. The Wildcats will kick off under the lights Saturday night at Williams-Brice Stadium beginning at 7 pm ET.
"Looking forward to playing South Carolina. It's always a fun game, very challenging. Definitely a great environment down there on the road," Mark Stoops said Monday. "They're doing a very good job, Coach Beamer, with the change. You can see the energy and the excitement down there and they're playing very good football. We're looking forward to the challenge of going down, playing them and trying to get another SEC East victory. It's a big game for us."
This will be Kentucky's first road trip without capacity restrictions since a 38-14 victory over Vanderbilt in 2019, UK's only win away from home with Lynn Bowden at quarterback. That is Stoops' only victory as a road favorite in the SEC, losing outright on two other occasions. The Wildcats are 3-6-1 ATS in their last ten SEC road games. Kentucky is a 5-point favorite vs. South Carolina.
Two Classes without a Road Test
Kentucky is an experienced team, but not every player has experienced what it's like to play through the noise of a packed stadium on the road. Roosters will crowing, Sandstorm will be thumping and 80,000 fans will be screaming.
"We do have two classes, a significant amount of guys that haven't been in this environment and we're going to address it," Stoops said.
To illustrate the importance of starting fast to silence the crowd, Stoops plans on showing the team tape from a game where the Wildcats did not start fast. In 2017 Deebo Samuel scored a 68-yard touchdown on the first play of the game. Two plays later Stephen Johnson threw an interception.
"First play of the game — BAM — place erupts. They go nuts. We throw an interception on the first possession — BAM — it goes nuts. We settle in, take full control of the rest of the first half, but you gotta take those shots sometimes in these environments. They just have to understand if we get hit on the chin, you gotta stand back up and play the next play. We talk about it, just make 'em aware, but I don't need to overdo it."
The Wildcats took their early licks and rebounded for a 23-13 win.
New South Carolina Team in 2021
Few SEC teams experienced more adversity in 2020 than the South Carolina Gamecocks. After a string of opt-outs from future NFL players and Will Muschamp's termination, they were on life support by the season finale at Kroger Field.
"This is the front end, so everybody's trying to prove themselves and there's a great energy and very fundamentally sound in all areas," said Stoops. "They're very motivated."
Eric Wolford was the Gamecocks' offensive line coach last year. Ahead of South Carolina's road trip to Georgia, some opined that Muschamp's knowledge of personnel could be an advantage for the Bulldogs. Stoops audibly laughed at the line of thinking.
"That's funny. You think anything had to do with those beasts Georgia had on their team? Just a little," he chuckled. "This is a different team, different mentality."
Fluid Quarterback Situation
Luke Doty was the presumed starter at the conclusion of spring practice. First-year head coach Shane Beamer had to call grad assistant Zeb Noland into action after Doty injured his foot in the preseason. Noland injured his hand in the 40-13 loss to Georgia. Even though Beamer believes Noland will be able to play vs. UK, Stoops is preparing for both quarterbacks ahead of the road test.
"They're very balanced, either quarterback will run their offense. Similar to us in some ways you see some under-center, you see the run game carryover, you see the play-action, you see the shots. I feel like they have some guys that can hurt you outside. They have some difference-makers at wide receiver, but they also have some really good backs," said Stoops. "Very good team."
Williams-Brice Mask Mandate
The South Carolina crowd will look different from its 46-0 season-opening win against Eastern Illinois. The city of Columbia passed a city-wide mask ordinance Sept. 8, requiring all patrons at Williams-Brice Stadium to wear a mask to attend Saturday's game. Those not wearing masks may be fined up to $100. In an e-mail to students, the university said the "City of Columbia is solely responsible" for enforcing the 30-day mandate.
Even if the masks muffle some of the sound, it's guaranteed that Kentucky's first true road test in two years will be one loud challenge.