Michigan center Tarris Reed partners with NIL collective MGoDAO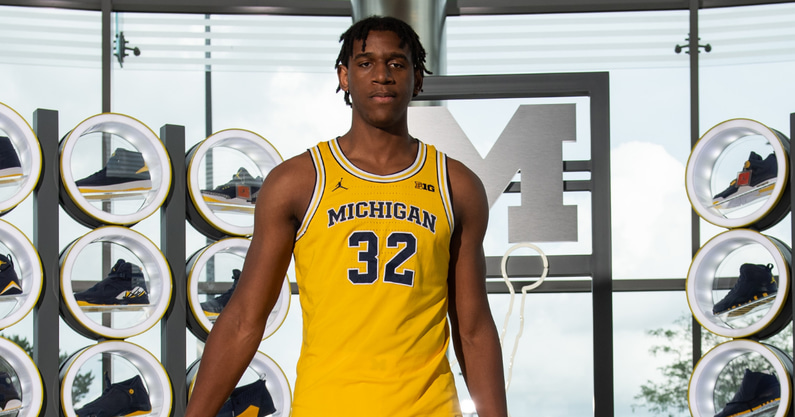 Michigan NIL collective MGoDAO is entering its first NIL partnership with freshman center Tarris Reed, per an announcement made Wednesday afternoon.
MGoDAO is a contingent of Michigan alumni and fans joining forces to create a DAO (decentralized autonomous organization) and NIL collective intent on a transition to on-chain governance. The group recently launched its Season 1 NFT collection, which for $100 gives holders year-long access to tailgates, events, giveaways and more.
"We're really excited to partner with [Reed]," founder Reece Kurdyla told TheWolverine.com. "He's got a really great support system around him, and I think he's got his head on straight. I think his vision aligns a lot with us as far as what we're trying to do with athletes and really be creative with how we collaborate with them. It fits our 'choose your own adventure' where we're going to find some things outside of basketball that he's interested in and try to help him that way."
Reed is a four-star prospect and slated as the No. 33 overall player in the 2022 class, according to the On3 consensus. The Saint Louis (Mo.) Link Year Prep product signed in Nov. 2021 and headlined as the highest-rated Michigan hoops recruit this cycle. The deal comes just over two weeks following Reed's arrival on campus. 
Why take a chance on Michigan NIL collective MGoDAO?
Kurdyla: "He doesn't have to work with us, but he's trying it out. I think that shows how forward-looking he is as a person. […] He said himself that he's got a venture capitalist mindset, and I think this fits right in with that. Trying something new that hasn't necessarily been done before. Taking a chance on the collective that is more up-and-coming, just getting started and a completely new thing. That says all it needs to say about what Tarris sees — how he maybe sees things differently than other people, especially his age. It shows that he's got a mindset where he's willing to take some chances. He sees that upside I think." 
RELATED
The Wolverine, $1 for 1 year
This subscription will give you access to premium Michigan football, basketball and recruiting content. Our team of recruiting insider EJ Holland, team insider Chris Balas, columnist John Borton, staff writers Anthony Broome and Clayton Sayfie, and contributor Trevor Ritchie make up the best team in the Michigan market.
You can also subscribe to The Wolverine Magazine, which is published monthly for a total of 11 full-color issues annually. The Wolverine Football Preview Magazine, a full-color, 164-page magazine packed with great information about the upcoming season, will be available in July for individual purchase.
Follow The Wolverine on various social media channels, including Facebook, Twitter, Instagram, YouTube and TikTok. The Wolverine Podcast shows are available on iTunes and Spotify and are released on an almost daily basis. Video versions of every podcast can also be found on our YouTube channel.