Freddie Aughtry-Lindsay's last-second dash to glory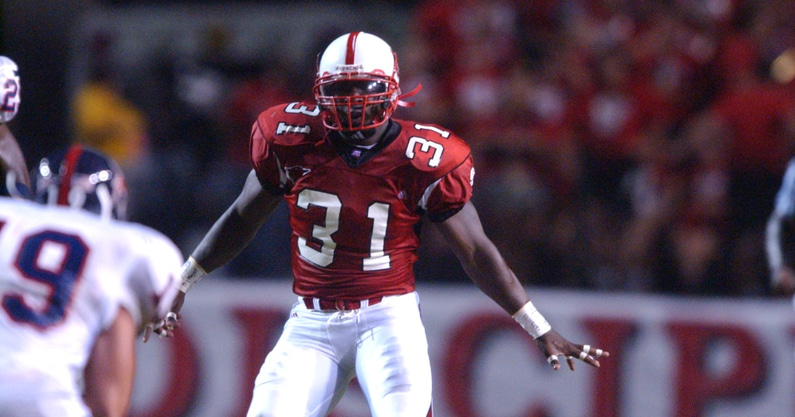 The day Freddie Aughtry-Lindsay's father died of cancer, the young boy was barely 14 years old. He was hardly equipped to handle the raw emotion and difficulties he and his family were about to face without its paternal rock.
His grieving mother pulled the young player aside.
"Freddie, don't slow down," she said. "Your daddy wouldn't want you to."
Subscribe to The Wolfpacker today for a limited-time $1 deal for a year of premium access
She took Aughtry-Lindsay to football practice, and he played in a youth football game that weekend, which he and his mom believed would have been his dad's desire, since he was heavily involved in his son's athletics career, serving as his baseball, basketball and football coach.
Aughtry-Lindsay went on to become a standout player Andrews High School in High Point, North Carolina, a place that has sent many of its best football players to NC State.
For four years under head coach Chuck Amato, Aughtry-Lindsay didn't slow down. He played all three linebacker positions, always making sure to spend an extra 30 minutes a day watching game films and an hour studying the playbook.
"I wanted to know what every person on the field was supposed to do," he said.
Aughtry-Lindsay also spent more hours than any other student-athlete at the time volunteering for community services and projects, whether it was through Big Brother and Big Sister or going to elementary schools to read to young fans. He still has the trophy from Assistant Director for Student-Athlete Engagement/Leadership Tonya Washington to prove it.
What many people remember most about Aughtry-Lindsay's NC State football career was the time he did something no other Wolfpack defensive player ever done before or since.
On Oct. 11, 2003, "Dash" made the run of a lifetime, intercepting a pass from Connecticut quarterback Dan Orlovsky and rambling 56-yards down the field for a touchdown that gave the Wolfpack a stunning 31-24 victory at Carter-Finley Stadium.
He scored with just 5 seconds remaining on the clock, giving the Wolfpack the closest thing to a walk-off touchdown since Danny Peebles made his famous catch against South Carolina at Carter-Finley Stadium on Nov. 1, 1986 after the game clock had expired.
Having scored earlier in the game on a 46-yard fumble return following teammate Pat Thomas' strip-sack of UConn's Orlovsky, Aughtry-Lindsay became the first Wolfpack player in program history to score via an interception and a fumble recovery in a single season, much less the same game.
It is a game that Aughtry-Lindsay, now an assistant coaching the nickels on NC State's defensive staff, remembers with clear detail while the Wolfpack prepares to play Connecticut Saturday at 7:30 p.m. at Carter-Finley Stadium.

"We had just run the same defensive stunt the play before, a double blitz with the weakside linebacker [Pat Thomas] and the safety [Andre Maddox] trailing," Aughtry-Lindsay recalled.
"I was covering the middle of the field. On the second time, Pat gets through the line and takes out the running back, Andre gets the hit on the quarterback right as he throws the ball.
"For me, the whole play was in slow motion. I turned my eyes back to the line of scrimmage and there was the ball. I tipped it up, caught it and started running down the field."
Aughtry-Lindsay was not exactly gifted with great speed. In fact, his teammates often ribbed him about the fact that "Dash" was about the least appropriate nickname any football player ever had.
That day, it didn't matter. Aughtry-Lindsay just knew somebody had to make a play to keep the driving Huskies from getting into position for a game-winning field goal or touchdown play.
"I knew the situation," he said. "We had our backs up against the wall. So I just told myself that I was going to have to do it, and God gave me the ability to catch that ball."
If not speed, Aughtry-Lindsay at least picked up momentum as he raced down the field, heading to the middle of the turf and making a couple of battleship turns the way he used to do as an Andrews High School fullback. Maddox and Thomas joined him on the jog as blockers, even if they had to pull up a little to stay in front of him.
"Andre was a 4.4 guy trying to block for a 4.8 guy," Aughtry-Lindsay remembered, laughing at the thought. "He knew what the situation was, and he knew we had to get into the end zone. So he stayed back with me. Nothing was going to stop me."
Aughtry-Lindsay dove into the end zone to celebrate his "Dash to Glory," and was immediately dogpiled by his teammates in one of the most dramatic endings in Wolfpack football history.
"It was a slow dash, that's for sure," Aughtry-Lindsay said "All that mattered was that I made it to the end zone."
The Wolfpack won four in a row during that midseason stretch and qualified for a postseason bowl game with a 7-5 record. That allowed Amato's offense-heavy team to play one final game with senior quarterback Philip Rivers and wide receiver Jerricho Cotchery. The Pack whipped Kansas, whose defensive coordinator was Dave Doeren, 56-26 in the Tangerine Bowl.
Aughtry-Lindsay played another season after that on a squad that led the nation in total defense, switching between the three linebacker positions. He continued to volunteer in the community and received one of NC State's Top Six for Service Awards given annually to 6 athletes from the league's schools.
"Whenever I needed a student-athlete to read or share their journey to college, I always knew I could count on Freddie," Washington said.
"From watching the joy on his face and the kids' faces when he would visit, I knew even back then that he was either going to be a teacher or a coach."
Aughtry-Lindsay earned a degree in sociology in 2004, married his neighborhood sweetheart Amber shortly thereafter and embarked on a career in coaching. The couple has four sons.
Though he never really intended to become a coach, Aughtry-Lindsay has been a little bit of everywhere, coaching at his high school in High Point, as a graduate assistant at NC State, at Slippery Rock State in Pennsylvania, at Elon, St. Augustine's, Campbell and North Carolina Central. He returned to Raleigh to join head coach Dave Doeren's defensive staff prior to the 2020 season in his current position.
"I never really wanted to get into coaching, but I did want to teach about the spirit of leadership and I wanted to impact young people's lives," he stated. "It's something I always wanted to do."
He and special assistant Ruffin McNeill spend each week working with Wolfpack freshmen, making sure they get through the difficult first days of practice and first semester of college courses.
"He's been awesome to have him here on the staff," Doeren said. "He is coaching as an alum. It's cool to see him mentor the younger guys.
"His blood is in the bricks here."
Tim Peeler is a regular contributor to The Wolfpacker and can be reached at [email protected].