River Baldwin to transfer to NC State women's basketball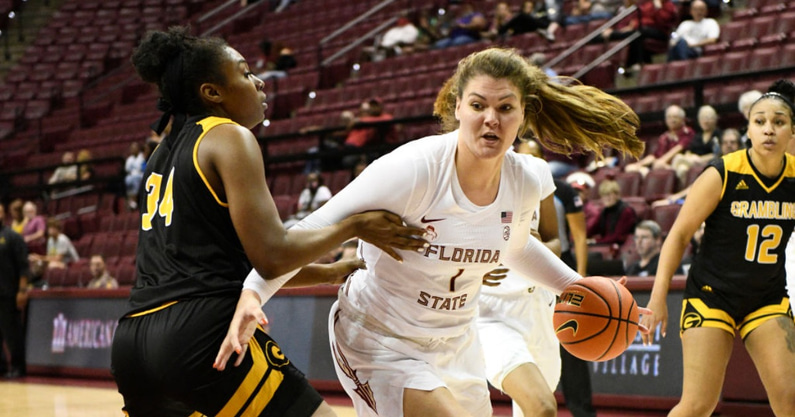 NC State women's basketball has continued its frontcourt help by adding a commitment from Florida State transfer and junior center River Baldwin.
Baldwin started 18 games and appeared in 31 last season for Florida State, averaging 18.2 minutes per contest. She contributed 6.0 points and 4.8 rebounds per contest and also blocked 20 shots. She shot 54.5 percent from the field.
Baldwin joins former Maryland forward Mimi Collins in joining the NC State women's basketball roster. Collins announced her decision last week.
Baldwin, like Collins, is a former McDonald's All-American. In her career at Florida State, the 6-foot-5 center averaged 5.3 points and 4.0 rebounds over 82 games.
Against NC State this past season, Baldwin had four points and three rebounds in 11 minutes in a regular season showdown and added two points and three boards in 18 minutes during the ACC Tournament. Her best performance may have been when she had 15 points and nine rebounds in a loss at Florida, who like Florida State made it to the NCAA Tournament.
The Andalusia, Ala., native combines with the 6-foot-3 Collins to add size to the NC State women's basketball roster that is losing 6-foot-5 All-American center Elissa Cunane. The Wolfpack also lost former All-ACC forward Kayla Jones. Both Cunane and Jones were drafted by the WNBA.
NC State women's basketball did not sign any recruits in the fall. Colllins and Baldwin are the first two newcomers to join next year's team.
——
Talk about River Baldwin and NC State women's basketball inside The State of Basketball
Subscribe to our YouTube channel
Learn more about our print and digital publication, The Wolfpacker
Follow us on Twitter: @TheWolfpacker
Like us on Facebook