Nebraska Basketball Game Day: Penn State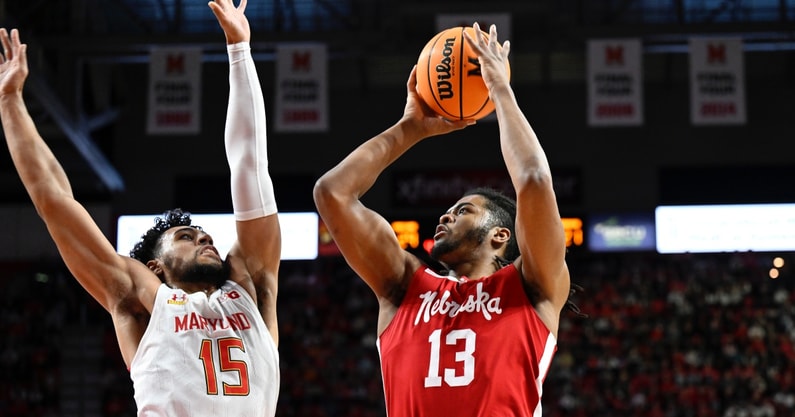 Here is what you need to know going into Nebraska's home game rematch today against Penn State at Pinnacle Bank Arena…
Who, What, Where, When
Nebraska Cornhuskers (10-13, 3-9) vs. Penn State Nittany Lions (14-8, 5-6)
Sunday, Feb. 5, 2023 – 3:30 p.m. CT
Pinnacle Bank Arena (15,500)
TV: Big Ten Network
Radio: Huskers Radio Network
Internet: FOX Sports app
Click here for a limited time, register, and get full access until the start of the next football season for only $29.99!
Nebraska projected starters
| | | | | |
| --- | --- | --- | --- | --- |
| Sam Griesel | G | Sr. | 6-7/216 | Had 21 points at Illinois, his highest total since the season opener. |
| Jamarques Lawrence | G | Fr. | 6-3/185 | Finished with 5 points and was 1-5 on 3-pointers against Illinois. |
| Sam Hoiberg | G | RFr. | 6-0/180 | Made his first career start at Illinois. Went scoreless in 11 minutes. |
| Denim Dawson | F | RFr. | 6-6/193 | Scored 2 points on 0-4 FGs with 5 rebounds and 3 TOs at Illinois. |
| Derrick Walker | F | Sr. | 6-9/245 | Had 8 PTS, 6 REB, 4 AST, and 6 TOs before fouling out at Illinois. |
Penn State projected starters
| | | | | |
| --- | --- | --- | --- | --- |
| Jalen Pickett | G | Sr. | 6-4/209 | Leads Penn State with 17.4 points, 7.4 rebounds, and 7.0 assists per game. |
| Andrew Funk | G | Sr. | 6-5/200 | Scored 23 points while hitting 5-of-10 3-pointers in the win over Nebraska. |
| Seth Lundy | G/F | Sr. | 6-6/220 | Averaging 14.3 ppg. Scored 13 of his 16 points in the 2nd half vs. Nebraska. |
| Caleb Dorsey | F | Jr. | 6-7/235 | Averages just 2.5 points, 2.3 rebounds, and 0.5 assists per game. |
| Michael Henn | F | Sr. | 6-8/244 | Recently joined PSU's starting lineup. Scoring 3.4 ppg on 61.3% shooting. |
Stop the 3
There isn't a more dangerous team from behind the 3-point line in the Big Ten Conference than Penn State. As of Friday, the Nittany Lions led the league in both 3-point makes (236, 10.7 per game), attempts (613), and percentage (38.5%). That's 57 more makes on 49 more attempts at a higher clip than any other Big Ten team this season. Nebraska got a taste of that perimeter shooting in its first meeting in State College. PSU went 11-of-30 (36.7%) from behind the arc, including five makes on 10 tries by Andrew Funk (23 points). The Huskers need to aggressively contest every 3-point shot against a Penn State lineup that can feature legitimate shooters at all five positions.
Take care of the ball
Nebraska has plenty of issues to try and figure out over the final month of the season, but taking better care of the basketball has to be the top priority. The Huskers have been as careless with the ball the past three games as they've been all season. After 19 giveaways last time out at Illinois, NU has now committed at least 15 turnovers in its last three losses. That resulted in each of those opponents scoring 20 or more points off those turnovers. It starts with Derrick Walker, who has 16 turnovers just himself during that span. The good news is that Penn State ranks dead last in the Big Ten and 354th nationally in defensive turnover percentage (14.6). That said, PSU still scored 12 points on nine Nebraska giveaways in the first meeting. The Huskers must stay out of their own way to have a chance tonight.
Stay efficient 
One of the few silver linings from Nebraska's four-game losing streak is that it's shot the ball at a relatively high clip. The Huskers come in shooting 46.3% from the field over its last four outings. That's a 3.3% improvement from the previous five games when NU still had starters Emmanuel Bandoumel and Juwan Gary. That trend must continue against a Penn State team that ranks third in the Big Ten in field goal percentage (46.3%), first in 3-point percentage, and first in free-throw percentage (76.9%). In other words, Nebraska has to maximize every possession. That includes not turning it over and making high-percentage looks when they come.
Never miss breaking news or another HuskerOnline article again. Click HERE to sign up for HuskerOnline's Daily and Breaking News Newsletters.
Quotable
"We have to start valuing possessions and taking care of the basketball. We're just shooting ourselves in the foot right now… That's what it's going to come down to, is valuing possessions, taking take of the ball, rebounding – we have to rebound better… It's about valuing the basketball."

Nebraska head coach Fred Hoiberg on his team's recent issues with turnovers.
Prediction
Penn State (-3.5) 70, Nebraska 66
Robin's overall season record: 15-8
Robin's record vs. the spread: 12-11