Nebraska women's basketball dominates Penn State in a much-needed victory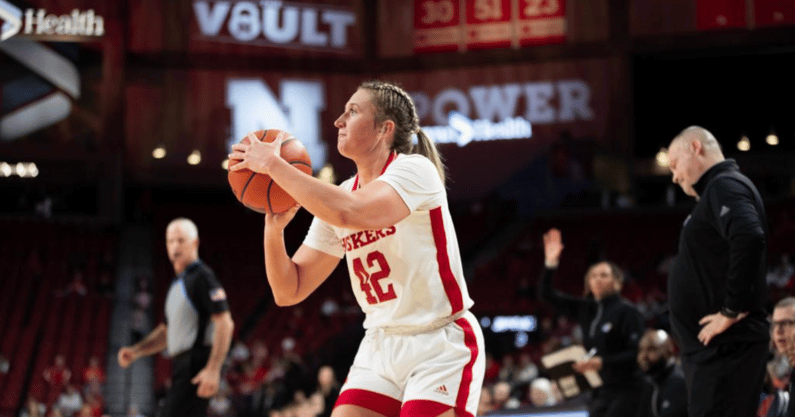 After three tries, Nebraska women's basketball helps Head Coach Amy Williams win her 300th career game. The Huskers dominated Penn State 80-51 on Wednesday.
After going 2-for-25 from behind the arc against Rutgers, Nebraska's three-point shot was dialed in to start against Penn State.
Jaz Shelley started it off with an easy three to get the Huskers on the board. She didn't score against Rutgers after having a low-scoring game against Indiana as well.
Click here for a limited time, register, and get full access until the start of the next football season for only $29.99.
Nebraska didn't score for another three minutes after Shelley's three-pointer. Annika Stewart came off the bench and broke the drought by swishing a shot in from behind the arc.
Callin Hake, who has been one of Nebraska's best three-point shooters over the last few games, hit back-to-back threes in about one minute. The Huskers went up 12-8 with under four minutes to go in the first quarter.
While Nebraska caught fire from behind the arc, Penn State struggled tremendously. They didn't make a three in the first quarter and went 3-for-11 in the first half.
The Nittany Lions' shots just stopped falling in general toward the end of the first quarter. They didn't score in the final 2:53 of the quarter as Nebraska went on a 12-2 run over the last 4:32.
Shelley got the Huskers started again from the three-point line in the second quarter. She drained a wide-open shot to go up 26-14.
NU went on a 12-0 scoring run with a nice pass inside to Stewart for a layup and Bourne hit a three. Makenna Marisa ended Nebraska's run with a wide-open three but Hake responded with a three of her own for Nebraska to go up 38-17.
Marisa sparked the Nittany Lions as they went on an 11-0 scoring run over the final 3 minutes of the first half. All three of Penn State's three-pointers in the first half came in the last five minutes of the second quarter.
Maddie Krull hit a buzzer-beater to end Nebraska's three-minute scoring drought and sent NU into the locker room up 41-28.
Huskers pull away in second half
Nebraska started the quarter just like they preferred to, with a three-pointer. Krull ended the first half with a three and started the second half with one as well. She hit another about a minute later for NU to take a 49-30 advantage with 7:23 left in the third quarter.
NU didn't score for two minutes until Mendelson made a contested jumper as the shot clock hit zero. Nebraska went right back to its scoring drought.
The Huskers large lead provided them some cushion along with Penn State's inability to score. During Nebraska's five-minute scoring drought, the Nittany Lions scored one field goal and three free throws.
Hake ended the streak with a layup down the middle to go up 58-37. Nebraska ended the third quarter on a 6-1 run thanks to that layup and going 4-for-4 on their free throws down the stretch.
Click here for a limited time, register, and get full access until the start of the next football season for only $29.99.
Nebraska kept the momentum going into the fourth quarter and their shots started to fall. Krull kicked it off with a layup and an and-one opportunity. Bourne sailed in a three-pointer for her team to go up 64-38 and it was off to the races.
Penn State called a timeout after Bourne and Shelley scored layups in transition on back-to-back possessions. That bucket was Bourne's 1,000th career point.
The Nittany Lions scored their first field goal of the fourth quarter with 5:30 remaining as Thompson made a jumper.
Kendall Moriarity got in on the fun with the best three of the game. She chucked up a hook shot as the buzzer sounded and made it. It was the perfect ending to Nebraska's game.
Hake had 16 points and was 4-for-6 from behind the arc. Krull had 14 points and was 3-for-5 from three. Shelley had a near triple-double with 10 points, 10 assists and nine rebounds. Markowski had a double-double with 15 rebounds and 11 points. Bourne added 10 points.
Next up, the Huskers take on No. 3 Ohio State at Pinnacle Bank Arena on Sunday at 1:30 p.m.
Nebraska's defense gets a moment
Yes, Nebraska's three-point shots were falling after a very bad game against Rutgers. But the Huskers' defense got a moment on Wednesday as well. They held Penn State to its fewest points of the season. The Nittany Lions averaged 75.7 points per game and scored 51 against Nebraska women's basketball.
Williams started her press conference after the game by crediting Penn State's offense. She praised guard Makenna Marisa, who averages 18.4 points per game. She said Shelley was a huge part in helping keep Marisa to 14 points on Wednesday. Williams said that is probably the best Nebraska has defended her.
Shelley's near triple-double was a "special effort" but what she did helping shut down Marisa doesn't show up on the stats.
Krull said that Marisa is the "head of the snake" and makes tough shots and it was important to defend her shots and everyone's shots. She said Sam Haiby did a great job of defending Marisa as well.
Williams also said it was important not to lose Penn State in transition. Another wrinkle is that they have lots of talent and mix up their lineup a lot which can be difficult on their opponent.
Hake listed Nebraska's rebounding as an important statistic as well. The Huskers had 52 and Penn State had 33 rebounds.
"When you have 52 rebounds, you better be coming out on top," she said. "I think we had a competition within our team today on the boards. (Markowski) coming out with 15 rebounds, she just kind of fired our team today."
Getting a win over Penn State was huge for this squad. But so was playing good offense and defense in the same game and getting back to what Nebraska does best, as Williams said.
It'll have a huge challenge against Ohio State for the Huskers to stick to their guns.
Never miss breaking news or another HuskerOnline article again. Click HERE to sign up for HuskerOnline's Daily and Breaking News Newsletters.