Tominaga, Huskers catch fire in 88-67 rout of Boston College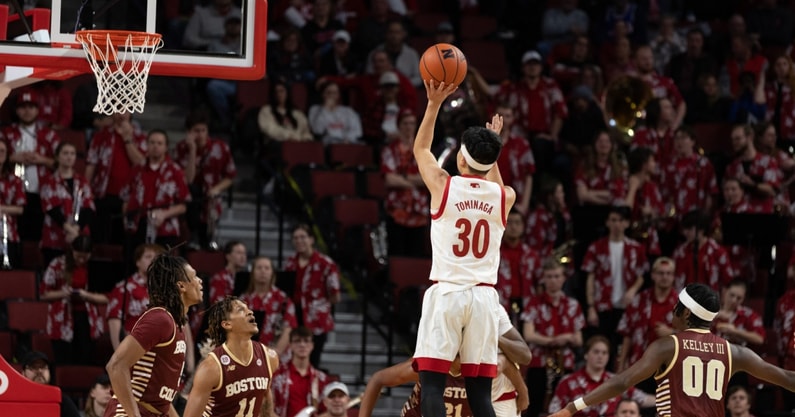 In possibly its final ACC/Big Ten Challenge game, Nebraska's matchup with Boston College was a borderline must-win situation.
After a back-and-forth first 20 minutes, the Huskers finished emphatically, dominating the second half for an 88-67 victory.
Keisei Tominaga matched his career-high with 23 points off the bench. He was 7-of-8 shooting and went 4-of-5 from behind the arc. NU shot a blistering 61.5% from the field and had five players score in double figures.
That marked Nebraska's best shooting percentage since hitting 62.8% against Northwestern on Feb. 3, 2015.
Meanwhile, the Eagles didn't make a field goal for 12 minutes from the 3:11 mark in the first half to 11:07 in the second. BC had just nine points through the first 13 minutes after halftime.
A choppy first half saw an early five-point Nebraska lead turn into a five-point deficit after Boston College went on an 11-2 run. 
Tominaga kept the Huskers afloat with 17 of his 23 points in the first half on a perfect 5-of-5 shooting. That included producing 15 of NU's final 22 points.
Nebraska closed the half on a 9-1 rally and took a 37-34 lead into halftime. The Huskers shot 54% from the field in the first half, but the Eagles countered by going 5-of-10 on 3-pointers.
The game didn't stay close much longer, as NU opened the second half on a 14-3 run. Boston College started just 1-of-11 shooting with four turnovers and five fouls through the first nine minutes after the break.
Nebraska outscored the Eagles 32-9 at one point in the second half and led by as many as 28. The Huskers shot 67.9% overall and 9-of-13 (69.2%) on 3-pointers over the final 20 minutes.
C.J. Wilcher was 4-for-7 on 3-pointers and had 14 points, while Emmanuel Bandoumel scored 12 with six rebounds and six assists. Derrick Walker and Juwan Gary chipped in 10 points each, as NU had 21 assists on 32 made shots.
Devin McGlockton led BC with 18 points and 11 rebounds.
Tominaga stole the show
Nebraska was clicking on all cylinders in the second half, but Tominaga was in his bag from start to finish.
The junior guard carried the offense during a rough stretch to end the first half. It was the kind of game where it quickly became apparent that he was in for a big night.
When did Tominaga know he was feeling it?
"Probably the first shot," Tominaga said. "Every time I make the first shot, I can get going easily."
By halftime, Tominaga was up to 17 points on 5-of-5 shooting (2-for-2 on 3-pointers) and 5-of-5 free throws. He also had an assist and a steal.
He only followed up with six points in the second half but did so with two more 3-pointers. One of Tominaga's best plays came on a pretty dish to Walker for a wide-open dunk.
After the play, Tominaga celebrated with "assist goggles" as he trotted down the court.
"We need Keisei to get going every time he can," Bandoumel said. "He's the top shooter on our team with C.J., and as soon as they can get going, it makes the offense so much easier… It's just that energy that we use."
Keita stepped up big
Whistles were ringing early and often inside Pinnacle Bank Arena. The game's officials called 10 fouls within the first nine minutes and 35 total for the game.
Three of those were on Walker, who played just six minutes in the first half due to foul trouble. Less than three minutes into the second half, Walker was hit with his third foul and sent to the bench.
That left Nebraska relying on Blaise Keita to play critical minutes at the five off the bench. The 6-foot-11 sophomore answered the call with five points and a game-high eight rebounds (four offensive) in 18 minutes.
He also drew two key charges, dished out two assists, and added a steal.
That came after he went scoreless and without a rebound in just three minutes in Sunday's win over Florida State.
"Blaise was awesome, and we needed him because Derrick didn't get off to a good start, obviously…" NU head coach Fred Hoiberg said. "We needed that guy to come in and just calm things down for us, and thought Blaise did a great job of that."
Nebraska gained some critical confidence for what lies ahead
Nebraska dominated Florida State in the second half of its final game at the ESPN Events Invitational on Sunday. It did the same thing to Boston College on Wednesday night.
As a result, the Huskers have now beaten back-to-back Power 6 opponents by double-digits for the first time since 2018-19. They rolled Creighton 94-75 on Dec. 8 and then Oklahoma State 79-56 on Dec. 16 of that season.
Considering what now lies ahead for the Huskers as the calendar flips to December, that kind of momentum is critical.
Next up on Sunday is a trip to take on instate rival Creighton, the seventh-ranked team in the country. Nebraska has beaten the Bluejays just once since 2011 and has lost six in a row in Omaha.
Three days later, NU travels to face 10th-ranked Indiana. The Hoosiers just beat defending national champion North Carolina by double digits in Chappel Hill on Wednesday. After that, No. 5 Purdue comes to town on Dec. 10.
As if all of that weren't enough, the Huskers cap off that brutal stretch against Kansas State in Kansas City, Missouri. The Wildcats are 6-1 and received votes in this week's AP Top 25.
"This is a big stretch that we've got for the month of December," Bandoumel said. "Now it's about how we're going to respond and how we're going to take the energy from this game and bring it for every other game that we've got."
They said it
"No, you don't. Even if you did, he probably wouldn't hear you anyway. You see him, he's out there just running around… Listen, the kid plays with so much passion and heart, and it's fun to see him when he gets it going like that."

Nebraska head coach Fred Hoiberg on if he says anything to to Keisei Tominaga when the guard gets hot like he did vs. Boston College.