Countdown to kickoff: Notre Dame vs. Ohio State is 33 days away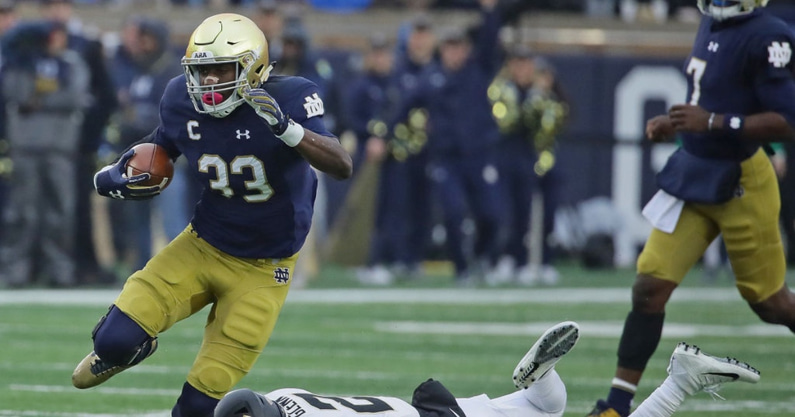 To preview one of the most anticipated games for Notre Dame this century and the official start of the Marcus Freeman era, BlueandGold.com is counting down the days to the matchup against Ohio State on Sept. 3.
This daily series of 99 stories celebrates by the numbers some of the most notable names, dates, moments and memories related to the past and present of Notre Dame football. 
With 33 days until kickoff, it's time to revisit the career of running back Josh Adams, who played for the Irish from 2015-17 and is No. 6 on the team's all-time rushing list (3,201 yards).
Notre Dame's bad luck was Josh Adams' opportunity.
The torn ACL Tarean Folston suffered in the first half of the 2015 opener against Texas bumped Adams up to No. 2 on the running back depth chart and paved the way for the best statistical season by a freshman running back in program history.
It wasn't the ideal circumstance for creating a chance for Adams. No one wants to see a player get hurt. But sometimes those are the situations that give eventual stars their first audition. And Adams looked like one from the start.
PROMOTION: Sign up for just $1 for your first year at Blue & Gold
Adams scored touchdowns of 14 and 25 yards in that 38-3 win. He topped 100 rushing yards in three of the last five games that season. His 141-yard day in a win over Wake Forest included a 98-yard touchdown run that stands as the longest play from scrimmage in Notre Dame history. He averaged 7.2 yards per carry in 2015. His 838 rushing yards remain the most in a single season by an Irish freshman running back.
Adams did it all while operating as the No. 2 back behind 1,029-yard rusher C.J. Prosise. His season created the sense that he – not a healthy Folston – would be the lead back in 2016. Sure enough, that's how the depth chart read. Adams was a bright spot in an otherwise wretched season, totaling 933 yards on 5.9 yards per carry.
His junior year, though, was the true arrival of a star.
Adams was a catalyst on offense for Notre Dame in 2017 and sparked Heisman conversation amid the Irish's 8-1 start. He ran for 1,430 yards on 206 carries (6.9 yards per rush) behind an offensive line that won the Joe Moore Award. He finished just 7 yards short of the single-season program rushing record set in 1979 by Vagas Ferguson.
Adams put 229 yards on Boston College in a Sept. 16 win. A 19-carry, 191-yard, three-touchdown game in a 49-14 whipping of then-No. 12 USC Oct. 21 brought the Heisman buzz to a boil. Adams ran for 84 of those yards on one touchdown. One week later, Adams rushed for 202 yards in a 35-14 victory over then-No. 14 North Carolina State. His 77-yard touchdown in that game was his nation-best seventh run of at least 60 yards. (He tied for the lead in such runs at the end of the year).
A few days later, Notre Dame launched its #33Trucking Heisman campaignthat included hats with a #33Trucking logo. The campaign highlighted Adams' Heisman candidacy – calling him the "lead trailer" – but incorporated the other units that pave the way for him.
"The 33 not only recognizes Adams but it also identifies the 11 players on the field for offense, defense and special teams, whom all play a role in the ultimate success of Notre Dame's lead trailer," Notre Dame's description of it reads.
"We take a lot of pride in how Josh runs and our rushing yards," guard Quenton Nelson said. "We really rally behind each other."
A quiet finish to the season ended the Heisman conversation. Adams did not top 50 yards in four of his last five games. Not coincidentally, Notre Dame ended the regular season 1-2. It was enough to push Adams to the NFL Draft, though. He was surprisingly not selected – a fall attributed to a foot injury suffered while training. Adams also dealt with numerous nagging injuries at Notre Dame and tore his ACL as a high school junior.
The Philadelphia Eagles signed Adams as an undrafted free agent. He totaled 511 yards and three touchdowns as a rookie in 2018, but was waived the following August. He spent 2019-21 with the New York Jets, totaling 169 yards.