How two Notre Dame alumni-run companies are shaping the NIL space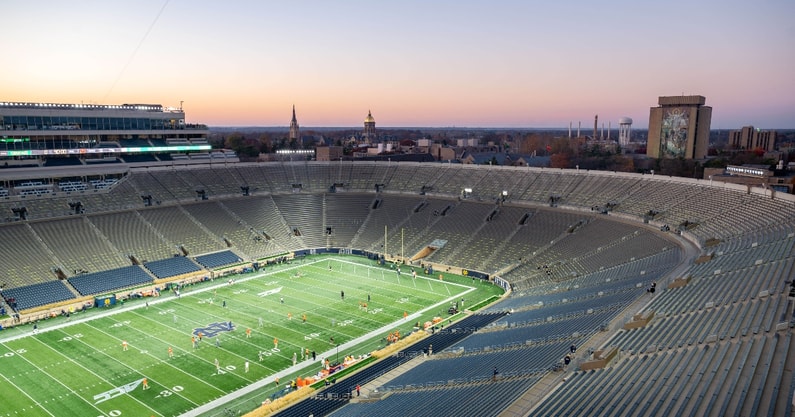 Many of the companies now at the forefront of the name, image and likeness space were looking ahead. While the rules around what has been deemed "the wild, wild West" had yet to be established, the tidal wave that is NIL was coming. Anyone paying attention could see that, though few embraced it. 
A couple of groups that began thinking about the options early on include MOGL and Vintage Brand. Now they are working together to bring change to the NIL space, change which attempts to prepare the student-athlete beyond individual endorsement deals or one-time opportunities.
What are MOGL, Vintage Brand?
The companies were founded by Notre Dame alums, including two athletes. MOGL, a platform used to connect college athletes with prospective NIL opportunities, was started by former Notre Dame quarterback Brandon Wimbush along with fellow Notre Dame alum Ayden Syal. Digital sports company Vintage Brand was started by former Irish baseball player Chad Hartvigson. 
MOGL, which was founded in 2019, operates similarly to a LinkedIn or an Indeed, connecting businesses and brands directly to athletes. The companies are given access to the digital platform, and therefore the athletes, and can list campaigns, marketing opportunities, jobs and other similar things. Additionally, a local company is able to filter the options to a certain school and can invite athletes in that area to apply. 
For example, if a local pizza shop wants to launch a new flavor and begin an advertising campaign, they can invite athletes in the vicinity. The companies subsequently wait for applicants.
MOGL has a full-service account management team, which understands the marketing goals of the companies and provides support regarding recruitment and pricing, among other things, similar to a campaign manager.  For MOGL, it's not just about finding a partner financially beneficial to them. It's about the athlete.
Vintage brand is an apparel company seeking to recognize unique times in sports history and spark a feeling of nostalgia for the dedicated fan. They sell various types of memorabilia, including clothing, kitchenware, art and more.
"The company has curated and digitally restored over 25,000 authentic vintage works of art, weaving together more than a century of American sports memories and connecting fans to the history of their favorite teams," a February press release stated.
The company was founded in 2017 and sells memorabilia related to college athletics as well as professional baseball, basketball and football teams.
Why the Vintage Brand-MOGL partnership?
The initial connection between the two companies is obvious — the Notre Dame ties. But that is certainly not the only reason the two companies have joined together to impact the NIL space. 
"When we first started exploring this in June, July last year, it was apparent that we had a lot of the technology on the front end, the merchandising and the manufacturing capabilities, but what we didn't have was a platform to really aggregate the market as far as student-athletes and get the word out there that this was available," Hartvigson said. "After doing some research, it was really apparent that the MOGL team had the same value proposition that we did, which was enabling the student-athletes to expand and develop their brands."
Syal echoed the sentiment.
"What we really look for is people who are approaching it in what we have deemed to be the right way," Syal said. "For example, with Vintage Brand, we were really curious what specifically about athlete merchandising on the individual level attracts and appeals to them. We we're able to have conversations with Chad, himself having been a former collegiate athlete, about why this is so an area of such passion to him.
"Then from a more strategic perspective, we needed to understand can you do this at scale? What are your production capabilities? What's the cost to produce? How many athletes can you work with? Because for us, with any partnership that we structure, we need to make sure that 100 percent of our athletes are going to be given the ability to engage with that company."
Vintage Brand checked all of the boxes.
The two companies share a vision when it comes to education as well. They want the athletes to benefit from their NIL experience beyond just a money grab. For example, MOGL recently hosted a session for athletes led by its compliance director, Khalil Wilkes, on how to navigate NIL and tax season. Wilkes joined MOGL after a year at Stanford as a compliance coordinator.
For the session, they also invited a top international accounting firm to educate student-athletes on what is a daunting process for most people and one that your typical 20-year-old college kid likely does not understand, at least in its entirety.
Overall, the educational "curriculum" is structured based on the experiences of the college athletes on the staff but factors in newer components like the rise of non-fungible tokens (NFTs) as well.
"It's really us keeping our ears to the ground and listening to our athletes about what they're not understanding," Syal said. "But it's also thinking proactively. Athletes are making money now. Do they have a way of knowing how to manage that money or what they should be doing with that money?
"We've structured and formalized strategic partnerships with numerous companies to ensure we are providing all of the resources and educational materials to our athletes."
Prior to the original partnership, which was announced in February, Vintage Brand had already begun working with Notre Dame athletes. Former Irish women's basketball player Sam Brunelle was one of the first to land a store, and within a few hours, Wimbush reached out to Hartvigson. A partnership was blossoming. 
"Since announcing the partnership with Vintage Brand, we've done incredibly well, both in relation to the partnership and externally," Syal said.
MOGL won the Social and Culture category at South by Southwest (SXSW) in March. They were awarded $4,000, but the team felt the reward was much greater than a monetary prize.
"To put it plainly, South by Southwest was really validation for everything that we've spent the last three years building," Syal said.
What's next?
The two companies made an exciting announcement in mid-April, as Vintage Brand became the first sports brand to offer an NIL network for all college athletes — yes, all 500,000 NCAA athletes across 1,100 schools are able to become paid endorsers for Vintage Brand.
"We hope to empower student-athletes by providing educational opportunities to learn more about NIL and the surrounding business landscape, which includes building, developing, merchandising, and monetizing their own personal brand, as well as campaigns with existing brand athlete partners," said Michelle Young, Vintage Brand co-founder and chief creative officer, per a press release. "We want to open the doors to educational opportunities outside of just unlocking monetary rewards. We want to help them grow as student-athletes, experience an entrepreneurial path, and set them up for a future beyond college sports."
More broadly, interest in MOGL is expanding at a rapid rate. According to Syal, the company has around 3,000 athletes currently on the platform. All partners must be able to support all 3,000, should they want to get in on any specific opportunity. Outside of football, there is equal distribution across all sports. Additionally, just over half of the athletes MOGL is working with are female.
"From a sign-ups perspective, we're acquiring businesses and athletes at a record rate," Syal said. "The deal volume and velocity on the platform has really been picking up since the beginning of 2022."
Secondarily, MOGL is beginning to work with larger business, including the shoe company All Birds. They recently selected MOGL as their exclusive NIL marketplace.
"The reason why they've selected us as that is because our engagement rates with our athletes and our connectivity to them is far higher (than other businesses in this space)," Syal said.
The world of NIL is undoubtedly messy, confusing and overwhelming. But this group of Notre Dame graduates joined forces to hopefully make it less so, both for the student-athletes in South Bend and across the country.