2023 safety Ben Minich commits to Notre Dame football over Oklahoma, Stanford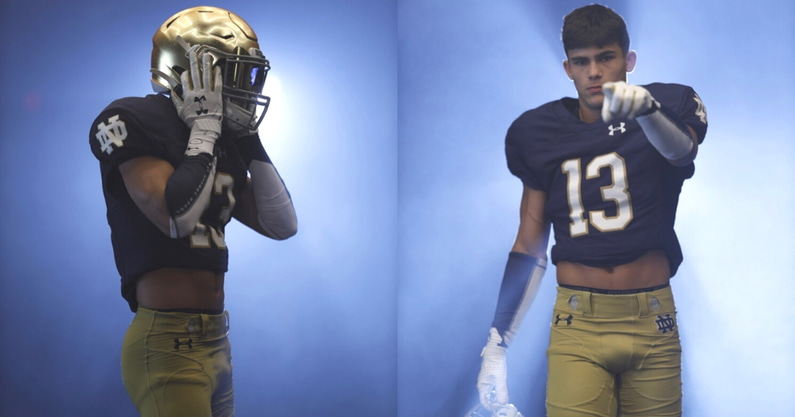 Cincinnati Lakota West class of 2023 safety Ben Minich has announced his commitment to Notre Dame, choosing the Fighting Irish over finalists Cincinnati, Kentucky, Oklahoma and Stanford.
He becomes Notre Dame's 22nd commitment in the 2023 class, a group that ranks No. 2 nationally per the Consensus Football Team Recruiting Rankings.
"It's the perfect spot for me," Minich told Blue & Gold about picking Notre Dame. "It's not too far from home but not too close. It has great academics along with elite football. Notre Dame gives me the best chance to go to the NFL and keep living out my dreams. It all aligned perfectly. Notre Dame has a great coaching staff full of great people. It was a no-brainer."
Fighting Irish head coach Marcus Freeman, safeties coach Chris O'Leary, defensive coordinator Al Golden and director of recruiting Chad Bowden were among the coaches who led the way in recruiting Minich. Gone are the days where just one Notre Dame coach is recruiting a player. It's a full team effort.
Minich, who plans to enroll early at Notre Dame, had high praise in particular for O'Leary, who will be his position coach at the next level.
"He's fun to be around," the prospect explained. "He's not someone who you're like, 'Ugh, I have to go meet with Coach O'Leary today.' He's upbeat and always has a lot of energy. He's worked with Jeremiah Owusu-Koramoah and Kyle Hamilton; he can develop you."
Minich ranks as the No. 528 overall player and No. 50 safety per the 2023 On3 Consensus, plus the No. 15 prospect from his home state of Ohio. On3's own rankings list Minich as the No. 33 safety nationally and No. 13 prospect in Ohio.
The 5-11.5, 185-pounder is Notre Dame's third safety commitment of the class, joining Irvington (N.J.) High's Adon Shuler and Denton (Texas) Guyer's Peyton Bowen. The Irish have a total of five defensive backs committed in the 2023 cycle.
PROMOTION: Sign up for just $1 for your first year at Blue & Gold
Minich goes in depth on Notre Dame commitment
The verbal pledge came together quickly, as Minich didn't hear from Notre Dame until the start of summer and informed the staff of his decision to commit less than two months later.
"At the beginning of June, Coach Bowden contacted my high school coach and asked about me and the person I am," recalled Minich. "He told me that they wanted to get me up there to see me in action at a camp. That was our first encounter."
Minich spoke here and there with the staff between the initial contact, and again when he saw South Bend for the first time and participated in a prospect camp June 21. All eyes were on Minich that day as the coaches got a clear evaluation on him.
"I got to work with Coach O'Leary individually, and I did all of the one-on-one reps," Minich added. "They were making sure I was going against the other top receivers there so that I was getting the best competition. After the testing, they told me I put up good numbers and said to have fun the rest of the camp."
Notre Dame didn't offer Minich during the camp; that wouldn't come until a few weeks later. But between the time of the camp and offer, communication ramped up with the two parties. Minich spoke often with Bowden, Freeman, Golden and O'Leary.
"We were in constant contact," Minich said. "They hadn't offered yet, but they showed a lot of interest, and we built our relationship. We talked about more than just Notre Dame football; I got to learn about what kind of people they are."
July 20 is the day that Minich received his scholarship offer from the Fighting Irish. It didn't shock him because of the interest the staff had been showing, but that didn't negate his excitement to the news.
"It was a great feeling, and I was super pumped to get on campus a week later," Minich added.
Once Minich received the Notre Dame offer, Blue & Gold logged an On3 insider prediction for him to end up landing with the Irish. He had a visit date for July 27 already scheduled before receiving the offer, and the feeling was that if his return trip went well, then Minich would commit.
And Minich confirmed that this sentiment was accurate.
"I wanted to get a bit more in-depth, and going back there, my intentions were that if it was what I expected, then I'd be committing in the next day or two," he said. "I wanted to check all the boxes."
Minich's visit went well, and the next day he informed the staff of his pledge. Eight days later, he announced it to the public.
"I got there pretty early, and it was a lot to go through that day," Minich said of the visit. "We got a lot done — academic meetings, admissions meetings, and talking with Coach O'Leary and Coach Golden. I saw the campus, facilities and talked with some of the players. It was good information to get before I made my decision."
He called Freeman to inform him of his decision to commit.
"He wasn't there on my visit, but we had been talking for a while and built a connection already," explained Minich. "I got to sit down with him after my camp visit, too. When I called, he asked how my visit was, and I told him, 'It was everything I expected and more, and I'm ready to commit.'"
Notre Dame believe Minich can excel in multiple roles in Golden's defense.
"They see me playing either safety spot and also being a nickel/dime guy," he said. "I'm versatile with my speed and tackling ability."
The Ben Minich file
During Minich's junior season, he posted 45 tackles and two interceptions – returning one for a 76-yard touchdown — in helping lead Lakota West to an 11-2 record. Offensively, he caught 16 passes for 250 yards and five scores.
The Lakota West secondary is loaded, as Minich is joined by Ohio State commit Malik Hartford, Northwetsern verbal Joshua Fussell, and a pair of rising juniors with FBS offers in Taebron Bennie-Powell and Bakari Miles.
Minich ran a blazing 10.47 100-meter dash in May — which broke his own school record — and scored a near-perfect 33 on his ACT test, which is in the 98th percentile nationally. He also has a grade-point average of over 4.0.