2023 DE Armel Mukam flips commitment from Stanford to Notre Dame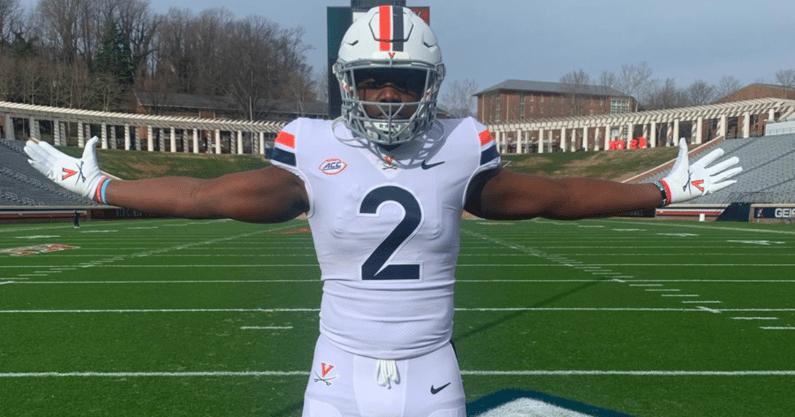 Notre Dame flipped Woodberry Forest (Va.) High class of 2023 defensive lineman Armel Mukam from Stanford, he announced Wednesday.
It's news that has come out of the blue because Mukam hasn't visited Notre Dame's campus nor did he announce that he held an offer from the Fighting Irish. However, the staff has quietly been working on the 6-4, 250-pounder in recent weeks and pulled off the flip.
"Notre Dame is great academically and has top-tier football with the opportunity to compete for a national championship every single year," Mukam told Blue & Gold. "That was really appealing to me. I need to be challenged on and off the field, and I felt like Notre Dame is the place to do so."
Mukam took June official visits to Cal, Stanford and Virginia, and committed to the Cardinal at the end of the month. He also held offers from Colorado, Duke, Harvard, North Carolina, Syracuse, Virginia Tech and Wake Forest.
But Notre Dame began its pursuit a few weeks ago, and a virtual tour of campus Sunday with Irish director of recruiting Chad Bowden helped seal the deal. The power of Notre Dame is on display with his commitment flip, with the Irish swooping in to land the powerful defensive end on short notice.
PROMOTION: Sign up for just $1 for your first year at Blue & Gold
"Notre Dame has always been a dream school for me," he explained. "When I was living in Canada, I always wanted to play hockey for Notre Dame. When I switched to playing football, I knew that Notre Dame was a good football school, too. It's a place that has always had a special place in my heart."
Bowden, defensive line coach Al Washington and head coach Marcus Freeman led the charge for Notre Dame in Mukam's recruitment.
"I really like Coach Washington," Mukam said of his future position coach. "He's been straight up with me and tells me the truth. He tells me that I'm a good player but still have things to work on, and that's what you want in a coach."
All four major recruiting services rank Mukam as a three-star prospect. He's the No. 91 defensive lineman and No. 806 overall prospect nationally according to the On3 Consensus. On3's own rankings have him as the No. 76 defensive lineman in the land.
"I'm a hard worker on the field and in the classroom," Mukam stated. "I'm always smiling and bring high character."
Notre Dame has 23 commitments in its 2023 class, a group that ranks No. 5 according to the On3 Consensus Football Team Recruiting Rankings. He's the fourth defensive lineman of the group, joining Mentor (Ohio) High's Brenan Vernon, Hagerstown (Md.) St. James School's Devan Houstan and West Roxbury (Mass.) Catholic Memorial's Boubacar Traore.
More details on Armel Mukam
Both of his parents are from Africa and moved to Quebec, Canada, which is where Mukam was born. Hockey was his sport of choice growing up. He didn't start playing football until his sophomore year, when he played in just a few contests as a tight end. It was at that point that he fell in love with the sport.
Mukam and his parents started looking toward schooling options in the United States so that he could better himself academically and athletically. They decided on Woodberry Forest High, which is about 90 miles southwest of Washington, D.C.
He went on to have a strong junior season, posting 41 total stops, 8 tackles for loss and 6 sacks, according to The Daily Progress. The Virginia Independent Schools Athletic Association named Mukam to its first-team all-state defense. He was also named a team captain ahead of the start of his senior season.
"I think I'll play five-technique in the Notre Dame defense," Mukam said. "I could play vyper. It'll all depend on how much weight I put on when I enroll."
Mukam, who has only played one season of American football, picked up his first scholarship offer from William & Mary last December. Colorado became his first Power Five scholarship offer Feb. 8, and Mukam saw his recruitment take off in March, landing a total of 14 offers.