Notre Dame football adds graduate walk-on punter Jon Sot from Harvard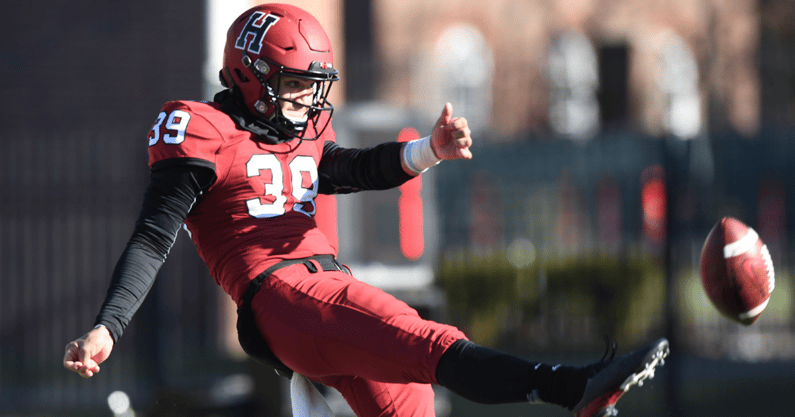 Notre Dame added a specialist to its roster for the second time in less than a week.
Former Harvard punter Jon Sot announced on Twitter Tuesday he will spend his final year of collegiate eligibility with the Fighting Irish. He joins former Arkansas State punter Blake Grupe as graduate transfers who have chosen to finish their college careers at Notre Dame.
"I can't wait to get to South Bend and chase a national championship," Sot wrote in his tweet.
Sot was a first-team All-Ivy League performer in 2018 and 2019. He averaged 41.1 yards per punt in 2018 and downed 19 of his 51 kicks inside the 20-yard line. His average was the second best in school history and led the Ivy League. He led the Ivy League once again in 2019 with 42.3 yards per boot.
Eight of Sot's 57 punts this past season traveled farther than 50 yards with a long of 67. He downed 24 kicks inside the 20-yard line, only had two touchbacks and forced 28 fair catches. The Clark (N.J.) Saint Joseph High School product will earn a degree in economics from Harvard this May before arriving in South Bend.
Notre Dame lost three-year starting punter Jay Bramblett to the NCAA transfer portal this month. The Tuscaloosa, Ala., native recently announced his decision to follow former Notre Dame head coach Brian Kelly to LSU. Bramblett was a solid starter for the Fighting Irish. He punted 164 times for an average of 41.4 yards in his blue and gold career.
In addition to Sot, the Irish will welcome class of 2022 three-star punter Bryce McFerson of Indian Trail (N.C.) Metrolina Christian Academy to campus this summer. McFerson was rated the No. 9 punter in his class per the On3 Consensus.
McFerson and Sot will likely have an offseason battle for the starting punting job. Notre Dame has another walk-on, senior Jake Rittman, on its roster, but the Bramblett understudy likely isn't ready to start at this level. The only other punter listed on the Notre Dame roster is walk-on Harrison Leonard, who is primarily a place kicker.
Grupe, meanwhile, will have the upper hand on the place kicking battle. Senior Jonathan Doerer exhausted his eligibility this past season after three years as Notre Dame's starter. Rising sophomore Josh Bryan appears to be the future of the position for the Irish, but Grupe, a sixth-year senior, was a nice add for the Irish to give Bryan another year to prepare himself for that role.
Sot, Grupe and the rest of Notre Dame's special teamers will be coached by former Cincinnati special teams coach Brian Mason. Head coach Marcus Freeman hired Mason earlier this month. The hire has not been made official by Notre Dame yet, but an announcement is expected in the coming days.