Notre Dame lands Arkansas State transfer kicker Blake Grupe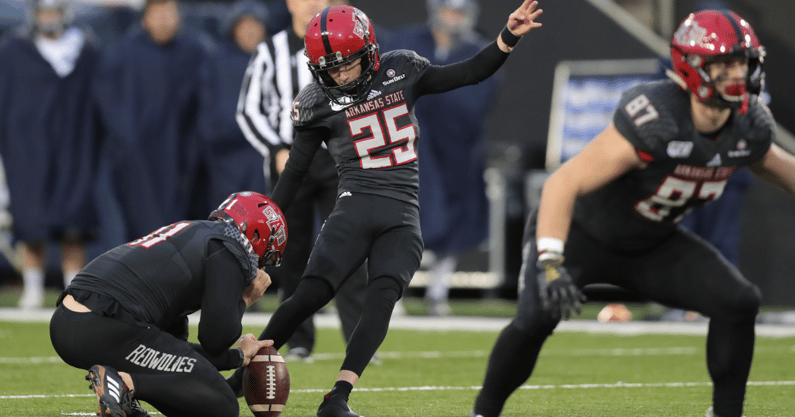 Jonathan Doerer completed his fifth and final season in a Notre Dame uniform in 2021, leaving the Fighting Irish with a need for a kicker.
On Thursday, Jan. 13, Notre Dame landed one in Arkansas State transfer Blake Grupe. He will use his sixth year of eligibility — made possible by the NCAA's COVID waiver — in South Bend this fall.
"The history of the program and winning, Coach [Marcus] Freeman, the chance of playing in the college football playoff, and the list goes on and on about why I want to be at Notre Dame," Grupe told BlueandGold.com.
Grupe redshirted as a freshman in 2017 and then served as Arkansas State's kicker from 2018-21. During that time, he became the Red Wolves' all-time leader in both field goals made (64) and points (354).
In his first three years in the role, Grupe was 44 of 61 (72.1 percent) on field goal tries with a long of 47 yards. Last fall, he had his best season for Arkansas State, knocking through 20 of 25 field goal attempts (80.0 percent) with a long of 50 yards.
In his career, Grupe has converted 28 of 34 (82.4 percent) field goal attempts from 30-39 yards and 17 of 28 (60.7 percent) from 40-49 yards. He has made 162 of 169 (95.9 percent) extra point tries, with three of his misses coming during his redshirt freshman campaign in 2018. He arrived at Arkansas State as a walk-on and won the starting job before being put on scholarship.
With 86 career field goal attempts and a 74.4 percent accuracy rate, Grupe is one of the most experienced and established kickers in the country. He will be a bridge for the Notre Dame kicker position between Doerer and whoever takes the mantle for the 2023 season.
Grupe entered the transfer portal on Jan. 9, 2022, and made his intentions public the next day.
"What I was able to do in my four years of playing at Arkansas State was more than I ever thought I could do," Grupe said.
During his conversations with Irish head coach Marcus Freeman, Grupe was sold right away on the vision of the program.
"He is absolutely awesome," Grupe said. "The team is behind him and has a lot of momentum right now, especially with him at the front of the pack. Everyone believes him. His leadership and energy is apparent."
Grupe is already envisioning trotting out on the field and knocking one through the uprights inside Notre Dame Stadium. He welcomes the spotlight.
"It'll be amazing," he said. "As a kicker, people think that you're scared of the pressure situations, but when you've done it for so long and have made so many kicks, you learn to enjoy and thrive in those pressure environments. When the pressure is on me, I wouldn't have it any other way."
The other kickers currently on the Notre Dame roster are current freshmen Joshua Bryan and Chris Salerno, and junior Harrison Leonard. The Irish flipped Bryan from Colorado in the class of 2021. Both Bryan and Leonard connected on extra points against Georgia Tech last fall.
Grupe was named to the All-Sun Belt Conference second team in 2021. He was on the Athletics Director's Honor Roll three times at Arkansas State. He earned his bachelor's degree in business administration in the spring of 2020. Coming out of high school, Kohl's Kicking Academy rated him as a 4.5-star recruit.
Grupe, a native of Sedalia, Mo., stands at 5-8, 148 pounds. He holds the single-season and career field goal records at Smith-Cotton High School.
Notre Dame added Grupe as a scholarship player. He will wear jersey No. 99 for the Fighting Irish.