Everything Notre Dame football players, coaches said about USC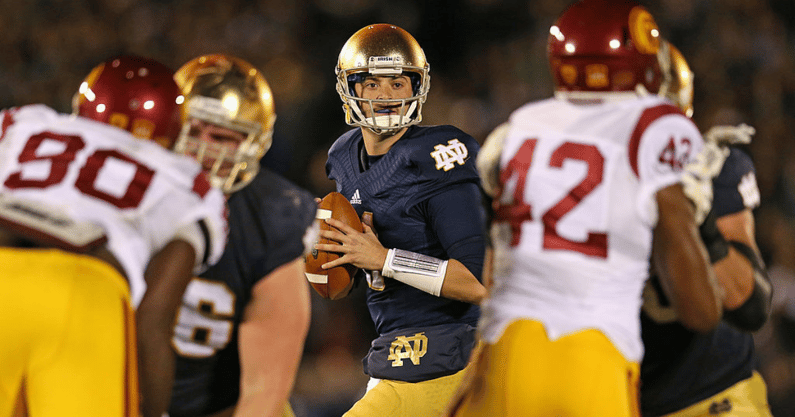 Notre Dame offensive coordinator Tommy Rees is gearing up for his ninth go-round in the Fighting Irish vs. USC Trojans rivalry. He experienced it four times as a player from 2010-13. This will be his fifth foray into the rivalry as a Notre Dame assistant.
Rees' all-time record vs. Southern Cal? 7-1.
Here's what Rees and his Fighting Irish comrades said about USC just a few days before the 93rd meeting between the historic programs when Rees will try to push his personal mark to 8-1 at 7:30 p.m. ET (ABC) at the LA Coliseum.
PROMOTION: Join for only $10 to unlock premium access until the start of the 2023 football season
Rees on the rivalry: "It's huge, right? I don't know if our guys fully know that. It just seems weird we haven't played there since 2018. When you're there — you have a home game and you have a game there — OK, this is what the rivalry really means. I grew up in a household where UCLA-SC was a big day every year. So I kind of knew what SC was about at an early age.
"Then you come here, and you still have that same feeling that you had as my brother had, my mom had, my dad had at UCLA. Maybe even more so with just football. Like every year, this was the one you circled. Our guys know that a little bit from last year, but we have to educate them on what it means to go out there and play in the Coliseum.
"I want our guys focused as soon as that ball's snapped. We have to do the things required to win a football game. Then when you're my age or older, down the road, you'll look back and you'll be able to say, 'Hey, this is a pretty cool moment to play in these games.' We want to educate them, but we want them able to go and play the way it needs to be required to play a good football game."
Notre Dame quarterback Drew Pyne: "Obviously, it's one of the greatest rivalries in college football. I grew up a Notre Dame fan. I remember being here watching Ian Book. It was my official visit and I watched Ian play against USC. That was an unbelievable game. Being able to watch him play and how much the team cared, how much the coaches and fans cared obviously means a lot. Just the entire history around this game is pretty special."
Notre Dame defensive coordinator Al Golden: "It's great to be a part of it now. Again, a lot of respect for SC and what they represent and what we represent. It's going to be a great game to be a part of."
Golden on USC quarterback Caleb Williams: "He is really talented. Big-league arm. He's really getting the ball out right now. And he's seeing the field really well. He can create on the run. His eyes are downfield, even though the rush is telling him to move his feet. And he's able to convert on the move. He's dangerous with the ball in his hands and equally with the vertical game. So, he is really a complete package — very impressed with him."
Notre Dame linebacker JD Bertrand: "I'm just excited overall. Funny enough, my mom went to USC. I grew up hearing the fight song and stuff like that. She's Irish all the way now and has told me that she's so thankful that I went here and just the opportunity for me to go here. Just the opportunity to have a lot of extended family from right outside LA and bring them all together and to be able to play in front of them is a really cool opportunity." 
Bertrand on USC's Williams: "He's just an electric player overall. His ability to scan the full field and pass and then be able to pull it down and pass situations and scramble and just make people miss. Obviously, they also use him in QB read situations, which he's just a fully dynamic football player. He's obviously going to be one of our main guys we're looking to take away and make sure that he's not the reason why we lose the game." 
More Bertrand on Williams: "It's exciting. These are the kind of opportunities you're excited to play. This is what it's going to be like at the next level, so why not get it now and be able to face this kind of competition now? We're not afraid to play this team at all. We're excited to continue to develop ourselves and get better every single day.