Notre Dame wide receiver Joe Wilkins Jr. announces return to Irish in 2022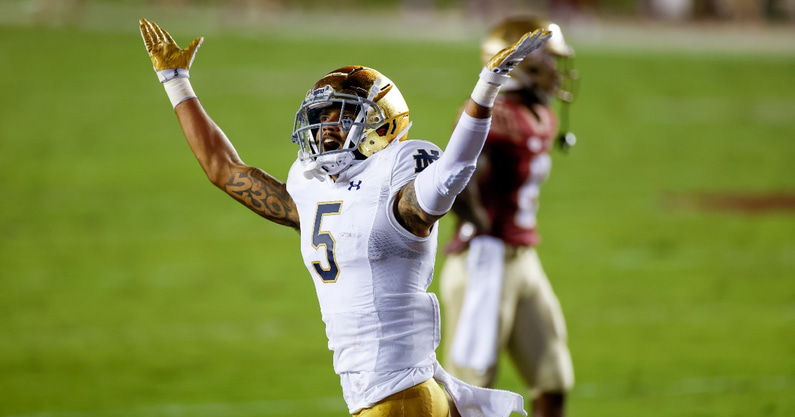 Joe Wilkins Jr. couldn't let his Notre Dame career end like that.
Not with the last game he would have suited up for being a home loss to Cincinnati. Not with just one catch for six yards in the defeat. Not after suffering an MCL injury against the Bearcats that kept him out for the remainder of the 2021 season.
The senior wide receiver announced on Instagram he is coming back for a fifth season in South Bend. He joined Braden Lenzy and Avery Davis as Notre Dame wide receivers who will play beyond their fourth year with the program in 2022. Lenzy announced last week he'll be back for a fifth season. Davis announced earlier this week he's returning for a sixth.
Tuesday, it was Wilkins' turn.
"Hardships often prepare people for an extraordinary destiny," Wilkins wrote in his Instagram post. "I'm back for mine."
Notre Dame officially has seven scholarship wide receivers to work with in 2022; the three aforementioned seniors, true freshman Tobias Merriweather and sophomores Lorenzo Styles, Deion Colzie and Jayden Thomas. The departure of leading receiver Kevin Austin Jr. for the NFL Draft was certainly a hit to the wide receiver room.
Davis, who is coming off an ACL injury of his own, has the most career receiving yards (862) among the wide receivers who will be on Notre Dame's 2022 roster, while Lenzy has 667 and Wilkins only has 124 in four seasons. He caught four passes for 61 yards and a touchdown before injuring his knee against Cincinnati. The score came in the season opener at Florida State.
It is not necessarily about returning production with this group, though, as much as it is about numbers. With Austin leaving, Wilkins returning was almost a must. The Irish could use his 6-1, 190-pound frame on the boundary. Colzie is 6-4¾ and 207 pounds, but he's not as refined as Wilkins even though the latter has yet to have a truly solid season in blue and gold.
The same was the case for Austin before this past season, though. He had six catches for 108 yards in his first three seasons at Notre Dame. He exploded for 48 catches, 888 yards and seven touchdowns as a senior. A similar breakout season would work wonders for Notre Dame.
Head coach Marcus Freeman still has to find an assistant coach to lead the wide receivers room, meanwhile. Notre Dame parted ways with former wide receivers coach Del Alexander after five seasons. Whoever assumes the role can take solace in knowing Lenzy, Davis and Wilkins will be back in a Notre Dame uniform, even if the latter two will be coming off significant knee injuries.