Countdown to kickoff: Notre Dame vs. Ohio State is only 73 days away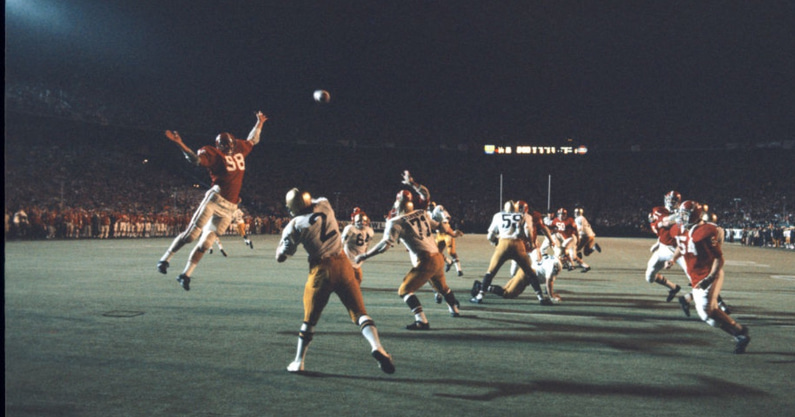 To preview one of the most anticipated games for Notre Dame this century and the official start of the Marcus Freeman era, BlueandGold.com is counting down the days to the matchup against Ohio State on Sept. 3.
This daily series of 99 stories celebrates by the numbers some of the most notable names, dates, moments and memories related to the past and present of Notre Dame football.
With 73 days left until kickoff, we look back at Notre Dame's 1973 Sugar Bowl victory over No. 1 Alabama that gave the Irish the national championship.
PROMOTION: Sign up for just $1 for your first year at Blue & Gold
CLICK HERE to order the 2022 Notre Dame Football Preview
No. 1 vs. No. 3. Unbeaten against unbeaten. Bear Bryant against Ara Parseghian. Notre Dame and Alabama for the first time. A national title in the balance.
It had all the labels. Game of the Century. Bryant even dubbed it the "biggest game in the history of the South." Catholics vs. Baptists. North vs. South.
An Alabama win would keep the Crimson Tide at No. 1 in the AP poll. A Notre Dame victory would leap the Irish over bowl-ineligible Oklahoma and ahead of Alabama. Ohio State (9-0-1) sat at No. 4 as a long-shot disruptor.
The 85,161 people packed into Tulane Stadium's two decks of rickety bleachers witnessed the classic they hoped to see. The game more than met the hype. There were seven lead changes. Neither team led by more than a touchdown. The game was up for grabs until the final two minutes.
The deciding moment in it – and one forever etched into Notre Dame lore – was not a touchdown or takeaway, though. It was not an all-time gaffe that lives in infamy. Nor a sack or stuff at the end of the game.
Rather, it was a first-down conversion.
One heck of a risky, go-big-or-go-home conversion.
Notre Dame faced third-and-nine at its own two-yard line, clinging to a 24-23 lead with less than three minutes left. The Irish took the lead on a field goal with 4:12 left and forced a punt on the ensuing series, but Alabama dented their hopes of sealing the game on that possession when it downed a punt at the one-yard line.
RELATED: Notre Dame baseball
• Everything Notre Dame baseball coach Link Jarrett said about Florida State rumors
• Texas A&M shuts down Notre Dame, eliminates Irish from College World Series
Notre Dame traveled four yards on two plays and promptly backpedaled on a third-down false start. It was staring at a punt that would give Alabama one more comeback attempt. The safe play was to hand it off, drain a little clock, give the punter some space and kick it deep.
Parseghian wanted no part of safety.
Instead, he went for the finisher. He called a pass out of Notre Dame's own end zone.
Clements couldn't believe it.
"He kind of blinked," Parseghian recalled. "It was a risky play."
It had the look of a run play, with two tight ends and one wide receiver on the field. Parseghian wanted to give Alabama the image of an incoming white-flag run call and catch the Tide off guard.
The play was designed to go to tight end Dave Casper on a crossing route. Alabama threw a blanket on him with underneath coverage, though. Quarterback Tom Clements moved onto his next read, No. 2 tight end Robin Weber. He was open down the sideline after faking a block and fooling his defender. Clements lit the arrow and let it rip. Weber – the man with one catch all year who wore a lineman's number 91 – hauled it in.
"He had never even picked up the ball and handed it to me," Weber said.
Thirty-six yards. First down. Game over. National champion decided.
Forty seasons later, "The Pass" remains arguably the most famous play in Notre Dame history. It may be the most improbable too. Weber said he had never even caught a pass from Clements in practice. The flag route was not in his usual repertoire either (nor were many routes for him as a blocker-first tight end). There's a strong case for that victory as the greatest game in the program's 134 years.
"It was fantastic," Casper said. "I'm glad we threw it to him and he caught it. However it works, it works. It did."