Notre Dame quarterback Jack Coan signs with the Indianapolis Colts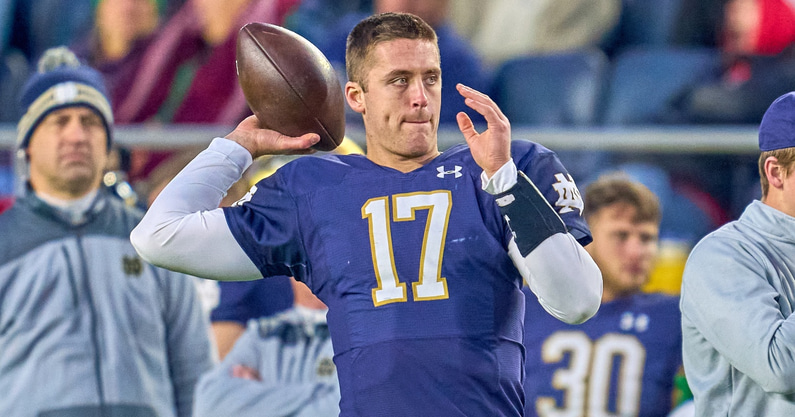 Ahead of the 2022 NFL Draft, Notre Dame was poised to have quarterbacks drafted in back-to-back years for the first time since 1979-80. It ultimately did not come to fruition, but the next-best scenario did.
On Saturday, the Indianapolis Colts signed quarterback Jack Coan as an undrafted free agent, keeping him in-state in Indiana. He joins fellow Colts quarterbacks Matt Ryan, Sam Ehlinger and James Morgan on the roster. His new move also reunites him with former Wisconsin running back Jonathan Taylor.
The landing spot makes additional sense when you consider the fact that Colts offensive coordinator Marcus Brady was Coan's head coach at the East-West Shrine Bowl earlier this year.
In 2021, the New York native started 13 games for the Irish, throwing for 3,150 yards with 25 touchdowns and seven interceptions. He completed 65.5 percent of his attempts.
Prior to his arrival in South Bend, Coan was a four-year player and two-year starter at Wisconsin. His senior season was wiped out by injury, but he started 18 games between 2018-19 for the Badgers. His complete stat line from Wisconsin is as follows: 3,278 yards, 23 touchdowns and eight picks.
PROMOTION: Sign up for just $1 for your first year at Blue & Gold
In just one year with the Irish, he nearly matched his four years at Wisconsin statistically. Granted, that is due in part to the styles of offense played by his two former teams. But when you boil it down, Coan's graduate year with Notre Dame was a good one for his draft stock.
"Coach (Tommy) Rees has improved my knowledge a ton in the game of football," Coan said after participating in Notre Dame pro day on March 25. "He figured out what I knew coming in and then (expanded) it even more. He did a great job."
More Notre Dame football
Baltimore Ravens draft Notre Dame safety Kyle Hamilton 14th overall
Analysts assign grades after Baltimore Ravens select Notre Dame safety Kyle Hamilton
As is evidenced by the credit Coan gave to his offensive coordinator, the 6-3, 223-pound signal-caller is one of the most humble players to go through Notre Dame in recent years, but when prompted, you can tell he has a quiet confidence.
"First and foremost, I'm a great teammate, and I'm going to be one of the hardest workers in the building," Coan said when asked which of his attributes would attract NFL teams. "As a football player, I feel like I'm extremely smart. I'm very accurate with the football, and I have a great arm as well."
Anyone you talk to that knows Coan personally would agree with these statements and would certainly tout his football IQ. He's a human sponge, making him a prime rookie quarterback to have in your quarterback room.
Additionally, it is a beneficial to any NFL team to have a mature quarterback who has been a part of multiple very different offensive schemes. In 2019, Coan's primary year in Madison, he attempted 339 of 351 of Wisconsin's passes. They ran the ball 612 times.
Notte Dame's offense was much more balanced. Actually, it was almost completely balanced. Coan threw 385 of 450 the Irish's attempts in 2021, and they ran the ball 452 times.
"I had a practice run for the NFL going from Wisconsin to Notre Dame," Coan said. "(I had to make) that transition and learn a whole new playbook, meet different guys and try to become a leader."
It's time to start over once again.