How a 'special side' of Notre Dame allowed eight football players to take a May trip to Italy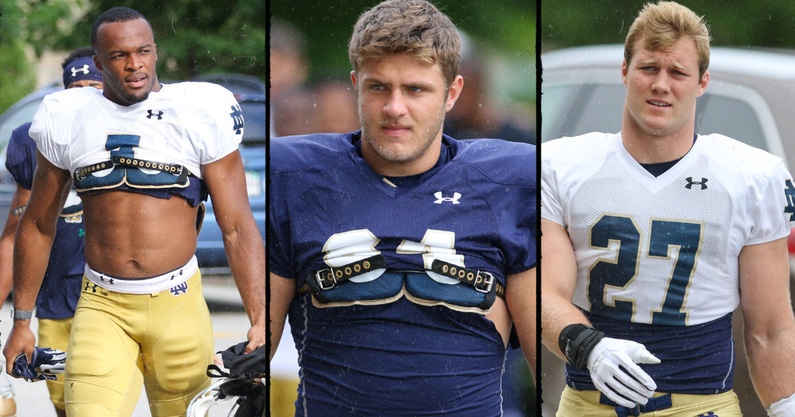 Nowhere else but Notre Dame. 
The phrase or some rendition of it is used year after year and has become familiar to any student, alum or fan of the university. Used to attract national and international talent to a smaller school in Northwest Indiana, the statement briefly sums up one of country's more unique universities, especially when it comes the presence of both high-level academics and high-level athletics. 
In May, eight Notre Dame football players were able put that mantra to the test, as they embarked on a two-week trip to Italy as part of a study abroad program. 
"That's one of those sides that's so special about Notre Dame," senior linebacker JD Bertrand said. "There are not many (athletic) programs in the country where they allow you to study abroad for two weeks and be able to (immerse yourself) in a different culture."
Kevin Bauman, Griffin Eifert, Isaiah Foskey, Ramon Henderson, Rylie Mills, Drew Pyne and Xavier Watts accompanied Bertrand on the trip across the Atlantic. The group was in Milan from May 16-27 and enrolled in the "Design Thinking International Immersion" course.
"Set in the beautiful city of Milan, students will utilize their ethnographic research skills to understand unmet consumer needs by immersing themselves in the culture of Italians," the class description on the Notre Dame website reads. "Both the language and the foreign setting provide the ideal environment to truly immerse yourself in the proverbial shoes of the user."
What did the course entail in practice? The group took four hours of class a day alongside students from the Università Cattolica, which is in Milan. The final project was focused on improving museum experiences from the business side, something beneficial to all of the players despite an array of majors.
"We worked on a consulting project for our local museum and got real-life practice in consulting," Bertrand said. "We met with consulting and design companies, pitched our ideas and let them critique them. (We got) that real-world application."
Foskey said the trips to museums that supplemented the class were undoubtedly his favorite part of the program. Each group went to different places around the city, giving the students a variety of takeaways when all was said and done.
The trip was not Bertrand's first encounter with the Italian language. He took eight credits of Italian over six weeks last summer. He took an additional 11 this summer.
"The writing was much easier just because I could use Word Reference and stuff to start, but learning the speaking in six weeks was a struggle," Bertrand said.
The experience was not Bauman's first introduction to Italian culture, either, although it was was his first chance to see the real thing. His mother's side of the family is Italian, so he was raised on stories about those roots. 
"Growing up, I was always like 'I can't wait to go to Italy,'" Bauman said. "I finally got this opportunity, and it was the best two weeks of my life. The culture was something unlike anything I've ever experienced. It was a dream come true. A little surreal."
Outside of the class, the group was largely on its own to explore the country. They went to Florence for a weekend and were constantly surrounded by Italian delicacies.
"It was the best food I've ever eaten in my life," Bauman said.
The trip provided that cultural immersion piece, but it also allowed teammates to deepen their bonds off of the football field. Bertrand and Foskey, who are very close friends, roomed together in a small hotel. Keep in mind, Foskey is a 6-5, 265-pound likely first-round NFL Draft selection, while 6-1, 230-pound Bertrand isn't too small himself.
"They'd turn the air conditioning off at night, and we'd just be sweating like crazy," Bertrand said with a laugh.
The group also made numerous Italian friends, and they suspect those relationships will continue for a long time.
"We still talk on WhatsApp," Foskey said. "It's pretty fun."
Perhaps more important than the class, food or cultural immersion was the opportunity to take some time away from football. With a daunting season ahead when many of the players want to make positive impressions ahead of the April NFL Draft, the trip allowed them to relax and learn in a different environment. Football might as well have not existed.
Like other universities, this group is not able to take a full semester abroad to study in a foreign country during college. That comes with being a Division I athlete. But perhaps unlike other universities, Notre Dame not only permits its student-athletes to make trips like the Italy program, it encourages it. That's obvious in one of the program's favorite recruiting pitches: "four for 40."
Those eight players bought into that idea when they made a pledge to Notre Dame, and they were able to live it.
Promise made. Promise kept.