Three Keys for Buckeyes in bounce-back chance against Northwestern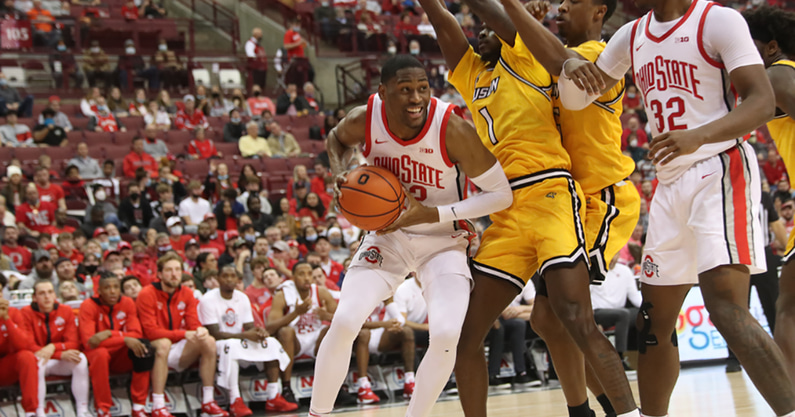 COLUMBUS — Ohio State won't look for any excuses from its last loss.
The sluggish performance against Indiana, which resulted in the Buckeyes first conference of the season, can be pinned on the long COVID-19 layoff. It can be blamed on rough conditioning; Ohio State is still trying to get back in shape after 22 days between games.
But don't tell Ohio State about those excuses. The Buckeyes won't use them. They know they didn't play well Thursday night — and need to be better Sunday against Northwestern
"[The pause] definitely played a part of it," Ohio State senior guard Justin Ahrens said. "I wouldn't solely put the blame on that, by any means because we've been practicing for a good bit of time now. But that little pause we had definitely played a role in it just because of our conditioning, and in the Big Ten, you have to be at your best every single night. There's no ifs, ands or buts about it.
"It definitely played a part in it, but I wouldn't really put all the blame on it. That's on us."
With just three days between games, the Buckeyes have a short turnaround time to get back up to speed and avoid a second straight loss. This time, they'll take on Northwestern at 5:30 p.m. inside the Schottenstein Center and on Big Ten Network.
Before that game tips off, Lettermen Row is breaking down three keys for an Ohio State win against the Wildcats.
Buckeyes need E.J. Liddell, Malaki Branham scoring in tandem
Ohio State has seen just how good emerging freshman star Malaki Branham can be on the offensive end in his last two games — in which he scored 35 points and 13 points, respectively. But in that same stretch since coming back from the three-week pause, the Buckeyes haven't gotten the best scoring output, or games, from team leader and Big Ten Player of the Year candidate E.J. Liddell. If they can get Liddell and Branham playing at a high level at the same time, they'll be hard to defend and hard to beat. Liddell is working his way back after the layoff, while Branham is heating up. If both can find their stride at once, watch out.
Ohio State defense in paint must be better
Simply put, the Buckeyes did not do a good job defending the interior in the loss to Indiana. Zed Key was in foul trouble early for the Buckeyes, and Hoosiers big man Trayce Jackson-Davis had 27 points, taking advantage of what the Buckeyes struggled with. Ohio State will see another talented forward Sunday against Northwestern. Pete Nance, the Wildcats leading scorer, and Northwestern can run and get their points in the paint from transition. Ohio State will need to key on that, stop the ball and play solid half court defense to defend the paint, something it couldn't do well against the Hoosiers.
Buckeyes can get more from key role players
Ohio State will never rely on big games from Zed Key, Kyle Young, Jamari Wheeler or Justin Ahrens. When the Buckeyes get a solid scoring output or dominant defensive effort, it could be chalked up to being a welcomed bonus for the night. But the role players around Branham and Liddell will need to step up and bounce back after the rough showing against Indiana. The quartet of Buckeyes pitched in a combined 14 points on a night the entire offense struggled to generate scores. If they can up that by a few points each, it'll help the balance of the Ohio State offense after the rough showing Thursday.