Buckeyes provide updates on two long-term injuries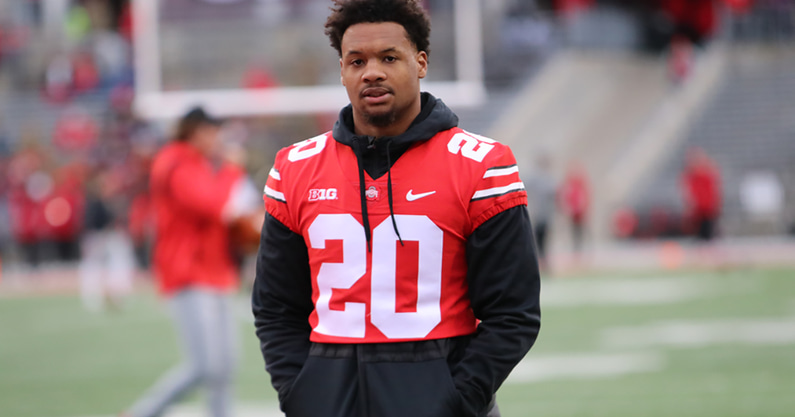 COLUMBUS — Ohio State made it through the 15 spring practice sessions mostly healthy.
But there were two Buckeyes who suffered long-term injuries this spring, ones that will keep a pair of promising players off the field for at least the next season.
Ohio State running back Marcus Crowley and Mitchell Melton suffered significant injuries this spring, and the Buckeyes made those injuries public on Friday.
Marcus Crowley medically retires from football after another injury
The promising career for Marcus Crowley at Ohio State appears to be coming to a close.
Ryan Day announced Friday that Crowley suffered 'a significant injury,' forcing him into a second round of long-term rehab. He is medically redshirting to finish his degree, but his time playing for the Buckeyes is over.
"We met with his family last night. We're going to be doing a medical redshirt for Marcus. He has a long-term injury and really wants to finish his degree and still be a part of the program, and he will. He suffered a significant injury, so he's going to medically redshirt."
Crowley previously suffered a knee injury in November 2019 during his freshman campaign. He missed an entire season after that, and he's likely missing the rest of his playing days after another major setback this spring.
Mitchell Melton injures knee again, out long-term
Mitchell Melton will also miss a significant amount of time due to an ACL injury, the second of his career.
"It was an ACL," Day confirmed. "He'll be on the road to recovery."
Melton missed all of last season due to an injury suffered in spring camp, and a second injury might cost him another entire year with the Buckeyes.
Melton began to rise up the depth chart and push for playing time this spring before suffering the injury during the spring game.
Lettermen Row will have more information about the injuries when they become available.