Ohio State offensive coordinator Kevin Wilson finalizing deal to become Tulsa head coach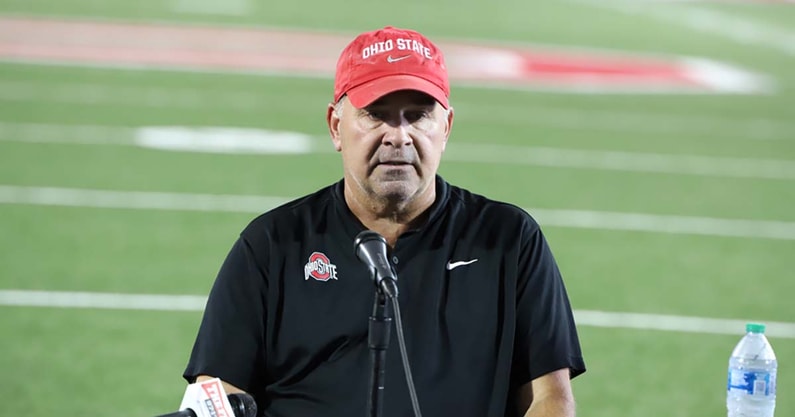 COLUMBUS — Ohio State offensive coordinator Kevin Wilson has been with the Buckeyes for six seasons. Now it's time for the 61-year-old offensive guru to become a head coach again.
Wilson is accepting an offer to become the next head coach at Tulsa, which will end his time with the Buckeyes. Cayden McFarland was first to report the news. ESPN's Pete Thamel then reported that the five-year deal has been finalized.
Ohio State has had plenty of offensive success under Wilson in the last six years. He has been with the program every year Ryan Day has worked at Ohio State. Wilson produced numerous NFL-level tight ends during his time with the Buckeyes. Wilson and the Buckeyes ranked as one of the best offenses in the country in each season he was with the program.
He also proved to be a valuable recruiter for Ohio State, helping the Buckeyes land top-tier tight ends and offensive linemen during his six-year stint in Columbus.
Wilson joined the Ohio State coaching staff after being fired by Indiana, where he served as head coach for six seasons and compiled a 26-47 career record as a head coach. Prior to his time in Bloomington, Wilson was the offensive coordinator at Oklahoma under Bob Stoops, Northwestern under Randy Walker and at Miami (Ohio). Wilson played collegiate football at North Carolina, where he was an offensive lineman, before he got into coaching.
He won the Broyles Award, given annually to the country's top assistant coach, as the offensive coordinator for Oklahoma in 2008.
His connection in the state of Oklahoma, where he was for nine years as the play-caller, made him an intriguing candidate for the Tulsa opening.
Now Wilson is in line to become a head coach again.