Ohio State rises in AP poll, position in College Football Playoff race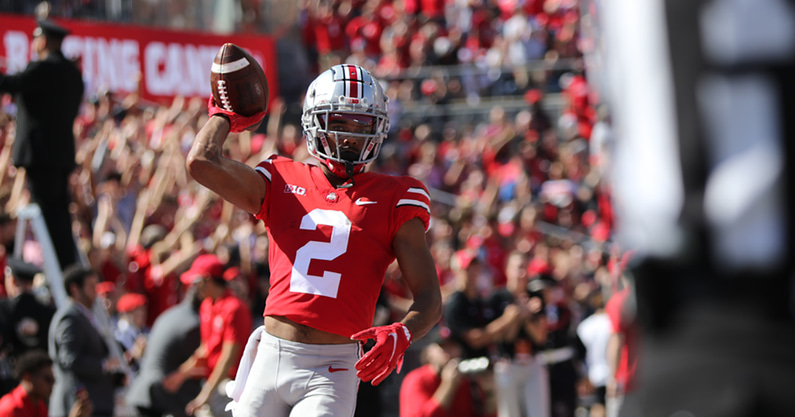 COLUMBUS – Ohio State does not look like the same team that took the field in Week Two.
The Buckeyes have shown drastic improvement since taking a home loss to Oregon. The turnaround has been highlighted by C.J. Stroud rising into the upper echelon of college football quarterbacks as a Heisman Trophy favorite and a hungry defense that has adapted into a unit that can back the nation's best offense.
Poll voters have taken notice. Ohio State moved up one spot to No. 6 in the latest AP Poll, which was released on Sunday afternoon.
Georgia moved into the top spot, as the Bulldogs earned a unanimous billing from all 62 voters as the country's best team. Georgia was followed by Iowa, Cincinnati, Oklahoma and Alabama to round out the top five. Of note, five Big Ten teams cracked the latest top 10 rankings with Iowa, Ohio State, Penn State, Michigan and Michigan State each earning spots.
The first College Football Playoff rankings will be released on Nov. 2, and Ohio State now knows that it sits in a great position to be in the top four of those rankings. The Buckeyes also are afforded some valuable rest time as they head into their bye week. They will be preparing for their third Big Ten road trip against Indiana on Oct. 23, and a likely top-10 matchup against Penn State awaits afterward on Oct. 30 at The Horseshoe.
"I think it's a young team that's growing," Ohio State coach Ryan Day said. "I think we've been more aggressive, we're building more confidence and more energy."
The Buckeyes are finding the right groove midway through the season, and they will continue to get opportunities to show they remain the class of the Big Ten over the next few weeks.
The full AP Poll can be found below.
Week 7 AP Poll (Oct. 10)
Georgia (62 first-place votes)
Iowa
Cincinnati
Oklahoma
Alabama
Ohio State
Penn State
Michigan
Oregon
Michigan State
Kentucky
Oklahoma State
Ole Miss
Notre Dame
Coastal Carolina
Wake Forest
Arkansas
Arizona State
BYU
Florida
Texas A&M
NC State
SMU
San Diego State
Texas