Viewing Guide: How to watch Ohio State host Wisconsin in B1G opener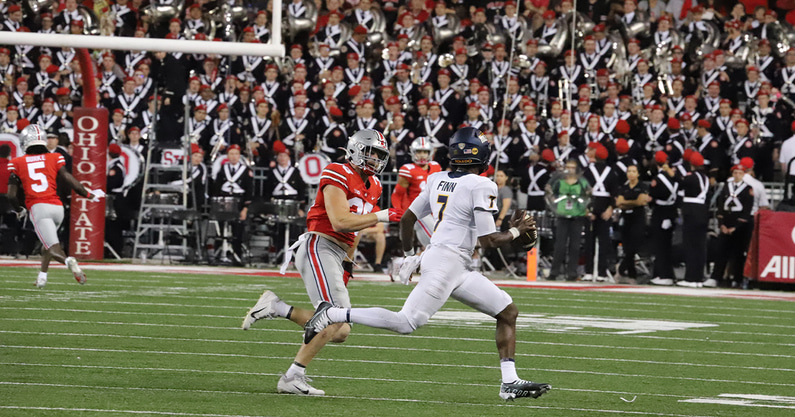 COLUMBUS — Ohio State begins its 110th season in the Big Ten on Saturday.
The Buckeyes open up their conference schedule with its 85th game against Wisconsin and look to extend their win streak to nine over the Badgers.
No. 3 Ohio State wrapped up its non-conference schedule last weekend with a dominanting 77-21 win over Toledo. The Buckeyes racked up almost 800 yards of offense and saw just about every dressed player take the field.
Quarterback C.J. Stroud had five incompletions with five touchdowns, and his performance earned him the Big Ten Offensive Player of the Week.
Defensively, the Buckeyes continue to showcase the highly-anticipated unit while also finding things to improve upon. Defensive coordinator Jim Knowles was critical about his unit during Tuesday's press conference leading up to the Wisconsin game.
"I don't think we did a great job," Knowles said. "I think it was not at the level that we want our defense to be.
"[We want] Silver-Bullet caliber."
Ohio State has another opportunity to improve its team and continue its forward momentum on Saturday.
Unsure how to see that improvement? Lettermen Row has you covered with all of your pre-game needs.
Wisconsin at Ohio State: Game time, details
Kickoff: 7:30 p.m. EST
Date: Saturday, Sept. 24
Location: Ohio Stadium
Weather: 65º, partly cloudy, winds 6 mph
The line: Ohio State is a 19-point favorite, per VegasInsider
Over/under: 57 points
How to watch Ohio State
The Buckeyes v. Badgers game will be broadcast on ABC with Chris Fowler (play-by-play), Kirk Herbstreit (color analyst) and Holly Rowe (sideline) on the call.
How to stream Ohio State
The Buckeyes game will stream across all ESPN platforms.
How to listen to Ohio State
Paul Keels, Jim Lachey and Matt Andrews will have the call on the Ohio State Sports Radio Network 97.1 FM (WBNS).
Series fun fact
Ohio State is 61-18-5 all-time in the series with Wisconsin.
The Buckeyes are wearing their all-black uniforms for the fourth time in program history. Wisconsin was the first opponent not named Michigan to play an Ohio State team in non-traditional uniforms. The Buckeyes won that matchup 33-29 in Ohio Stadium on a long pass from Braxton Miller to Devin Smith with 20 seconds left in the game.
ICYMI: Lettermen Row Coverage