Eugene Brown III will be available to play against Alabama A&M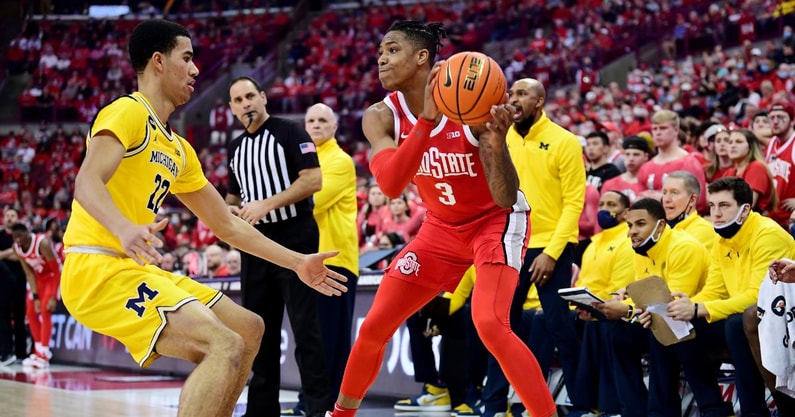 Ohio State junior wing Eugene Brown III will be available to play Thursday against Alabama A&M, Buckeyes head coach Chris Holtmann revealed.
"Gene's made good progress, and we expect him to be to be ready, and he just needs to stay ready," Holtmann said Tuesday when asked about the upperclassman's status.
"But he's gonna be available to play."
Brown hasn't seen the floor the first 11 games of the season, as he spent the last two months in concussion protocol.
He also dealt with a concussion last season and was limited by other minor injuries this offseason, according to Holtmann. The Conyers, Georgia, native has worked his way back to the hardwood at a critical time for Ohio State.
The Buckeyes (8-3, 1-0 Big Ten) have their final tune-up Thursday against Alabama A&M before Big Ten play really gets underway.
What role can Brown play at this point?
Brown has the opportunity to lend Ohio State a hand defensively, where Holtmann's squad is lagging right now — especially without Oklahoma State graduate transfer Isaac Likekele, whose return is still a "wait and see" situation as he's dealing with a "family matter."
Brown offers the Buckeyes positional versatility, or, as Holtmann says, "switch-ability" from three through five. Brown's length allows him to guard smaller guards as well as frontcourt players.
"There's certainly a place for him, but it's too early to tell yet," Holtmann said last week, when asked where Brown would fit into the rotation.
"At this point, it would be just kind of speculation. He plays either wing spot. Kind of the 3/4, which is pretty similar in our system. He also gives us the ability if we want to play smaller and maybe a little bit faster on occasion to just play three of those guys together."
What did Brown do last year?
The 6-foot-7 Brown appeared in all but six games last season and made 10 starts in the process, although he averaged only 3.5 points and 2.4 rebounds per outing in 2021-22.
Brown's most memorable performances last season were his 10-point, six-rebound, three-steal, two-block stat line in the Buckeyes' overtime win over Indiana in February, and his game-saving block in regulation that set the stage for an overtime victory against Nebraska in January.
Although Brown wasn't the Buckeyes' best defender last year — in fact, he was 10th on the team in defensive rating (108.1), according to Sports Reference — he has the size and athleticism to give them a lift there.