Still out of sync, Buckeyes lose fifth straight at Nebraska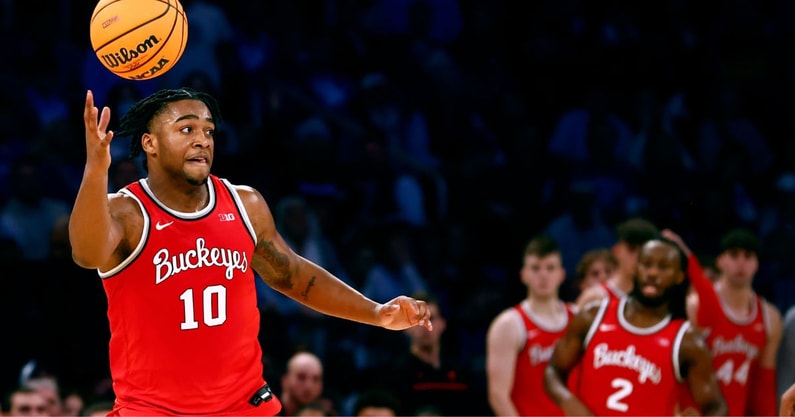 Ohio State leading scorer Brice Sensabaugh started 0-of-8 from the floor Wednesday at Nebraska. The Buckeyes' second-leading scorer — Justice Sueing — missed a dunk and shot an airball in the first half, not to mention that he finished the night with four turnovers.
Ohio State shot below 40% for the second straight game, and second time this season, and wound up with single-digit assists for the fourth consecutive outing.
Still out of sync, head coach Chris Holtmann's team, No. 1 in KenPom adjusted offensive efficiency as recently as last week, went six-and-a-half minutes without a field goal in the back half of the second period.
And yet, even so, the reeling Buckeyes had life in the final minute of regulation, as has consistently been the case throughout their two-week losing streak.
But Sensabaugh, who bounced back to record his third double-double in a row, fouled out with 10 seconds to go. And so, without its closer, Ohio State turned to Sean McNeil for a potential game-tying 3-pointer at the buzzer.
McNeil's shot rimmed out, and the West Virginia graduate transfer pulled his jersey over his face in frustration. Not including Sunday's overtime loss at Rutgers, Ohio State lost its third one-possession game this month, this time 63-60 to Nebraska.
The Buckeyes (10-8, 2-5 Big Ten) have lost five straight, tying the longest skid of the Holtmann era. The Cornhuskers (10-9, 3-5), on the other hand, have matched their win total from last season.
Holtmann returned to the starting five he was rolling with for six games prior to center Zed Key's left shoulder sprain against Purdue.
That called for Key and Sensabaugh — both of whom came off the bench at Rutgers this past weekend — along with McNeil, Sueing and freshman point guard Bruce Thornton.
The Buckeyes didn't, however, get back to producing the numbers that group recorded in December.
Much like the first half at Rutgers, the opening frame at Nebraska was low scoring. And this time it wasn't as much because of good defense but more so because of bad offense.
Both teams were under 0.7 points per possession in the first period. Ohio State, which started 1-of-11 from the field, rounded out the opening 20 minutes shooting 26.7% from the floor. Nebraska wasn't much better at 30.0%.
Even though Ohio State started with the lead, the Huskers held it for 16 minutes and change of the first half. A 3-pointer from guard Denim Dawson and a layup from Keisei Tominaga elevated Nebraska early.
Senior North Dakota State transfer Sam Griesel was a difference maker for the Huskers Wednesday night. After missing Nebraska's last game against Purdue with a hip injury, Griesel put up a team-high 15 points against Ohio State.
The Lincoln, Nebraska, native also logged seven rebounds, three assists, a steal and a critical block in the late stages of the second half. He knocked down a pair of 3-pointers, too, one of which put the Huskers ahead, 8-3.
Ohio State struggled mightily to find offense in the opening frame. The Buckeyes didn't move the ball much, and instead waded deep into the shot clock to create opportunities, often to no avail with teammates standing around helplessly.
The Buckeyes were a combined 17-of-45 on layups in their previous two games. They weren't much better at Nebraska, where they experienced great difficulty in and around the paint amid what spiraled into a 5-of-25 start.
Following a pair of Huskers buckets through contact — the first saw Tominaga convert an and-one — Sensabaugh finally saw his shot fall. It was at the charity stripe, but it seemed to do the trick. Sensabaugh was 6-of-8 the rest of the way, piling up a game-high 18 points in the process. He fueled a 7-0 Buckeyes run that closed the first half with Ohio State up, 22-21.
The second half was no track meet, but there certainly was more offense, starting with a mini 3-point barrage to kick off the period. The teams combined for four in the span of about 90 seconds. McNeil hit both of Ohio State's perimeter makes, and Tominaga drilled one from NBA range.
Ohio State had an opportunity to capitalize down low when Nebraska five man Derrick Walker got in foul trouble. Walker played just eight minutes in the second half and fouled out with eight points and 10 rebounds with 2:09 remaining.
To a certain degree, the Buckeyes took advantage of Walker being on the bench, immediately going to Key in the post. But they could have done more damage, particularly when Nebraska head coach Fred Hoiberg was assessed a technical for complaining about back-to-back calls (well, one was a no-call).
McNeil entered the night perfect from the free throw line but missed both, and then Sueing was called for an offensive foul. Ohio State had a 38-36 lead and could have extended that by as many as five points after the technical.
Instead, the Big Ten foes continued to trade baskets. Dawson put together a little highlight mixtape with a pair of reverse layups that featured impressive mid-air adjustments.
The Buckeyes going cold went hand in hand with their turnover issues. They coughed up the rock seven times in the second half, and four of those giveaways occurred during Ohio State's aforementioned six-and-a-half minute field goal drought.
The Buckeyes turnovers factored into an 8-0 Nebraska run that saw the Huskers turn a two-point deficit into a six-point lead. Hoiberg's squad gripped to that multi-possession advantage in the final minutes, even when sophomore Wilhelm Breidenbach and redshirt freshman 7-footer Oleg Kojenets had to come in for Walker.
Griesel helped restore Nebraska's six-point cushion by blocking Key and saving the ball before it trailed out of bounds — then, on the other end, he assisted senior guard Emmanuel Bandoumel for two.
The reason why the Buckeyes got back within striking distance of the Huskers in the final minute was because of two missed Nebraska free throws, as well as a Sensabaugh 3-pointer and two McNeil makes from the charity stripe.
McNeil, who was 2-of-7 from beyond the arc Wednesday, didn't have a third 3-pointer in his arsenal.
He used a pump fake to shake Griesel and get a clean shot off. It just didn't land.
That's been the story of this head scratching Ohio State losing streak. Whether they've deserved to or not, the Buckeyes have been in every matchup during their five-game skid.
Their offense hasn't had the glow of efficiency it had in 2022, or even on New Year's Day at Northwestern. That's made for close games.
Close games Ohio State can't seem to close.