Scarlet Sunrise: Five Ohio State assistants now earning seven-figure base salaries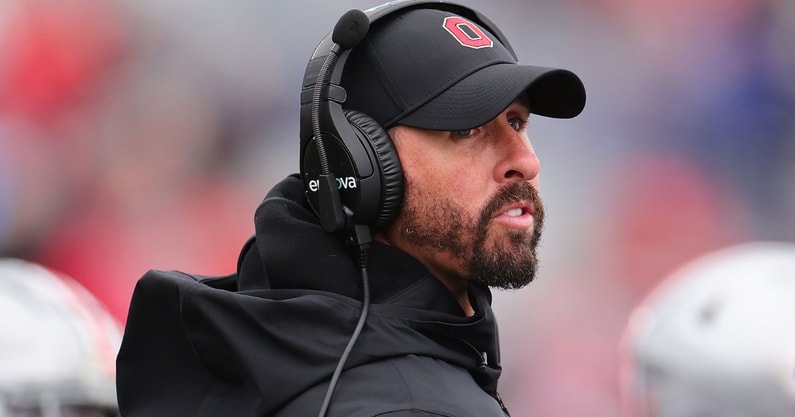 Good morning, Ohio State fans, and welcome to the Scarlet Sunrise. Football will always be our focus, but every day we'll cover news, notes and analysis from across Buckeyes sports. Join us each morning to get caught up on everything you missed in the world of Buckeyes football, recruiting, basketball and more in Scarlet Sunrise.
Five Ohio State assistants now earning seven-figure base salaries
The Columbus Dispatch used an open records request to obtain copies of Ohio State football coaching staff contracts. Five Buckeyes assistants are now earning seven-figure base salaries.
Here's who that group includes:
As for the assistants with the biggest base salary increases…
Brian Hartline: 68.4% — went from $950,000 (2022) to $1.6 million (2023)
Parker Fleming (special teams coordinator): 66.7% — went from $300,000 (2022) to $500,000 (2023)
Tim Walton: 42.9% — went from $700,000 (2022) to $1 million (2023)
Justin Frye: 25.0% — went from $800,000 (2022) to $1 million (2023)
Knowles, Johnson, Tony Alford (assistant head coach for offense/running backs coach), Perry Eliano (safeties coach) and Corey Dennis (quarterbacks coach) all received 3% base salary raises, according to The Dispatch reports from this week and last year.
It's important to also note that Keenan Bailey, who was promoted from a support staff role to tight ends coach this offseason is now earning a base salary of $400,000. Last year, Bailey earned a base salary of $150,000.
The total salary pool for Ohio State's on-field staff has climbed to a program high $9.3 million, according to The Dispatch.
Recapping Buckeyes coaching additions, losses this offseason
Because Ohio State has such a deep coaching staff year in and year out, there is bound to be annual turnover. That was once again the case this offseason. So far, there have been 16 coaching moves, both into and out of the program.
That includes promotions, most notably wide receivers coach Brian Hartline getting a title bump for the second straight year and being named offensive coordinator.
Lettermen Row has everything you need to know about each of those departures, additions and promotions. Check it out here.
Tristan Gebbia gets seventh year, head start on coaching career at Ohio State
Ohio State head coach Ryan Day likes to have four scholarship quarterbacks. That's where seventh-year Oregon State transfer Tristan Gebbia comes in handy. In addition to depth, however, Gebbia has brought experience and a coach's eye to Columbus.
Gebbia, 24, wants to pursue a career in coaching after the 2023 season, during which he has the opportunity to act as a pseudo-graduate assistant with the Buckeyes while still suiting up and helping out a young quarterback room.
Gebbia isn't part of the two-way race for QB1, but he's a proven leader — he was a three-time captain at Oregon State — and has more starts than the rest of the rostered Ohio State quarterbacks, combined.
For more on Gebbia's story of adversity, selflessness and mentorship, go here.
Counting down
Buckeyes vs. Indiana: 169 days
Buckeyes vs. Michigan: 253 days
Are you subscribed yet?
Are you ready to get all your latest Ohio State news in one place? Become a member of Lettermen Row today. With your Lettermen Row/On3+ membership, you'll not only have access to the everything that's happening with the Buckeyes, but you'll also be able to peruse other fan sites within the network to hear just how rivals are feeling about Ohio State, as well. Make sure to follow along on Twitter, Instagram and on Youtube for all the latest Buckeyes news you need to know.