Scarlet Sunrise: Buckeyes award players of game from season-opening win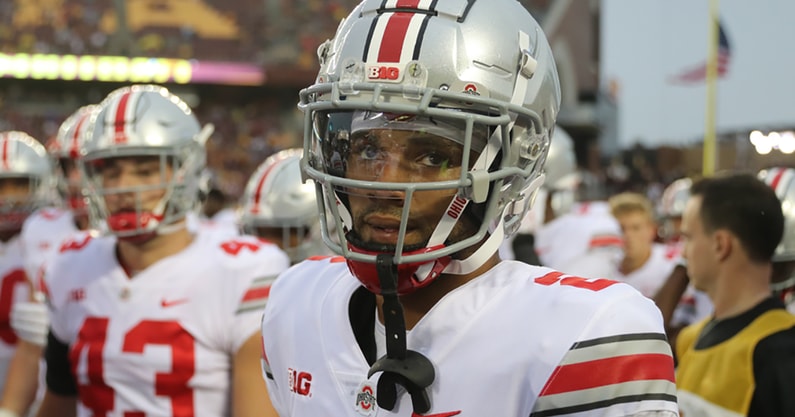 Good morning, Ohio State fans, and welcome to the Scarlet Sunrise. Football will always be our focus, but every day we'll cover news, notes and analysis from across Buckeyes sports. Join us each morning to get caught up on everything you missed in the world of Ohio State football, recruiting, basketball and more in Scarlet Sunrise.
Buckeyes award players of game from season-opening win
Ohio State struggled early before pulling away for a season-opening win over Minnesota on Thursday night.
All eyes were on C.J. Stroud, who was making his first collegiate start at quarterback, and the new-look Ohio State defense. After the 45-31 win against the Gophers, the Buckeyes program awarded its players of the game to Chris Olave, Zach Harrison and Mitch Rossi.
Olave was incredible from his normal receiving position, catching four passes for 117 yards and two touchdowns in his season debut. Harrison made his presence known with a strip sack, one that Haskell Garrett scooped up and scored a touchdown on, helping the Buckeyes bury the Gophers in the second half.
And Rossi was the special teams player of the game for his performance.
Ohio State certainly has plenty to improve on. But the Buckeyes were good enough to get to 1-0 thanks to performances from Olave, Harrison and Rossi.
C.J. Stroud proves himself in Buckeyes win
Ohio State redshirt freshman quarterback C.J. Stroud wasn't perfect Thursday night in his first career start.
But he showed he has the poise as the right player to guide the Ohio State offense. Lettermen Row's Austin Ward has more from Minneapolis:
Eventually Stroud delivered the kind of knockout blows Ohio State expects from the leader of a national-title contender.

Beautiful touch over a defender to find Chris Olave for a touchdown. A deep bomb to a streaking Wilson for a score. Great execution and poise on a screen pass that TreVeyon Henderson turned into an eye-popping touchdown. Even a few decisions to throw away the football hinted that Stroud has a firm understanding of his responsibilities for Ohio State that new starters in that pressure-packed position don't typically have.
READ: Amidst growing pains, C.J. Stroud offered tantalizing glimpse at Buckeyes upside 
ICYMI: Lettermen Row's Birm predicts elite wide receiver to Ohio State
Ohio State recruits wide receivers better than any program in the country. And a highly-ranked receiver in the 2023 class is the latest pass-catcher to include the Buckeyes in his final set of schools.
Lettermen Row's Jeremy Birmingham believes Carnell Tate from IMG Academy in Bradenton, Florida, will pick the Buckeyes when he makes a decision in October.
Part of his reasoning is here:
In his tenure as the full-time wide receivers coach at Ohio State, Brian Hartline has been as good as any coach in the country on the recruiting trail. He's made Carnell Tate his top priority in the Class of 2023, and because it looks like the Buckeyes will aim for just two receivers in that class, it appears the depth chart and recruiting numbers argument being made against Ohio State can be navigated.

That's why I've made an On3 Prediction for Ohio State to win this recruiting battle with the Fighting Irish. The relationship between Hartline and Carnell Tate, the Buckeyes receiver development and the proficiency of the Ohio State offense are the difference.
READ: Pick Is In: Predicting Carnell Tate to Ohio State
Download Lettermen Row's free app
Want an easier way to get free premium content from Lettermen Row?
The Lettermen Row app is here! Get all of the Ohio State news, analysis, videos and everything else you've come to expect from us in one free, convenient spot. It's now available in both the App Store and Google Play. Check it out!
The Lettermen Row app can be found for free here:
Sign up for the Scarlet Sunrise newsletter
If you enjoy the Scarlet Sunrise posts, please consider having our newsletter delivered to your inbox every weekday morning.