'He's a big challenge': Lane Kiffin and Ole Miss knows which Alabama quarterback to prepare for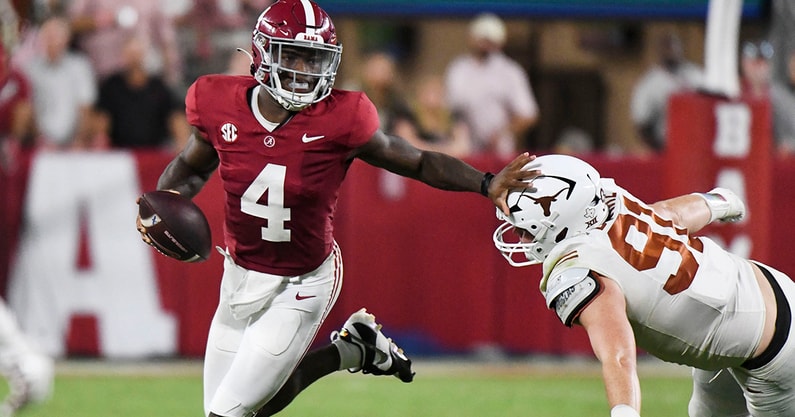 There was uncertainty about which quarterback No. 13 Alabama would run out against No. 15 Ole Miss this weekend but Nick Saban put that to rest by lunch on Monday.
During his weekly press conference Saban re-named sophomore Jalen Milroe the starting quarterback for the Crimson Tide, stating Milroe has "earned the right" to be the starter. This comes two days after Milroe was benched in lieu of sophomore Tyler Buchner and freshman Ty Simpson, who each played in the 17-3 win over South Florida.
After not playing one snap against the Bulls in Tampa following playing in the September 9 loss to Texas, Milroe is once again in charge of the offense and makes the game-planning easier for Ole Miss head coach Lane Kiffin and his staff.
While the planning might be not as difficult knowing which of the potential three quarterbacks are going to start, does not mean the task is easier.
"He's hard to catch, hard to tackle, hard to bring down," Kiffin said of Milroe on Monday. "Can run physical, too. He's a big challenge, as you saw early in the season."
Milroe is the starter but Saban has shown through three games, and in the past, that he is not afraid to switch things up at quarterback mid-game if need be. Ole Miss was planning to prepare for all three quarterbacks, according to Kiffin.
The news of Milroe emerging as the starter came during Kiffin's own press conference, which was taking place at same time as Saban's. Still, Kiffin acknowledged preparing for three different players and styles is difficult for an Ole Miss defense that is still working to improve its own issues.
"That's a unique challenge. One that I don't think you face, normally," Kiffin said. "Usually it's usually two not three and then whether they go back. That's challenging because, obviously, one of the three is very different from the other two. But, got to be ready for whoever plays. We got to work on ourselves first because we got to play a lot better on defense. Did not play very good (against Georgia Tech)."
Beyond the quarterback Ole Miss is having to also learn about Alabama's entire offense that is under a new coordinator.
In February Saban hired Tommy Rees away from Notre Dame to become his new offensive coordinator, replacing Bill O'Brien who left for the same position with the New England Patriots.
The results through three games have been mixed and Rees early job evaluation has also been mixed. At 31, Rees is the second-youngest offensive coordinator on a Saban staff at Alabama, bested only by Major Applewhite who was 29 when he held the position on Saban's first staff in Tuscaloosa.
Watching the film of the Tide's first three games and removing the quarterback situation from the equation Kiffin noticed the offense looks a little different than in years past.
"I think that's a little harder to figure out because they're trying to figure out their quarterback," Kiffin said. "Anytime you're trying to do that with different quarterbacks it's a work in progress. So, I'm sure they'll work it out.
"Previous games don't mean anything year-to-year or week-to-week. You see that in college football all the time. In the NFL teams play each other twice and the same team doesn't win every time twice. Every week's different and just because they've struggled a little bit down in a non-conference type of game, they're not to used to playing in some weather issues, means nothing about the way they play in the SEC at home."