WATCH: Jalen Knox and JJ Henry are eager to carve out roles in a crowded Ole Miss wide receivers room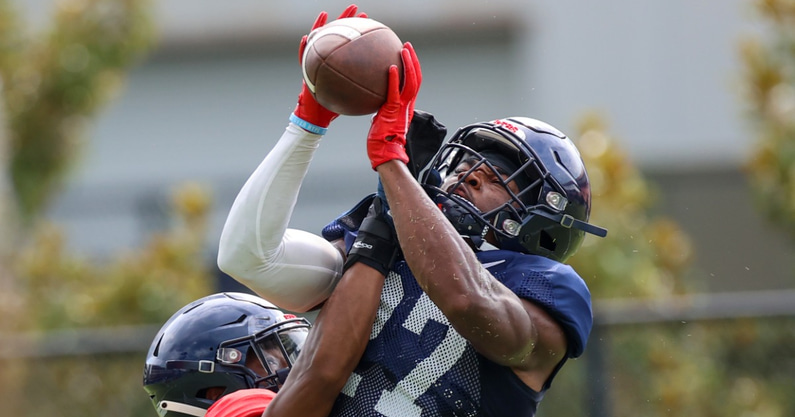 Neither Jalen Knox nor JJ Henry saw the field much, if at all, for Ole Miss football last season.
Henry got a snap here and there, but the second-year freshman wide receiver ultimately redshirted. Knox — he, too, a receiver, only as a transfer from Missouri — was a non-scholarship player who joined the Rebels a year ago this month.
Henry, a former four-star prospect signed in the 2021 recruiting class, said he learned patience. Knox, who played in 33 career games (16 starts) for the Tigers, learned humility. 
"I just had to be patient," Henry said. "I knew my time was coming."
Even more, they each learned how hungry they are to get back on the field.
Ole Miss lost its top-three receivers from last season (Braylon Sanders, Dontario Drummond and Jahcour Pearson), when the Rebels were 10-3 and reached the Sugar Bowl for the 10th time in school history.
"I feel like last year definitely made me more humble," Knox said. He suffered a foot injury in the spring. He's fine now.
"I had to put myself in a scout-team role, and everything I was doing was just preparing the team to prepare for whatever opponent. I wasn't getting to travel. I wasn't suiting up for the games. I had to take a back seat. It was good. I got to focus on my grades. Got to learn I'm really good at school. Start taking that aspect seriously.
"Now, I'm on track to graduate (and) hopefully get on the field and make plays."
Ole Miss has had a healthy rotation at receiver through a little over a week of fall camp practices.
The regular starters have been Jonathan Mingo and Malik Heath out wide and UCF transfer wide receiver Jaylon Robinson in the slot. Ole Miss opens the season against Troy September 3.
Henry, late last week, was running right behind Robinson with the second team. Knox is competing directly with Heath and second-year freshman Bralon Brown. Ole Miss has as many as 10 players with the ability to step in and catch passes from either Jaxson Dart and Luke Altmyer.
Henry and Knox are doing all they can to stand out.
"I see it as competition," Knox said. "When there are ten guys in the room that can all go play on Saturdays and that can all start, I know every day I've got to be on my job. I've got to make sure I'm locked in on the playbook and I know every detail of the offense. 
"Because if I don't, I know the guy behind me or the guy in front of me is going to get further ahead of me or take my spot. Every day, everybody else is making a different play. Now it's time to go see what I can do."
Henry had 84 receiving yards in the annual Grove Bowl spring game in April. 
More recently, though, he corralled a couple of touchdowns on Tuesday, when the Rebels practiced for the first time in full pads.
"I haven't caught a touchdown since high school," he said. "It felt good."
But Henry, like Knox, and pretty much every other offensive player or coach asked by local media over the course of camp, isn't ready to name a favorite in the quarterback race between Dart and Altmyer.
"My relationship with both of them is pretty good," Henry said. "Neither has the upper hand right now. They're both going at it, and it's going to be a strong battle."