Ducks survive for wild overtime win at No. 3 UCLA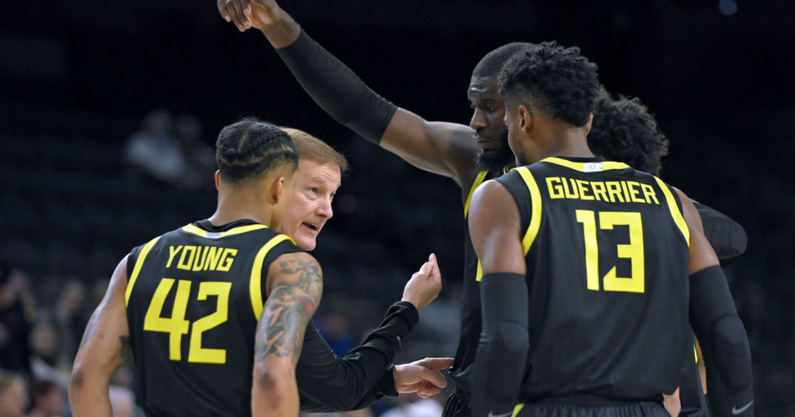 Dana Altman's 700th career win came in dramatic fashion.
His Oregon Ducks (10-6, 3-2) marched into Los Angeles and took down the third-ranked UCLA Bruins (10-2, 2-1), 84-81, in overtime.
Jacob Young splashed two clutch jumpers in OT after blowing a late lead in regulation. Young turned the ball over underneath UCLA's basket for the final points of regulation.
N'Faly Dante had 12 points — including nine of the team's first 20 — and 7 rebounds. He didn't miss a field goal until overtime.
Will Richardson shined in crunch time after dealing with foul trouble all night. He finished with 16 points.
A tale of two halves
Young led all scorers with 23 points, 19 of which came after halftime. He was one of six Ducks in double figures.
Despite an awful offensive performance in the first half (shooting 30%), the Ducks came out of the locker room on fire in the second (52%).
UCLA used an early 12-0 run to fuel a 35-30 halftime lead. Oregon hit just one three-pointer in the first half, but made their first five attempts to open the second.
Odds and ends
The Bruins' Cody Riley started in his fourth game of the season after coming back from a knee injury. He struggled to contain Dante, picking up two fouls in as many possessions to begin the game.
Altman is the 24th men's college basketball coach to reach 700 wins. He is one of eight active coaches to do so.
This was only the third game of the calendar year for both teams following multiple postponements. UCLA had six of its last nine games postponed or canceled prior to tonight.
Pauley Pavilion was without fans due to health and safety protocols. ESPN's Bill Walton frequently reminded viewers that this helped the road team, despite UCLA's 6-0 home record entering the night.
The Ducks will stay in Los Angeles to take on USC this Saturday at the Galen Center.