Oregon lands commitment from Miami (Ohio) transfer Peyton Scott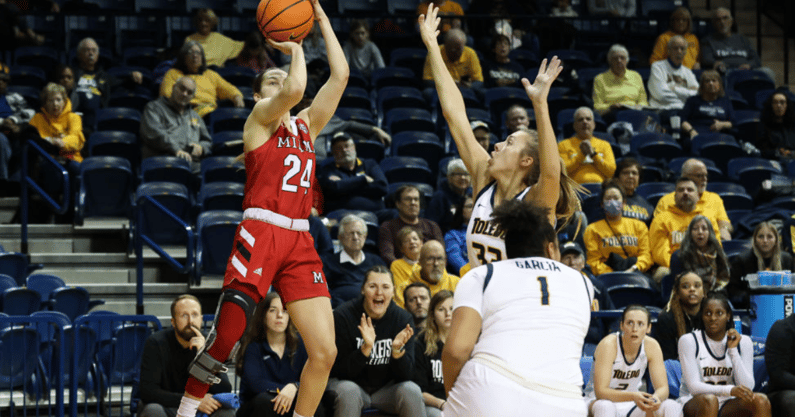 The Oregon women's basketball program continues to reshape its roster as it aims to return to the NCAA tournament.
On Wednesday, the Ducks made their second transfer portal addition this week when Miami (Ohio) point guard Peyton Scott announced that she has committed to transfer to Oregon.
Scott made the announcement via Instagram.
A four-year starter at Miami, Scott was the program's second-leading scorer last season at 15.4 points per game. She also averaged 5.4 rebounds and 2.6 assists while shooting at a 42.8% clip in 28 games.
The Lynchburg, Ohio, native earned second-team all-MAC honors during his sophomore and junior seasons and received third-team honors last season.
Earlier this week, Oregon landed a commitment from former Liberty guard Kennedi Williams.
Scott and Williams will join an Oregon program that saw its two all-conference guards — Endyia Rogers and Te-Hina Paopao — depart the program this offseason.
Rogers has transferred to Texas A&M, while Paopao has transferred to South Carolina.
Seniors Taya Hanson, Ahlise Hurst, and Taylor Hosendove have exhausted their eligibility, leaving the Ducks with just four returning players from last year's roster.
Grace VanSlooten, Chance Gray, and Kennedy Basham are all rising sophomores who forged a 2022 recruiting class that was tabbed by ESPN as the second-best in the nation.
VanSlooten was an honorable mention all-conference selection as a true freshman last year, and both VanSlooten and Gray were named to the Pac-12 all-freshman team.
Oregon will also return starting center Phillipina Kyei.
Additionally, the Ducks will welcome a '23 singing class that features three players ranked in the ESPN top 100: forward Sofia Bell (No. 26), forward Sammie Wagner (No. 42), and forward Sarah Rambus (No. 66).
Bella Hamel, a junior guard who spent last season at Lane Community College, has also committed to transfer to Oregon next season.
Transfer portal background information
The NCAA Transfer Portal, which covers every NCAA sport at the Division I, II and III levels, is a private database with names of student-athletes who wish to transfer. It is not accessible to the public.
The process of entering the portal is done through a school's compliance office. Once a player provides written notification of an intent to transfer, the office enters the player's name in the database and everything is off and running. The compliance office has 48 hours to comply with the player's request and that request cannot be refused.
Once a player's name shows up in the portal, other schools can contact the player. Players can change their minds at any point and withdraw from the portal. However, once a player enters the portal, the current scholarship no longer has to be honored. In other words, if a player enters the portal but decides to stay, the school is not obligated to provide a scholarship anymore.
The database is a normal database, sortable by a variety of topics, including (of course) sport and name. A player's individual entry includes basic details such as contact info, whether the player was on scholarship and whether the player is transferring as a graduate student.
A player can ask that a "do not contact" tag be placed on the report. In those instances, the players don't want to be contacted by schools unless they've initiated the communication.
The portal has been around since Oct. 15, 2018 and the new calendar cycle within the portal begins each August. For example, the 2021-22 cycle started Aug. 1. During the 2020-21 cycle, 2,626 FBS football players entered the transfer portal (including walk-ons). That comes after 1,681 entered during the 2019-20 cycle and 1,709 during the abbreviated 2018-19 cycle. In comparison, 1,833 Division I basketball players entered the portal during the 2020-21 cycle after totals of 1,020 in 2019-20 and 1,063 in 2018-19.