Oregon players of the game: Offense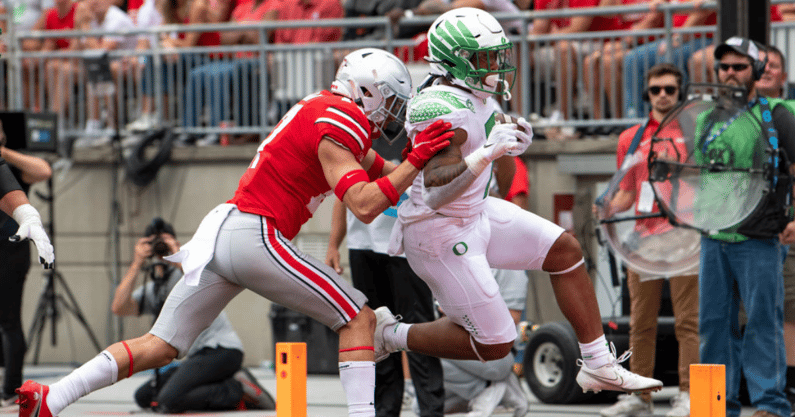 There was so much to love about the performance from Oregon's offense on Saturday.
Honestly, the game ball for this one should go to Joe Moorhead — but that would be cheating, and we will have plenty more about Oregon's offensive coordinator this week. Also, we'll leave out Anthony Brown in this instance since we already wrote in-depth on his stellar day.
With that being said, here are the three players who stood out from Oregon's thrilling win in Columbus.
CJ Verdell
Verdell was the player of the game and delivered arguably the best performance of his Oregon career. He was lethal every time he touched the ball. His 77-yard house call on Oregon's first drive of the third quarter was an absolute haymaker.
The junior running back finished the day with 161 yards and two touchdowns on 20 carries, and 34 yards and one touchdown on three catches. That comes out to 8.5 yards per-touch — against the No. 3 team in the nation.
Typically, when Verdell plays well, it means good things for the Ducks. They are 9-1 in games that he runs for 100 or more yards. On Saturday, he went above and beyond, and Moorhead did a magnificent job of getting the most out of his versatile skillset.
The offensive line
Look, I know this is a bit of a layup. There were certainly a few guys along the o-line who went above on beyond against the Buckeyes. But as a whole, the unit was outstanding and should be recognized as such.
There was panic in Eugene last weekend when the Ducks' offensive line looked like a disorganized, ineffective mess. At the time, it felt like taking that same group in Columbus could be a disaster. Oregon center Alex Forsyth said it himself after the game: "This is one of the hardest places to play in college football. Let's not sugarcoat it."
But in a deafening stadium, against a talented opponent, the Ducks bulldozed the Buckeyes defensive front. Mario Cristobal has been building up to this moment for years; he's shaped Oregon's offense to be hard-nosed, physical group that is absolutely demoralizing to play against.
On Saturday, Oregon fans saw the fully realized version of that vision.
Devon Williams
This selection is less indicative of Williams' tangible production against the Buckeyes, and more an acknowledgment that his performance in Columbus could mean big things for Oregon's future.
Williams finished the day with two catches for 28 yards. Those aren't eye-popping numbers, but no Oregon receivers had a banner day statistics-wise. Brown did a great job of spreading the ball around to 11 different pass-catchers.
But Williams was targeted more than any other Oregon player. Brown frequently tried to link up with him down the field in one-on-one situations. More often than not in those cases, the 6-5 Williams is going to have a physical advantage. There were a few "nearly" moments on Saturday.
It was encouraging to see Williams contributing after he hardly played in Week 1, and this could be an indicator that his lackluster training camp was simply due to nagging injuries.
As the season goes on, and as the duo continues to build chemistry, those deep shots that Brown took at Williams on Saturday should start to turn into massive completions.