Oregon surges near top of 2023 recruiting rankings following commitment of Mookie Cook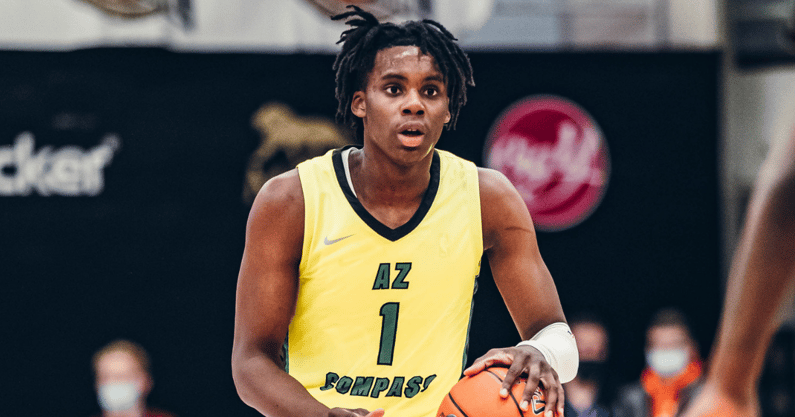 Oregon men's basketball made a major splash on the recruiting trail Friday when 5-star forward Mookie Cook re-committed to Dana Altman's Ducks.
Cook, a Portland, Ore., native, is the No. 12 player in the On3 Consensus. According to 247 Sports — which tabs Cook as the No. 4 player in the nation — he is the second-highest ranked recruit to ever commit to Oregon, trailing only 2018 signee Bol Bol.
After committing to Oregon earlier this year and then de-committing in June, Cook is once again a Duck and joins a recruiting class that is shaping up to be arguably the best in program history.
Oregon has also landed a commitment from 5-star forward Kwame Evans — who was integral in helping bring Cook to Eugene.
"I'm most excited to play with Kwame Evans and Jackson (Shelstad). Those are two great players and honestly the whole team," Cook told On3's Joe Tipton. "I just can't wait to be there and see what other guys we got and just win. That's the main thing. I just want to win. I can't wait to be able to represent that Oregon, especially as a Portland native, it just feels dope."
In addition to its two 5-star forwards, the Ducks also have a commitment from Shelstad, a 4-star point guard from West Linn, Ore., who is the No. 83 prospect in the nation.
With commitments from those three players, Oregon now possesses one of the best 2023 classes in the country.
According to the On3 Consensus, Oregon's '23 recruiting class has a score of 98.250. That is tied for the second-best in the nation, trailing only Kentucky (98.300) and matching Duke (98.250).
At this point, Oregon is stacking elite recruiting classes. The Ducks also had the No. 4 2022 signing class that is headlined by 5-star center Kel'el Ware.
"Cook has all the tools. At 6-foot-8 he has the positional size. The broad shoulders and long arms showcase a projectable frame. Cook is a functional athlete and he has a smooth release on his jump shot with range. The question mark with Cook is his consistency. He seems to get lost in the shuffle a good amount, not imposing his will on the flow of the game. Cook has a tendency to settle for jump shots. He has the dimensions and physical traits to be a good team defender. This upcoming summer will be a big one in the development of Cook figuring out who and what he is as a prospect and player. The tools are there, the upside is still immense."