Key to being a better defender according to Penn State players: BWI Daily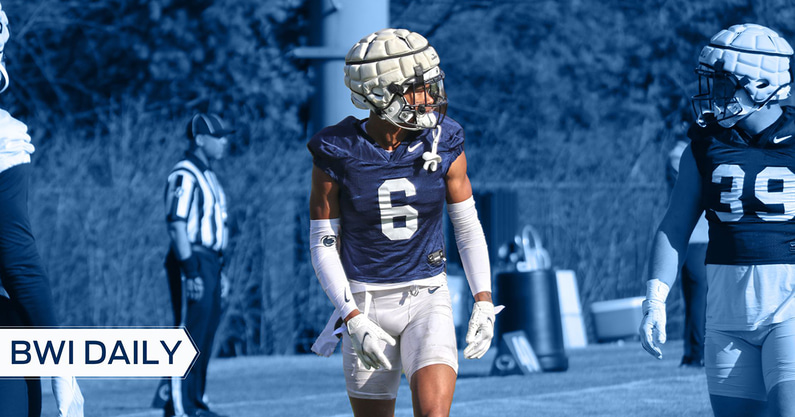 Penn State football hosted several important recruits for their official visits over the weekend, but so far, it's been a quiet start to the week. Host of the BWI Daily Edition, Thomas Frank Carr, reviews what we know so far about how Penn State's efforts went from the weekend. From there, he shifts topics to talk about the second-year players on the current roster whom he spoke with earlier this year.
Aftermath of Penn State recruiting weekend
The BWI Daily Edition previewed a critical weekend on Friday where many of Penn State's top prospects, like linebackers Tony Rojas and Ta'Mere Robinson, were on campus. He reviews what he and insider Ryan Snyder expected from the weekend, which isn't what we've gotten so far. Despite that, there's some positivity from Penn State commits online, which he reviews.
To get more intel on how things went, check out Snyder's conversations with Robinson, his Q&A with tackle Evan Link, and more.
Second-year defensive players open up about areas of growth
After that, he puts recruiting news down for the day and gets into the show's main topic for Monday. After speaking with several of Penn State's second-year defensive players, he found an interesting theme that emerged from his conversations. When asking linebacker Jamari Buddin, safety Zakee Wheatley and defensive tackle Jordan van den Berg what the most important thing they were working on this offseason was, it wasn't anything physical. Instead, all three discussed what they were learning.
He dives into what that means and what football players focus on to become better at their sport.
Subscribe to the BWI Daily Edition on YouTube and wherever you get your podcasts.
---
Penn State keeps true to form with three-star Tyriq Blanding: T-Frank's Film Room
It's no secret that Penn State has a type of defensive tackle. On Friday, they added another in a long line of high-upside, undersized interior players when three-star Tyriq Blanding committed to the program. Blanding committed to the Nittany Lions over several other programs, with Michigan being the chief among them. Blanding is the third-ranked player in the state of New York, from Christ The King Regional high school in Middle Village, NY.
So what is defensive line coach John Scott Jr getting in the 6-2, 265-pound tackle? We'll take a look at that inside T-Frank's Film room. 
Strengths
First Step: Blanding's entire profile boils down to this strength. His first step is a highlight reel itself. First, he fires off the ball with explosiveness and a perfect pad level. Then, he launches himself at blockers with such ferocity and leverage that he typically wins his assignment within the first move of the play. 
This area of defensive line play is the core building block of dominant, unblockable defensive linemen. That's not what Blanding is just yet, but with his size and skill development, he could be. 
Check out more of Tyriq Blanding's film room, click this link.
Not a member? Join BWI For just one dollar and get 12 months access!